Liverpool pre-season fixtures 2018-19 & complete Premier League fixture schedule
Liverpool will hope to kick on in 2018-19 after finishing fourth in the Premier League and concluding the season as Champions League runners-up.
The bulk of the Reds' pre-season preparations this summer will take place in the United States as they return to the International Champions Cup, having eschewed the 2017 edition, but they also have a game closer to home, in Ireland.
With the World Cup finishing in mid July it doesn't give clubs much time - compared to last year - to get things in order ahead of their club campaigns, but there is plenty to look forward to nonetheless.
Goal brings you your complete guide to the Reds' 2018-19 pre-season and Premier League fixtures, with dates, venues and all you need to know.
---
Liverpool pre-season fixtures
---
| Date | Opponent | Time (local / BST) | Venue |
| --- | --- | --- | --- |
| Jul 7 | Chester | 3pm / 3pm | Swansway Chester Stadium, Chester |
| Jul 10 | Tranmere Rovers | 7:30pm / 7:30pm | Prenton Park, Birkenhead |
| Jul 14 | Bury | 3pm / 3pm | Gigg Lane, Bury |
| Jul 19 | Blackburn Rovers | 7:45pm / 7:45pm | Ewood Park, Blackburn |
| Jul 22 | Borussia Dortmund | 4pm / 9pm | Bank of America Stadium, Charlotte |
| Jul 26 | Manchester City | 8pm / 1am | MetLife Stadium, East Rutherford |
| Jul 28 | Manchester United | 5pm / 10pm | Michigan Stadium, Ann Arbor |
| Aug 4 | Napoli | 6pm / 6pm | Aviva Stadium, Dublin |
| Aug 7 | Torino | 7.30pm / 7.30pm | Anfield, Liverpool |
Liverpool's pre-season schedule involves some interesting encounters, with games against Bundesliga and Serie A opposition, as well as a Premier League double header in store.
There are a number of games scheduled for July against local opposition, with Chester, Tranmere Rovers, Bury and Blackburn Rovers all hosting the Reds in games that should see those stars not at the World Cup - such as Naby Keita and Fabinho - involved.
The first International Champions Cup game sees Jurgen Klopp go head to head with his former club Borussia Dortmund at the 75,000-capacity Bank of America Stadium in Charlotte, North Carolina on July 22. That game takes place at 4pm local time, which is not too late in the evening for Reds fans to follow in the UK.
However, the next game - against Premier League champions Manchester City - will have a slightly later kick-off of 8pm, which is 1am the following morning in the UK. The clash against Pep Guardiola's City will be played out at the MetLife Stadium, which is the home of New York's NFL teams the Jets and the Giants.
After their clash against familiar foes City, Liverpool have just two days to prepare for a derby game against Jose Mourinho's Manchester United. They'll travel over 600 miles west to Ann Arbor for that grudge match, which kicks off at 5pm local time (10pm in the UK).
After they wrap up their International Champions Cup commitments in the US, Liverpool return to Europe to finalise their preparations ahead of the new season with a game against Serie A outfit Napoli at Dublin's Aviva Stadium and then a final home fixture against Torino at Anfield.
---
Liverpool's 2018-19 Premier League fixtures
---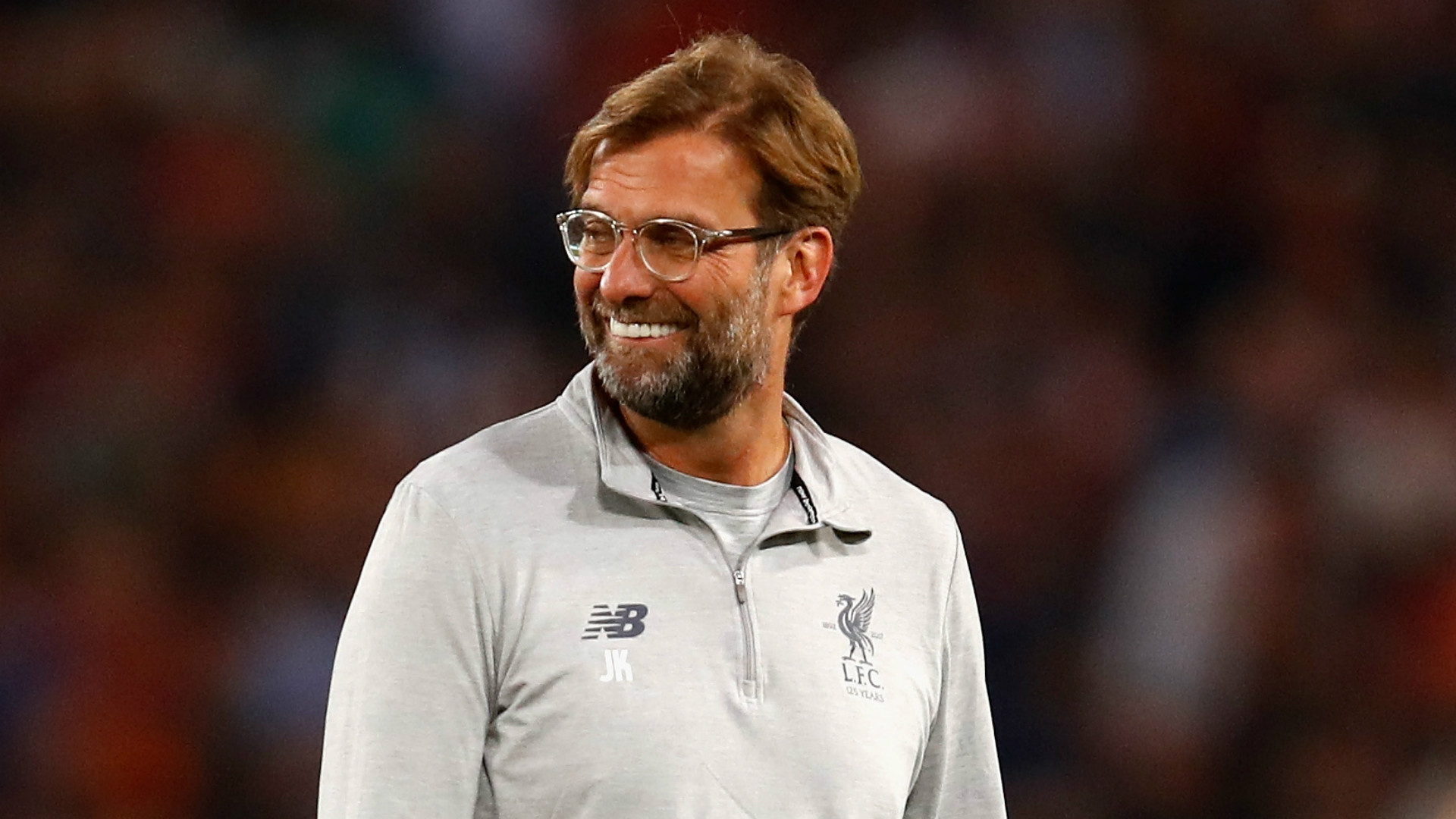 The Premier League has confirmed that the 2018-19 season will get under way on Saturday August 11.
Fixtures were released on June 14 and Liverpool have been handed a home game against West Ham as their curtain-raiser. The Reds travel south to face Crystal Palace in their next game before hosting Brighton, with away clashes against Leicester City and Tottenham completing their first five league fixtures.
December 1 is the date of the first Merseyside derby of the season and it will be held at Anfield, with the corresponding fixture taking place at Goodison Park on March 2, 2019.
Klopp's side will lock horns with rivals Manchester United for the first time in the league at Anfield on December 15.
Liverpool's full Premier League fixtures can be seen below. 
| Date | Time | Match |
| --- | --- | --- |
| 12/08/2018 | 13:30 | Liverpool v West Ham United |
| 20/08/2018 | 20:00 | Crystal Palace v Liverpool |
| 25/08/2018 | 15:30 | Liverpool v Brighton |
| 01/09/2018 | 12:30 | Leicester City v Liverpool |
| 15/09/2018 | 12:30 | Tottenham Hotspur v Liverpool |
| 22/09/2018 | 15:00 | Liverpool v Southampton |
| 29/09/2018 | 17:30 | Chelsea v Liverpool |
| 06/10/2018 | 15:00 | Liverpool v Manchester City |
| 20/10/2018 | 15:00 | Huddersfield Town v Liverpool |
| 27/10/2018 | 15:00 | Liverpool v Cardiff City |
| 03/11/2018 | 15:00 | Arsenal v Liverpool |
| 10/11/2018 | 15:00 | Liverpool v Fulham |
| 24/11/2018 | 15:00 | Watford v Liverpool |
| 01/12/2018 | 15:00 | Liverpool v Everton |
| 04/12/2018 | 19:45 | Burnley v Liverpool |
| 08/12/2018 | 15:00 | A.F.C. Bournemouth v Liverpool |
| 15/12/2018 | 15:00 | Liverpool v Manchester United |
| 22/12/2018 | 15:00 | Wolverhampton v Liverpool |
| 26/12/2018 | 15:00 | Liverpool v Newcastle United |
| 29/12/2018 | 15:00 | Liverpool v Arsenal |
| 01/01/2019 | 15:00 | Manchester City v Liverpool |
| 12/01/2019 | 15:00 | Brighton v Liverpool |
| 19/01/2019 | 15:00 | Liverpool v Crystal Palace |
| 30/01/2019 | 20:00 | Liverpool v Leicester City |
| 02/02/2019 | 15:00 | West Ham United v Liverpool |
| 09/02/2019 | 15:00 | Liverpool v A.F.C. Bournemouth |
| 23/02/2019 | 15:00 | Manchester United v Liverpool |
| 27/02/2019 | 20:00 | Liverpool v Watford |
| 02/03/2019 | 15:00 | Everton v Liverpool |
| 09/03/2019 | 15:00 | Liverpool v Burnley |
| 16/03/2019 | 15:00 | Fulham v Liverpool |
| 30/03/2019 | 15:00 | Liverpool v Tottenham Hotspur |
| 06/04/2019 | 15:00 | Southampton v Liverpool |
| 13/04/2019 | 15:00 | Liverpool v Chelsea |
| 20/04/2019 | 15:00 | Cardiff City v Liverpool |
| 27/04/2019 | 15:00 | Liverpool v Huddersfield Town |
| 04/05/2019 | 15:00 | Newcastle United v Liverpool |
| 12/05/2019 | 15:00 | Liverpool v Wolverhampton |