With South Africa 2010 less than three weeks away, Carlo Garganese runs down a list of 10 of the most famous World Cup beards over the years.
Please note the below players are ranked on the quality of their beard.
10) Roger Milla (Cameroon) - 1982
The African legend is best remembered for his exploits at Italia '90 when he stunned the world at the ripe old age of 38 by scoring four goals and leading Cameroon to the quarter finals. Less well known is that at the 1982 World Cup in Spain, Milla sported a thick beard as The Indomitable Lions unfortunately bowed out unbeaten in the first round after three straight draws against Peru, Poland and eventual champions Italy.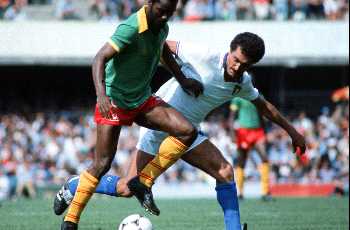 9) Trifon Ivanov (Bulgaria) - 1994
There are many scary-looking people in this list, but few scarier than former Bulgarian international Ivanov. Nicknamed
'The Bulgarian Wolf'
due to his long beard and ridiculous graying mullet, Ivanov singlehandedly took 'The Lions' to the semi-final of USA '94 by frightening every opponent into submission. Few could have believed that Little Red Riding Hood's nemesis was only 28 at the time.
8) Rogelio Delgado (Paraguay) - 1986
I must confess that I haven't seen much footage of Delgado the footballer, but judging on the way he looked attackers must have wet themselves when facing the Paraguayan defender.
Built like a bull, with mean-looking eyes that could stare Medusa into stone
, it was Delgado's forest-like beard that was scariest of all. Unlikely that the ex-stopper is a vegetarian.
7) Rino Gattuso (Italy) - 2006
Many of the iconic images from the 2006 World Cup involved Italian players. You had Zinedine Zidane's headbutt on Marco Materazzi, Fabio Grosso's Germanic scream and, of course, Rino Gattuso's hilarious neck-push/slap on coach Marcello Lippi after Italy scored to go two-up against the Czech Republic.
What made this moment so striking was Gattuso's trademark beard. During his prime, there was not a more feared hardman midfielder on the globe than the pitbull 'Ringhio'.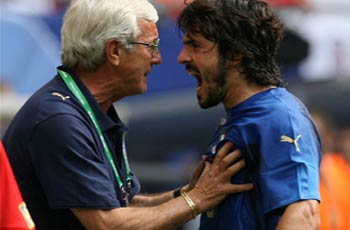 6) Sergio Batista (Argentina) - 1990
Batista is like Benjamin Button - he ages backwards. Now coach of Argentina Under-20s, a clean-shaven 47-year-old Batista could probably pass as someone 10 years his junior. However, at the 1986 and 1990 World Cups,
Batista was more likely to be mistaken for a retired revolutionary
in a Che Guevara Marxist group, with his six inch beard.
5) Paul Breitner (West Germany) 1974, 1982
Football's most famous communist, who showed his dedication to the left-wing with an unforgettable revolutionarly-style beard. But his politics were eventually questioned when he agreed to clean shave for a German cosmetics advert.
On the football pitch, there was nothing edgy about the ex-Bayern Munich and Real Madrid star. Breitner possessed brilliant versatility that enabled him to excel both at full back and in midfield. He packed a bullet of a right foot, and scored many important goals during his career - including strikes in both the 1974 and 1982 World Cup final.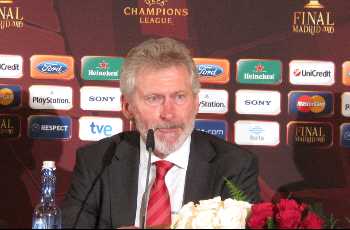 4) Socrates (Brazil) - 1982, 1986
A star performer in Brazil's brilliant 1982 side, Socrates puffed his way through two packs of cigarettes a day and continued to light up after quitting the game. Now a medical doctor and member of the Workers' Party, he suggested in a masters thesis that football should be reduced to nine a side to improve skill levels.
But the elegant midfielder, whose favorite move was the backheel, paints an unforgettable image of 1980s international football due to his outstanding beard. His resemblance to Jesus Christ was uncanny, in looks anyway.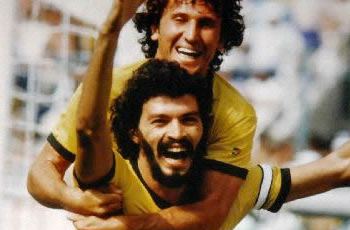 3) Leonardo Cuellar (Mexico) - 1978
One of those people who you would either describe as ultra-cool, or in need of a good shave, haircut and wash - depending on your viewpoint. Cuellar was a talented midfielder for Mexico at the 1978 World Cup, but it was his gigantic Carlos Valderrama-style afro-head, coupled with an outrageous Professor-beard, that got everyone talking.
Cuellar looked
like the kind of guy who spent his summer afternoons lounging in his apartment overlooking the beach while smoking a spliff. Come to think of it, why do I keep getting 'Scarface' flashbacks when I look at Cuellar's picture? Say no more.
2) Alexi Lalas (United States) - 1994
Goal.com's former American site director Greg Lalas - whose MLS career famously consisted of five games played, 100 minutes, one shot on goal, and one red card (sorry Greg, but I couldn't resist!) - has a pretty impressive beard.
But, he doesn't come even close to matching the facial hair of his older brother Alexi from the 1994 World Cup. The iconic United States center back lit up the tournament in his own country with his extravagant long hair and bright bushy beard.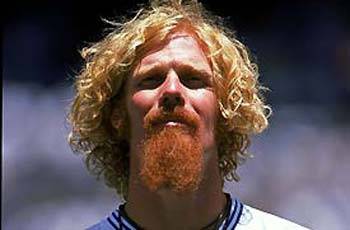 1) Peter Disztl (Hungary) - 1986
Hungary's goalkeeper at Mexico '86
had been seen a few years earlier playing Chewbacca in the Star Wars movies. His messy hair was complemented by a half gray/black beard which terrified kids and, let's face it, grown men everywhere. How the Soviets had the courage to put six past him and stay alive is one of the World Cup's more enduring mysteries.
Quite simply the scariest footballer of all time. Parents all over the world, if your kids won't go to bed - tell them that Peter Disztl will come and get them!
The 2010 World Cup is fast approaching, so keep up to date with all the news at Goal.com's World Cup homepage and join Goal.com USA's Facebook fan page!