This has been a season to forget for Barcelona. The Catalan club has endured tough times on and off the pitch in 2013-14 and on a sunny Saturday at Camp Nou, its hopes of ending the campaign with a major trophy finally flickered out.
Still in with an outside chance of retaining La Liga prior to the game, Barca was expected to brush aside struggling Getafe with relative ease. After all, most visiting sides are routinely put to the sword by the Blaugrana at Camp Nou and in three meetings with Getafe this term, Gerardo Martino's men had won 5-2 and 2-0 away from home, and 4-0 at Camp Nou. Something similar was expected on Saturday.
But following an emotional tribute to former coach Tito Vilanova before kickoff, Barca started slowly. After a lifeless opening 20 minutes, though, Lionel Messi found himself all alone in the area to smash home a left-footed drive to make it 1-0. It was a fine finish from the Argentine and something for the Catalans to build on. But they couldn't.
Javier Mascherano slipped later in the half and conceded a free kick just outside the area. Pablo Sarabia scooped an unorthodox ball into the area, which Angel Lafita brought down with his chest, controlled and then slotted into the corner with an angled drive. The assistant raised his flag to rule out the strike, but the referee overruled his colleague and replays showed there was little wrong with the effort.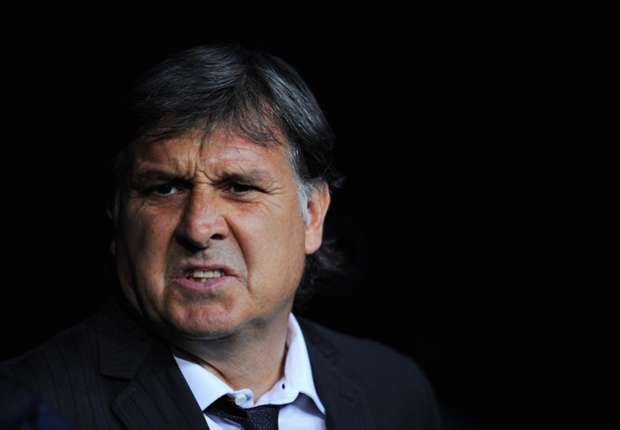 Unhappy ending | Martino watches on as Barca loses its way
In the second period, Alexis Sanchez converted after a wonderful move which ended with a precise pass by substitute Cesc Fabregas for Pedro, whose blocked shot fell to his fellow forward and was rifled into the corner by the former Udinese man.
That was midway through the second half and this time, Barca seemed certain to make the lead count. But after initial pressure, Jose Pinto made a wonderful reaction save to deny Sarabia late on and deep into added time, Jaime Gavilan's cross found Lafita and the midfielder beat Adriano in the air to head home for 2-2 and silence the Camp Nou crowd.
It had been a siesta-like performance from Barcelona for much of the afternoon and in the end, the Catalans paid the price for their profligacy. Worse than the result, however, was what it means as Barca's Liga hopes went from slim from before kickoff to virtually non-existent now.
"We would need a miracle to be champions," Xavi said afterwards. "We have to be self-critical and admit that we haven't been up to standard this season." And teammate Sergio Busquets was in agreement. "La Liga is practically lost," he said. "We have to learn from this for the years ahead."
Whether Martino will be around for any of those now looks unlikely and the Argentine admitted: "Maybe I don't deserve a second opportunity. I always say that the coach is responsible for the errors on the pitch. I'll analyze it over the coming days."
BARCA HOPES FADE: LA LIGA AFTER SATURDAY'S DRAW WITH GETAFE
Martino is in no way solely to blame, however, in what has been a sorry season the Catalan club. The Argentine inherited a successful squad but witth notable shortcomings and was forced to work with what he had, while off-pitch problems have rocked the Blaugrana this term.
The team was hit by the Neymar court case and scandal over the Brazilian's controversial summer signing from Santos, Sandro Rosell's resignation as president, a tax case and then injury to Lionel Messi, a FIFA transfer ban (since suspended) for irregularities in the deals to bring in young players and, worst of all, the tragic death of former coach Tito Vilanova late last month.
"There have been many non-football issues and we have come as far as we could," Martino added, while Xavi said: "There has been a lot of negativity this year. We have to turn the page and move on next season."
Wise words. And Xavi will hope the Barca board take heed as they plan for the coming campaign, with a major restructuring of the playing squad now needed, as well as changes at institutional level to avoid a repeat of the problems endured this term. After a season to forget, the Blaugrana must look ahead to ensure next year is one to remember. The hard work starts now.

Follow Ben Hayward on