Atletico Madrid will line up in the semifinal of the Champions League this week against Chelsea.
It will mark the 40th anniversary of its last appearance at this stage of Europe's premier club competition — again against British opposition — although it is unlikely that tie will be commemorated in any way.

In 1974, Atletico faced Scottish champion Celtic for a place in the final against Bayern Munich or Ujpest Dozsa of Hungary.
Wins over Galatasaray, Dinamo Bucharest and Red Star Belgrade in the first three rounds had brought it this far. But the Hoops, better in terms of personnel and experience, were a different proposition, necessitating a very different approach from the La Liga winners.
Celtic, the first British club to win the European Cup in 1967, reached the 1970 final and had itself lost another semifinal to Inter, on penalties, two years before. It was the favorite to progress, the catalyst for arguably the most cynical and clinical display ever seen on the European club stage.
Atletico's approach to the tie, under the guidance of coach Juan Carlos Lorenzo, was simple and basic: gain a result in Glasgow, then win the home leg in Madrid.
What no one, even seasoned European campaigners like Celtic's inspirational captain Billy McNeill expected, was the lengths Atleti would go to achieve their goal.
McNeill recalled: "Atletico were champions of Spain but they weren't Real or Barcelona. They were Spain's third team. We fancied our chances. Big Jock (Stein) had done his homework, as usual, and found out they had a South American manager who had filled his team with South Americans. We thought, 'Well, they'll be able to play a bit.'
"We'd played Leeds United, we'd played Inter Milan. We had played teams who knew what that competition meant and had played their very best football to try and get to those finals.
"What we didn't bank on was how little the Spaniards wanted to play in Glasgow. They just came out to stop us from playing: They just constantly fouled, breaking any flow to the game, which meant we couldn't get any continuity to our game. It was stop-start for 90 minutes.
"What shocked us, everyone, were the lengths they would go just to stop us playing. It was just so crude, brutal at times. Our forwards took some punishment, and Jimmy Johnstone in particular was just massacred."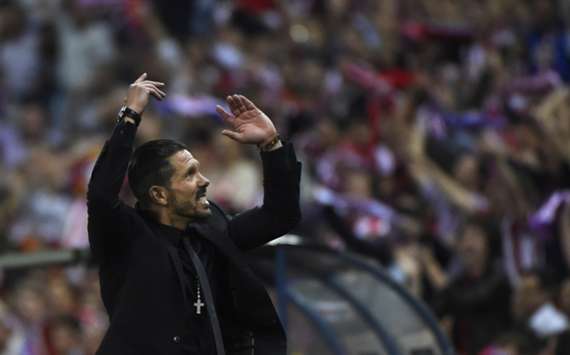 The pain game | Simeone has ended 40 years of hurt for Atletico
Johnstone was a potential match winner for Celtic, regardless of who the opposition was — as long as they played somewhere within the parameters of the laws. Atletico arrived armed with its own book of rules.
"Wee Jinky" was targeted early as a threat that needed to be nullified. His 'markers' lived up to that billing. Systematically, they took turns at chopping him down. With his socks rolled around his ankles, the Scotland star made an appealing target for the Spanish side's hatchet men.
"How Jimmy survived it, I'm not sure," McNeill continued. "It wasn't through anything the referee did, that's for certain. But his job was impossible because of how clinical the Spaniards chose to be. They just kicked him in turn. They kicked him black and blue."
Atletico's spoiling tactics nullified Celtic's attacking options. Whether it was blocking 'keeper Denis Connaghan's attempts to throw the ball out, deliberately kicking the ball away or through niggling, time-wasting fouls and interruptions in play, Madrid's game plan worked to perfection.
The game ended 0-0, although los Colchoneros marginally came out ahead in the crime count. They had three players sent off, another eight booked.
However, with the match over, the animosity and anger boiled over in the tunnel. A fight erupted, and in a scene more akin to a gang battle, punches and kicks were delivered by both sets of player.
The police stepped in, but not as any kind of neutral peace keepers. They decided to take their own retribution against the Atletico players. Infamously, one inspector even held Atletico's Argentine striker Ruben Ayala to enable Celtic players Dixie Deans and David Hay to have a punch at him. They duly accepted.
For the second leg Atletico had no fewer than six players suspended. Weakened? Not a bit.
Coach Lorenzo's master plan to get his team to the final meant he had used reserve and second-string players in Glasgow. With arguably a better lineup fielded in Madrid, Celtic's resistance was eventually worn away. Thirteen minutes from time Heraldo Becerra centered and Jose Garate beat Connaghan from close range. As Celtic threw tired men forward, Garate then turned provider on the break, Adelardo firing home a tie-clinching second.
Atleti had achieved what it had set out to achieve, a place in the final of Europe's premier club competition. The manner in which it had gained that result, however, left much to be desired.
In Brussels, Lorenzo's men held Bayern Munich (a team that made up the core of West Germany's World Cup winning side a few weeks later) to a 1-1 draw. Two days later in the Belgian capital, in front of just a third of the original audience, Uli Hoeness and Gerd Muller scored two apiece to take the famous European trophy back to Germany for the first time.
Thus, Atletico remain the only team to have ever lost a European Cup final in a replay. Not a fact offered up readily with fans of that generation. But then who would, after that semifinal in the East End of Glasgow.