When it comes to Clasico soccer, there has never been anyone like Lionel Messi. And as the world wakes up to the morning after the electric night before, Tata Martino will be celebrating that fact more than anyone.
The Argentine coach acknowledged that his Barcelona side faced a make-or-break moment in its title assault against Real Madrid on Sunday, and for long spells it seemed his worst fears would be realized. But Messi's mesmerizing show kept his compatriot dreaming of a Liga crown and an invite to continue in his job beyond this summer.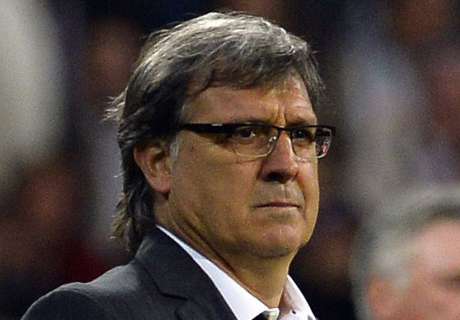 "This is the last chance we have. In the final rounds teams don't falter so often"
"This is the last chance we have," said Martino in his pre-match press conference. "After this round there are nine games left and cutting the gap to one point is not the same as it remaining four or even stretching to seven. In these final rounds teams don't falter so often."
And he was right. Moreover, a failure to win La Liga would more than likely see him shown the door. As such, Sunday's game was monumental for Martino. But for as long as he remains in his current role, he will always have the ace up his sleeve that is Lionel Messi.
There can be no denying that things have been a little different at Barcelona this season. The club is no longer considered the most fearful outfit in Europe, sitting in third place in the Spanish league, and there have even been huge question marks about the club's ethics in the midst of the Neymar affair. Tactical and technical shortcomings also appear more obvious, more prevalent, than in recent years.
But one thing that remains the same is the genius of Messi. Sure, two of his goals in the 4-3 win at the Bernabeu came from the penalty spot, but he deserved every bit of the magnificent hat trick that sent him into the record books as the highest scorer in the world's greatest soccer rivalry.
MORE: Chicharito out of Mexico's XI | Madrid surrenders title supremacy
Martino had seemingly made a number of poor decisions, most notably the one that gave Neymar a starting shirt despite his current rut. Alexis Sanchez — the match-winner in the previous Clasico — has been in infinitely better form of late, while Pedro's guile and skill was also sadly lacking. The Argentine had gone for the big-name option and looked set to pay the price.
With Barca trailing 2-1, Messi made his first great intervention by pouncing on a loose ball in the area and lashing home beyond Diego Lopez. After the break, he would hit two unstoppable penalties to reverse a second one-goal deficit. But it wasn't just in his goals that he made the difference.
374
TOTAL BARCA GOALS
347
COMPETITIVE BARCA GOALS
400
TOTAL COMPETITIVE GOALS
21
GOALS IN CLASICOS
34
GOALS IN 2013-14
In general play, the No. 10 was simply magic at times. It was his vision and pass that opened the space up for Andres Iniesta to give the Blaugrana an early lead. His sensational through ball to Neymar took out three Madrid players as the Brazilian won a penalty.
Messi was the man making all the right moves in between the lines as the home defense was pulled out of shape. Had Neymar been on his game, the Argentine's movement alone might have contributed to at least two more goals.
Barcelona's current position in La Liga is proof enough that this hasn't been its best campaign in recent memory, and Martino's position will rightly continue to be questioned right down to the final day of the season. But Sunday was just the latest reminder that it is Messi — not Martino — who will dictate whether the boss is back for a second stint next season.
The coach's future couldn't be in better hands.