It was the finale nobody had wanted. Raul Gonzalez Blanco signed up 'for life' in 2008 and seemed destined to finish his playing days in the famous white shirt of Real Madrid. After all, it was part of the script. But that storyline soon changed and, when it did, the happy ending was no longer a part of it.
Raul moved on in the summer of 2010, with Barcelona at the peak of its power under Pep Guardiola and Madrid playing catch up. Still a symbol but now a fading force, the club captain packed his bags and, with a heavy heart, left to join Schalke.
His final season in Spain was spent alongside Cristiano Ronaldo (who respected Raul's number '7' and wore '9' instead in 2009-10) and under Manuel Pellegrini, who initially described the striker as
titularísimo
(a definite starter), but that wasn't totally true. Raul started only 13 games in 2009-10 and most of those came at the beginning of the season. As time wore on, the skipper slipped down the pecking order - and Madrid ended the season without a trophy.
It ended as it had begun: at La Romareda. Raul had made his debut for Madrid at that ground, away to Zaragoza, aged 17 and 124 days, and finished off at the same stadium, poking home a Cristiano cross despite carrying an injury which had seen him already ask to be withdrawn. Moments later, he did depart - never to be seen again in an official match for the club he loved.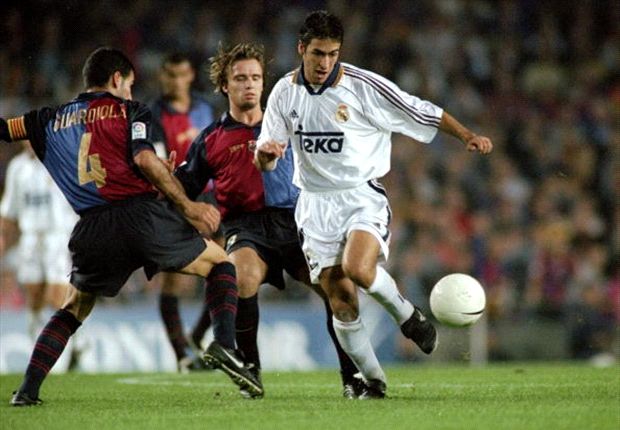 Blanco | Raul up against Pep Guardiola in a Clasico clash in 1998-99


Jose Mourinho replaced Pellegrini at the Bernabeu that summer and had breakfast with Raul on his first day of training. "I am not part of Real Madrid's history," the Portuguese said. "Raul is - and I have to respect that." Mourinho had hoped to convince the striker to stay, seeing him in a role similar to that played by Marco Materazzi during the final year of his spell at Inter.
But Raul wanted more. Idolized for so long, some sectors of the Bernabeu had begun to take out their frustrations on the striker. What had happened to pretty much all of Madrid's star players in the past was now happening to Raul - and it broke his heart.
The captain's relationship with president Florentino Perez had never been warm, while the forward feared his playing time would be increasingly reduced under Mourinho. "It was my decision to leave," he said later. "Mourinho wanted me to stay."
Some of Europe's biggest clubs were interested - but Raul joined the club that made the biggest play for him in Schalke. "They were the ones who did the most to make me feel wanted," he said. The striker sought advice from several of his former international teammates, including Guardiola and Fernando Hierro. Pep had left Barca to join Brescia in a similar situation in 2001, while Hierro moved to Qatar in 2003 and to Bolton a year later. Smaller sides, less pressure, happier homes - Raul opted for something similar.
IN NUMBERS
Raul at Real Madrid

3
Raul won three Champions Leagues at Madrid, as well as six Liga titles and 16 trophies in all.
16
In total, the forward spent 16 seasons at the Spanish side.
32
In his most prolific campaign (2000-01), Raul hit 32 goals for Real in 50 appearances.
102
During his time at the Bernabeu, the striker made 102 appearances for Spain, scoring 44 goals.
323
Raul overtook Alfredo Di Stefano in 2009 to become the club's all-time top goalscorer.
741
From making his debut at the age of 17, Raul went on to play 741 games for Madrid - more than anyone else.
For 16 years, he had endured immense pressure at Madrid and had tried everything to stay ahead of the game, including ice baths and sleeping in hypoxic chambers to simulate high-altitude conditions. But now he was tired - and also keen to spend more quality time with wife Mamen Sanz and their five children.
With little left in the tank and his enthusiasm dimming at Madrid, where his reduced role brought only criticism and increased scrutiny, Raul opted to say goodbye to the club he loved and rediscover his passion for the game in Germany.
"I'm enjoying myself like a little boy," he said in those early months. "Schalke, for me, is a great adventure, and I wanted to experience new sensations away from Real Madrid."
Ironically, Mourinho was forced to push hard for a striker signing in that first season at Madrid, as Karim Benzema misfired and Gonzalo Higuain got injured. And, with Raul gone, the club brought in Emmanuel Adebayor on loan during a campaign which ended with the one trophy the club's former captain never won: the Copa del Rey.
Raul returned in the Bernabeu Trophy last summer and played 45 minutes for his former side as Madrid paid homage to the homecoming hero against the striker's new side, Al-Sadd. And he showed that, even at 36, he still had it, scoring the opening goal and threatening to add many more.
The Bernabeu roared in approval. They had genuinely missed him and perhaps it was better that way. In any case, Raul will be forever associated with Real and, sooner or later in some capacity, he'll be back.
"It was very special," he said. "This is my home and when I am ready to come back and offer something different, I will return."
Follow Ben Hayward on