First Barcelona, now Atletico: there was only one winner this weekend in the race for La Liga - and that was Real Madrid.
Carlo Ancelotti's men took their time to tame an unexpectedly plucky Elche side at the Santiago Bernabeu on Saturday, but ran out 3-0 winners in the end. Goals from Asier Illarramendi, Gareth Bale and Isco extended Madrid's unbeaten run to 26 games.
That outcome was expected but what followed was not: Barcelona lost 3-1 at Real Sociedad on Saturday and Atletico went down 3-0 away to Osasuna on Sunday to leave Ancelotti's side sitting on top of the table. So slow to get going in the early months of the season, Madrid's momentum when it matters most is impressive - and Los Blancos are now clear favorites to win the title.
The last two Liga titles were won with 100 points, by Jose Mourinho's Madrid in 2011-12 and Tito Vilanova's Barca in 2012-13. But after both Barcelona and Atleti lost this weekend, only one team can now reach that total: Real Madrid.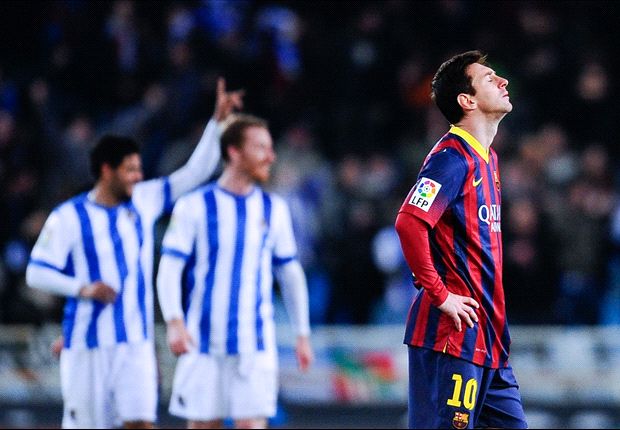 That sinking feeling | Even Messi couldn't save Barcelona on Saturday


There is a long way to go, of course, and each of the three teams has their destiny in their own hands because Atletico hosts Madrid in an all-important derby clash next weekend in La Liga. Real welcomes Barca to the Bernabeu in the Clasico in late March, and the Blaugrana are at home to Diego Simeone's side on the final day of the season.
But Madrid's momentum means it is the team in form: the Blancos' unbeaten run is the second best in the club's history and over the last seven league games, Ancelotti's side has picked up 19 points from a possible 21. Over that same period, Barca and Atleti have claimed only 11 apiece.
Madrid has stayed strong during the three-match ban for talisman Cristiano Ronaldo, and also won without Luka Modric and Sergio Ramos on Saturday. With those three to come back in and the league leadership theirs for the first time in 63 rounds of La Liga (since Mourinho's Madrid won the title in 2011-12), everything is suddenly looking rosy for Ancelotti and his charges.
"I'm happy because we didn't concede," the Italian said after his side beat Elche. "Our play could have been better, but at this point of the season, the important thing is to take our chances and we did that."
After 14 games for Madrid in 2014, the Blancos have conceded only three goals: two in the 4-2 win over Villarreal and one in the 1-1 draw at Athletic Bilbao. All three were stunning strikes from long range and that says much for the team's defensive improvement over the last few months.
Later on Saturday, Gerardo Martino got it all wrong as Barca blew it in San Sebastian. Alex Song's selection in midfield meant the Catalans' possession was significantly reduced, while Neymar appeared unfit and the defense suffered all night in the 3-1 reverse which leaves the Blaugrana needing to win the Clasico next month.
"My reading of the game wasn't up to what the match demanded," the Argentine admitted. "Perhaps delaying the change [Cesc Fabregas for Song] was a mistake, but the two goals came close together."
MADRID ON TOP: LA LIGA AFTER THE WEEKEND GAMES
And Atleti, like Barca, slipped up after a tough Champions League fixture in midweek. The 1-0 win for the Rojiblancos at AC Milan on Wednesday clearly took its toll on Sunday as Simeone's side was well beaten by Osasuna in Pamplona.
Atletico was unrecognizable, lacking its usual intensity and well below its brilliant best in what is traditionally a tough fixture for all of the top teams. But while Barca and Madrid managed a point apiece in Navarre this term, Simeone's side found itself three goals down at the break.
"When a team are better than you, as Osasuna were, you have to congratulate them," the Argentine accepted afterwards. "We did better in the second half."
By then, however, it was too late. And Atleti, punching above its weight all season, now faces a fight to stay in the title race with the fixtures piling up and next weekend's vist of Madrid to Vicente Calderon now a must-win affair.
For Barca, a similar scenario awaits. The Catalans should beat Almeria, Valladolid and Osasuna in their next three league games, before the all-important Clasico at the Bernabeu in late March.
At the moment, however, Ancelotti's side seems strongest with 13 rounds still left in La Liga. After both Barcelona and Atleti choked at the weekend, it's now advantage Real Madrid.
Follow Ben Hayward on