It was a game-changer. The weekend when Atletico silenced the doubters and the deficiencies of Barcelona and Real Madrid were laid bare. La Liga is now a three-team race which promises to go down to the wire — and Diego Simeone's side looks ready for the challenge.
Barca had led La Liga for the past 59 rounds over two tournaments, ever since the beginning of the 2012-13 season, but Saturday's 3-2 defeat for the Catalans at home to Valencia gave Atletico the chance to overtake it. And having failed to take advantage on two previous occasions in the current campaign, this time Los Rojiblancos didn't disappoint.
It was an emotional day for the club. Fans at the Vicente Calderon paid tribute to their former player and four-time coach, Luis Aragones, who died Saturday at the age of 75. Supporters laid out scarves and flowers outside Gate 8 (his number as an Atleti player), while a shirt bearing his name hung proudly in the dressing room and a huge replica was paraded around the pitch before kickoff amid songs and chants. But as the match started, the home fans stayed silent for eight minutes in a terrific tribute to their former hero.
Simeone had held back his emotions prior to kickoff, while some of the players looked overwhelmed by the occasion. But on the pitch, there was a job to be done and, after 38 minutes David Villa brought the tension to an end as he hit the opening goal with a left-footed finish from close range. Fitting, perhaps, that the man discarded by Barcelona in the summer should fire Atleti above the Blaugrana on their way to the league's summit. And appropriate, too, that the striker chosen by Aragones to replace Raul in the Spanish national team should be the one to open the scoring here, en route to such a significant result. Villa, who later went off with a hamstring injury, pointed to the sky in a moving celebration dedicated to his former Spain boss.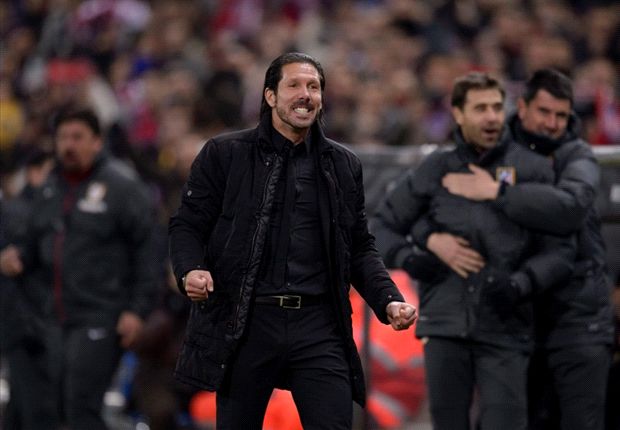 Mourning glory | Simeone's side triumphed as it remembered the late Aragones


As the second half wore on, there were moments of anxiety. With 20 minutes remaining, Atletico still only led by a single strike and Real Sociedad was very much in it.
But not for long. Diego Costa burst through in typical fashion to make it 2-0 and bring his recent mini-drought to an end (he hadn't scored in the Primera Division since December) with his 20th Liga strike of the season. It was a timely return to form.
Joao Miranda made it three moments later as he headed home a corner and new signing Diego blasted in from 8 yards for 4-0 just before the end to conclude a memorable victory that saw Atletico return to the top of La Liga for the first time in 18 years.
Diego's goal will have been especially sweet for Simeone, who brought back the Brazilian on deadline day in a loan deal from Wolfsburg. The Argentine coach can seemingly do no wrong at the moment and his proactive posture in the transfer market has helped Atletico to become even stronger in a month in which tough tests await in all three competitions: a two-legged semifinal versus Real Madrid in the Copa del Rey, a second-round tie against AC Milan in the Champions League and tricky league games at Osasuna and at home to Los Blancos.
Despite losing Radamel Falcao in the summer, Simeone signed shrewdly to add strength in depth to the current squad and the Argentine moved again in January — while Barca and Madrid chose not to — by bringing in Diego and Jose Sosa to boost the club's midfield and attacking alternatives. Sosa started Saturday, while Diego came off the bench to replace him in the second half and hit the fourth goal.
"Diego Ribas will give us what we need: personality in attack," Simeone said after the match. "He is agressive in his play [and] every time the ball passes his way, there is danger."
Sosa, meanwhile, endured a more frustrating evening, but is highly thought of by his coach and can cover a variety of roles. "He is a very dynamic player with a great shot, who can adapt to a number of different positions across midfield or operate as a playmaker," Simeone said last month.
ATLETI ON TOP: LA LIGA AFTER 22 ROUNDS
Bringing in those two appears a smart move by Simeone, just as the tough fixtures begin to pile up in La Liga, Copa and the Champions League. The Argentine's fiercely competitive nature means he is always looking for ways to get ahead and in the January window, he appears to have stolen a march on his side's two title rivals.
Barca declined to bring in anyone at all and subsequently produced its worst defensive performance of the season Saturday, just a day after the window had slammed shut. And in Sunday's second clash between teams from the capital and the Basque Country, Madrid was held to a 1-1 draw at Athletic Bilbao.
Carlo Ancelotti's side conceded for the first time in 2014 as Ibai Gomez stuck a stunning drive in off the post to draw level after Jese's opener in the second half. Cristiano Ronaldo was then sent off for raising his arms to Carlos Gurpegi and will miss a potentially tricky match at home against Villarreal next weekend, while Gareth Bale remains out through injury.
Better news saw Raphael Varane return from a long spell on the sidelines, while Fabio Coentrao is also back, but Sami Khedira is out for the season and Alvaro Morata isn't currently looking like an able deputy for Karim Benzema. Although brimming with quality, Madrid's squad still seems thin.
Real could have used the January window to bring in a top-class striker or at least boost its attacking alternatives, while Barca missed the opportunity to recruit a center forward and a defender — not that Simeone will care one bit.
"Luis would be proud," the 43-year-old said. "This team is like him: valiant and full of fight."
Aragones would doubtless concur.