It had all been eerily calm. The war of words between Barcelona and Real Madrid in recent seasons had given way to respect and diplomacy following the arrival of Gerardo Martino and Carlo Ancelotti in the summer. Within the space of a few days, however, the Clasico feud has been well and truly reignited.
It all stems from one player: Neymar. Madrid wanted the Brazilian, but Barca bought him. And in recent weeks, the 21-year-old's signing from Santos has been investigated in a Spanish High Court following a complaint from a Barca socio, Jordi Cases, which ultimately led to the resignation of the Catalans' president Sandro Rosell last Thursday.
National (and Madrid-based) newspaper
El Mundo
published information leaked from the case and dedicated three front-page stories to the investigation in December and January, while whispers in Barcelona claimed the capital club may even have been involved in a so-called 'witch-hunt' for Rosell.
Catalan journalist Xavier Bosch claimed on
RAC1
that Madrid president Florentino Perez had phoned former Spanish prime minister Jose Maria Aznar to somehow ensure the lawsuit reached court. "That's what an important judicial figure in Barcelona is saying," Bosch told listeners. His claim was strenously denied by Real Madrid.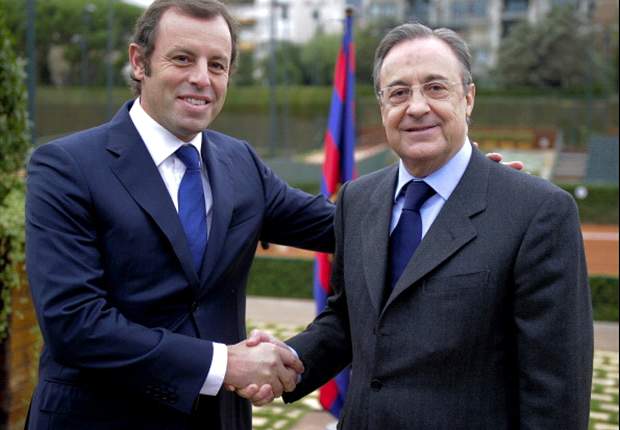 Steely smile | Madrid denied Perez had any role in bringing down Rosell


Moments later, Barca vice president Carles Villarrubi spoke on the same station and, although he declined to go along with Bosch's theory, he didn't deny it either. "I think that Barcelona's institutional vice president cannot respond to that on air," he said. "Everthing has already been answered," he added. "I think the atmosphere in the Neymar case goes beyond what is strictly judicial. Full stop."
Madrid, meanwhile, reacted furiously to the accusations and called for Bosch to rectify in a no-nonsense statement on their website, in which the club also threatened legal action. "It is a flatly false assertion that absurdly aims to involve the president of Real Madrid with the judicial process initiated following the complaint filed by a member of FC Barcelona against president Sandro Rosell," the statement read, adding: "Real Madrid's president demands that the author of such misrepresentations rectify those claims in the same means of communication, clearly and immediately. If this correction does not occur, the president of Real Madrid will file a lawsuit against the journalist in defence of the right to honour, privacy and self-image."
Bosch has since stayed silent, but before the journalist spoke, Barca president Josep Maria Bartomeu upset the Catalans' fierce foes when he addressed the media on Monday. "I don't think there's anybody behind Cases," he said. "But I do think somebody in Madrid got hold of him and made him fly very high."
Both of Madrid's sports papers responded on Tuesday by accusing Barcelona of an obsession with the capital club: Madriditis. The country's biggest seller,
Marca
, led with the inflammatory word on its front page, while
AS
(another Madrid-supporting paper), went a step further on its cover: "Incurable Madriditis!"
I read it, but I don't know what Madriditis means...



- Barcelona boss Gerardo Martino

Speaking on Tuesday, Bartomeu then said: "I don't have Madriditis. I have always respected them. What I have is Barcelonismo - I love this club." And later in the day, Martino was asked about the front-page stories. "I read it," he told reporters in a press conference ahead of Barca's Copa del Rey clash against Levante. "But I don't know what Madriditis means..."
Then, on Wednesday, Catalan daily
Sport
hit back on their front page as it compared the Catalans' trophy haul over the last decade with Madrid's silverware collection in the same period, with the Blaugrana ahead 21-6 in major titles. "Not Madriditis..." their headline screamed. "Barcelonitis!"
Barca currently leads La Liga on goal difference from Atletico, but Madrid is just a point further back, while the two rivals remain on course for a meeting in the Copa del Rey final and could also face each other in the latter stages of the Champions League. As the season hots up, the media are also playing their part to defend the interests of their respective teams - as always - and to ensure the rivalry remains as spicy as ever. After the Clasico calm, came the storm. Back to normal, then...
Follow Ben Hayward on