Barcelona
boss
Gerardo Martino
says
Lionel Messi
's recent injury woes will not be used as an excuse by the Catalan club.
Messi limped off with a thigh problem after 21 minutes against Betis in Seville, but Barca went on to record a comfortable 4-1 victory and extended its advantage to three points over Atletico Madrid at the top of the table.
The 26-year-old forward is set for further tests on Monday and is now likely to miss Argentina's forthcoming friendlies against Ecuador and Bosnia-Herzegovina later this month.
TIME FOR A PROPER REST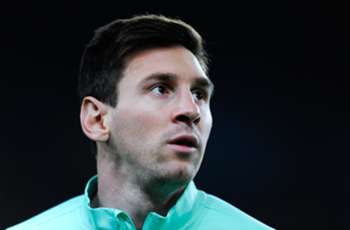 Barcelona's reliance upon Lionel Messi means he is often rushed back too quickly, and the player himself is always keen to return as soon as possible. But enough is enough.

Messi should have spent his summer relaxing instead of traveling the world to participate in exhibition matches - especially after his injury problems last season.

It means he has not had time to fully recover and at the age of 26, the sheer amount of games he has played since he was a teenager are now starting to take their toll.

Amid very real fears of potential burn-out, Barca needs to wrap its prized player in cotton wool. With Neymar now settling superbly, Alexis Sanchez shining, Cesc scoring and Cristian Tello waiting in the wings, the Catalans can and must finally give Messi a proper rest.

However, Martino claims the strain is unrelated to Messi's previous problems this term.
"This injury has nothing to do with his last one," the coach said. "This time he felt discomfort in his right leg.
"We have the best player in the world, but also four or five others who are among the best. Messi's absence can never be an excuse."
In the end, Barca had little trouble without its star player as Neymar and Pedro put the Catalans in control with a goal apiece in an 88-second spell later in the first half, before substitute Cesc Fabregas added a double in the second period.
"Leo needs to stop for as long as it takes," Fabregas said afterwards. "He needs to recover and then he can get back on form. We need him so much.
"I had the same injury at Arsenal - two really bad years with the same problems. You want to come back quickly but it's a mistake. It's an annoying injury."
Sunday's game was a huge contrast from the corresponding fixture last season (played in December), when Messi scored his 85th and 86th of 2012 to break Gerd Muller's record for goals in a calendar year.
The game against Betis was also the Argentine's last chance to impress before Ballon d'Or votes close on Nov. 15.
The Argentine is hoping to win the prestigious award for a fifth time in a row.