After the Iberians made it an unprecedented three major tournaments in succession by trouncing Italy 4-0 in Kiev, should they now be considered as the best national side ever?
"The best international team of all time."
That is how
BBC
television pundit and former England striker Alan Shearer - top scorer at the European Championship 16 years ago - described Spain just minutes after it made history on Sunday by thrashing Italy 4-0 in Kiev to become Euro 2012 champions.
Shearer was not the only distinguished figure to shower the Iberians with such praise. A quick search of Twitter will reveal thousands of users uttering the same remark.
What is not in doubt is that Spain 2008-12 is the most successful international team of all time. Its dominant success at the Olympic Stadium means it has won an unprecedented three major tournaments in succession - its 2010 World Cup triumph sandwiching two consecutive European Championships.
But trophies are not everything.


It is important to note that this analysis has not considered any international teams prior to the 1960s, due to the scarcity of television footage
, and with that in consideration, only three sides can challenge Spain for the title of greatest international team ever. The likes of Netherlands 1974, Brazil and Italy 1982, and France 1984 just miss out.
| | |
| --- | --- |
| | BRAZIL (1970) |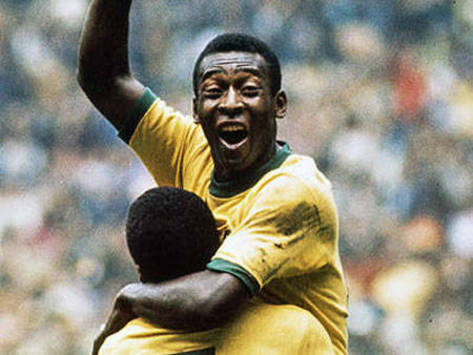 Traditionally, Brazil's 1970 World Cup winners have been regarded as untouchable. Certainly, no major tournament has witnessed such a dominant, destructive and talented attacking force as Mario Zagallo's side. The Selecao crushed virtually every opponent they faced en route to glory, scoring a whopping 19 goals in six games and thumping European champion Italy 4-1 in the final.

In midfield and attack, pound for pound, they have no equal. Player of the tournament Gerson pulled the strings in the center of the park alongside the unorthodox Clodoaldo. Rivelino had perhaps the greatest left foot the World Cup has ever seen, while the fleet-footed outside-right Jairzinho remains the only player to score in every round of a Mundial. In attack, Tostao and, of course, Pele floated, linked, and dropped deep to devastating effect. These six players represent the most formidable attacking unit the sport has witnessed.

Defensively, Brazil had its weaknesses, but the offense more than made up for these deficiencies, and its Mexican conquest is full of legendary moments. Carlos Alberto's fourth goal against Italy – the greatest international team goal ever - was the icing on the cake, yet there were other sequences, though none resulted in a goal, all produced by Pele; his dummy on Uruguay goalkeeper Ladislao Mazurkiewicz, the attempted halfway-line chip of Czechoslovakia's Ivo Viktor, and the bullet header miraculously saved by England's Gordon Banks.

And all this was achieved during one of the strongest eras of international football. Italy, West Germany and England all boasted world-class teams, while the likes of Peru and Copa America holder Uruguay were also dangerous. With the exception of the West Germans, Brazil swept aside every one of the aforementioned nations on the way to glory in Mexico.

But the 1970 World Cup was the only major trophy that Brazil won and, compared to Spain's three consecutive titles, this appears sparse. There were, however, no Copa America tournaments held between 1967 and 1975, meaning that Brazil did not have the opportunity to compete for continental supremacy. By the time the 1974 World Cup came along, much of the wonder team had broken up, and the golden era was over.

The 1970 incarnation is undoubtedly the greatest single tournament team of all time, but whether one success is enough to make it the best international outfit in history is open to question.


| | |
| --- | --- |
| | GERMANY (1972-76) |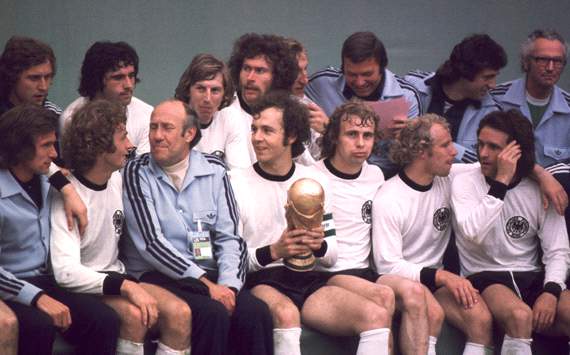 Helmut Schon's West Germany of 1972-76 certainly cannot be accused of being one-hit wonders, having been the first and only team before the current Spain to reach successive Euro-World Cup-Euro finals. Die Mannschaft were built around a brilliant Bayern Munich spine, consisting of goalkeeper Sepp Maier, libero and captain Franz Beckenbauer, and goalscoring machine Gerd Muller.
A myth about this German side is that it was only efficient and physically insurmountable; it often ran teams into the ground through pure force and fitness. And while the likes of Berti Vogts, Rainer Bonhof and Paul Breitner were world-class all-action men, Germany did also boast two genius playmakers in Gunter Netzer and Wolfgang Overath.


The former was the star man in West Germany's successful Euro 1972 campaign, memorably destroying England 3-1 at Wembley in the quarterfinals, before inspiring subsequent successes over Belgium and the Soviet Union. Overath was the creative spark when West Germany upset favorite Netherlands as it came from behind to win the 1974 World Cup final. Both playmakers, as well as Gerd Muller, were gone in 1976, but the rest of the team largely remained. They could do nothing, though, as Antonin Panenka's iconic spot-kick in the penalty shoot-out handed Czechoslovakia victory and stopped the Germans short of a third straight success.
Of the four teams considered, West Germany 1972-76 is probably the most complete. It boasted numerous world-class players in every department – a top-quality goalkeeper, a mean defense, skill and sweat in midfield, and the greatest penalty-box striker of all time in attack. Mentally, it is also at least as strong as Spain, staging numerous comebacks from difficult positions – including the 1974 World Cup final, and in the semis and the final of Euro '76, where it recovered from two goals down to force extra time on both occasions. And having defeated the Netherlands' Total Footballers of Cruyff and Neeskens – one of the best teams never to win the World Cup – it overcame an amazing side on its journey to greatness.
| | |
| --- | --- |
| | FRANCE (1998-2000) |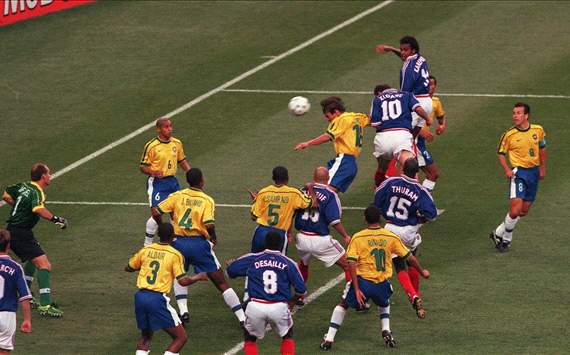 The most recent team to be considered alongside the current Spanish side is the French double-winners of 1998 and 2000. Les Bleus boasted one of international football's best-ever defenses in Lilian Thuram, Marcel Desailly, Laurent Blanc and Bixente Lizarazu, as well as a truly great central midfield pairing of Zinedine Zidane and Didier Deschamps. And it went all the way to World Cup glory despite not having a top-class striker, although two years later, Thierry Henry and David Trezeguet had burst onto the scene to add some devastating firepower.

But there is no doubting who the star individual was, the man who was perhaps the most influential talent from any of these four teams – the one and only Zidane. The ex-Juventus and Real Madrid hero was always the player for the big occasion; he headed two goals in the World Cup final win over Brazil, before firing home knockout winners versus Spain and Portugal in 2000.

The era of the late 1990s and early 2000s was probably the last time international football had an abundance of top-class players and teams; it took a truly special XI to reign supreme alongside Ronaldo's Brazil, Paolo Maldini's Italy, Edgar Davids' Netherlands and Luis Figo's Portugal.
This France outfit – coached first by Aime Jacquet and then Roger Lemerre - had a certain aura about it that crippled opponents before a ball was kicked, something that can also be said of the current Spain side. It also possessed great mental strength, as evidenced by three Golden Goal victories over Paraguay, Portugal and Italy – the latter in the Euro 2000 final after initially equalizing deep into stoppage time.

Of all the four teams, France and Spain came closest to elimination during their successes. The French required a penalty shoot-out against Italy at the quarterfinal stage of the 1998 World Cup, a lottery the Spanish have been involved in three times during their period of dominance. Both West Germany, despite a number of comebacks, and Brazil earned 'cleaner' victories. The Selecao, in particular, were rarely in danger in Mexico and romped to victory in virtually every game. Therefore, some would argue that Brazil's 1970 outfit relied the least on luck, and more on its own skill.


| | |
| --- | --- |
| | SPAIN (2008-12) |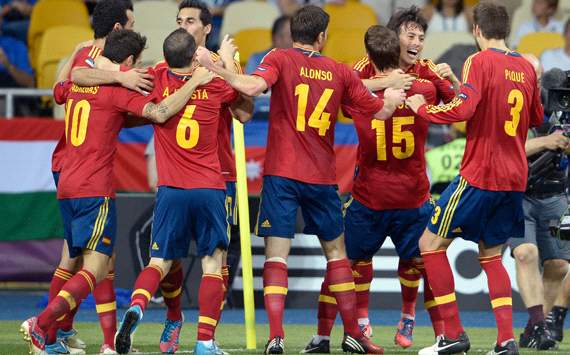 One only has to look at the records Spain has broken in the last four years to understand just why it is being considered the greatest international team of all time.

La Roja is the first side to win three consecutive major international tournaments. It has gone 12 European Championship finals games without losing - the last defeat arriving in June 2004 to Portugal. The 4-0 scoreline against Italy is the biggest winning margin in any World Cup or European Championship final. The last time Iker Casillas - who on Sunday became the first footballer to win 100 international games - conceded a knockout goal in a major tournament was six long years ago when France's Zinedine Zidane scored at the 2006 World Cup.

Football is a team game, and as a team in the truest sense of the word, Spain is surely the best of all time. Every single player - regardless of position - is effortlessly comfortable in possession, and there is no such thing as individualism.

Xavi will undoubtedly go down as one of the greatest midfield directors the game has ever seen. His partner in crime, Andres Iniesta, will also be remembered as an all-time great in his more attacking role, as will goalkeeper Casillas. All over the pitch, there are world class performers. In midfield there is a ridiculous abundance of talent, with Spain's second string middle-third arguably as strong as any nation's first team picks. So strong that La Roja romped to Euro 2012 glory without a natural center forward.

Counting against Spain is the fact that this is one of the weakest eras in international football of the past 50 years. Traditional powerhouses such as Italy (this tournament surprise aside), France and England have been in crisis, South American superpowers Brazil and Argentina have lacked leadership, meaning that only Germany has had the quality in all areas to really be described as a major force. And as we learned yet again last week, Die Mannschaft lacks the mental fortitude when push comes to shove.

The unanswerable question?

Comparing teams from different eras is always a difficult task. Football has altered and evolved immeasurably over the years. Spain has become a wonderful exception to the rule that today's teams are set up to be strong and pacey. In certain quarters, skill and technique have been thrown by the wayside, while modifications in the rules surrounding back-passes and offsides have changed the face of the game further. The replacement of leather footballs with synthetic models has also upped the pace, and made defending much more difficult.

Some world-class players from the 1960s or 70s would struggle to cope with the athletic nature of the modern game. Similarly, many of today's stars would not be technical and tactical enough to handle the artful arena of yesteryear.

In conclusion, the four teams analyzed all have their various strengths. Brazil 1970 is the most devastating attacking unit and the best single tournament team. West Germany 1972-76 is the most complete side, France the best defensively with the most influential individual, while Spain has the best 'team' and won the most trophies, yet played in the weakest era.

But which virtue is the most important?

Follow Carlo Garganese on