It's bizarre anyone bothered asking a Real Madrid coach if he'd like to stay in his job, especially after his team crashed out of Europe. Usually club directors make that particular opinion hastily irrelevant.
But Jose Mourinho's always been a bit, well, special. So they asked.
"I will stay," he said.
He suggested the same when they asked before the Champions League semifinal second leg as well. Then, he was breaking a press silence that lasted throughout the first leg and the triumphant Clasico, Mourinho's first win over Barcelona in the league. It all but assured that Real Madrid, seven points ahead with four games to go, will win La Liga.
So when Mourinho finally gave assistant (and former Colorado Rapid) Aitor Karanka a break from breathing into microphones, they wanted to know if he would stick around.
"I have a contract and I do not have any reason not to be here," the Portugese coach said, "but before the last game there will be sufficient time to talk to the players and the directors and decide what is best for me and for the players."
That reversed the commonly-held notion that Mourinho was off following the season's conclusion.
The coach seemed to have learned from his firing at Chelsea and made sure he was the one who initiated the departure from Internazionale. So it made sense that, like his two years in Milan, his two years in Madrid could be up. Tellingly, he leaked details of a house-hunting trip to London to nearly every press agency in England earlier this year, papers and sites splattered with snaps of Mourinho jaunting around London's streets, looking dapper as always.
The 49-year-old always speaks glowingly of his former clubs, promising to return to the fans who so recently adored him, so Chelsea seemed an option. Also mooted was the England vacancy and, if Harry Redknapp took that gig, the subsequently open Tottenham job.
Now his tune has changed (though his dapperness levels haven't).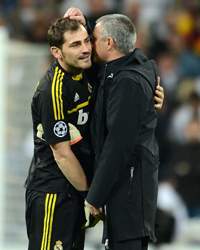 "It is better to be [in charge] for three, four or five years than one or two because you can do more things," he said before the penalty defeat to Bayern Munich.
Longevity is rarely a topic Madrid coaches bother riffing about. It quickly and prematurely becomes irrelevant. This is the club that fired Vicente Del Bosque after three Champions League and three league titles in six years. Mostly because he didn't manage to win both in the same year and wasn't 'sexy' enough.
He went on to win the World Cup.
This is the team that fired Fabio Capello. Twice. Each time following a winning league campaign.
The lasting image of the Italian in Spain is of him flipping the bird to his own supporters as they booed him for his negative tactics.
Mourinho's own view of the game is not much more expansive, despite Madrid breaking the record for goals scored in a La Liga season this year.
But the money sunk into him ($10 million to free him from his Inter contract, a record for a coach at the time, plus his nearly $18 million annual wage) plus the increased authority he gained after outing Jorge Valdano in a political heave-to mean Mourinho carries an unusual amount of weight in Florentino Perez's setup.
Breaking up Barca's three-year stranglehold on the league only increases his capital. Do not be swayed by the recent capitulation of the Catalans' season: This is an unbe-freaking-lievably good Barcelona team. You could count the amount of coaches who would have beaten out Pep Guardiola over the course of the season on a hand that had recently come into mutilating contact with a whirring helicopter blade.
But it appears Mourinho, and his job security, are in good health. Real Madrid's club doctor, Luis Serratosa, recently told
FourFourTwo
that Mourinho has told several of the club's staff that he intends to stay. And one should never lie to one's physician.
Follow ZAC LEE RIGG on

or shoot him an email.