Real Madrid
coach
Jose Mourinho
has decided against putting goalkeeper
Iker Casillas
on sale this summer despite the fractious relationship between the duo, Goal.com can reveal.
In recent days, speculation has grown that Mourinho could sell Casillas amidst growing tensions between them.
However, Goal.com has learned from sources close to both that the Portuguese coach knows that selling Casillas, who has been Real Madrid's number one for more than a decade, would be a deeply unpopular move.
In fact, club officials have privately agreed that they would be more prepared to lose Mourinho than Casillas.
It is clear that Mourinho sees Casillas as problematic. He has referred to the World Cup winner as merely "the goalkeeper" on several occasions. In one outburst, after a good performance from the 30-year-old against Lyon, Mourinho detracted from this and said: "He has made some good saves as any goalkeeper does for an important team. It's what he's meant to do."
According to sources close to the Real Madrid captain, he does not always agree with Mourinho's methods and rules so does not comply with them. Casillas is happy to defy his manager, having led the club for several years.
This season, rumors have spread that Mourinho asked for the exit of Casillas.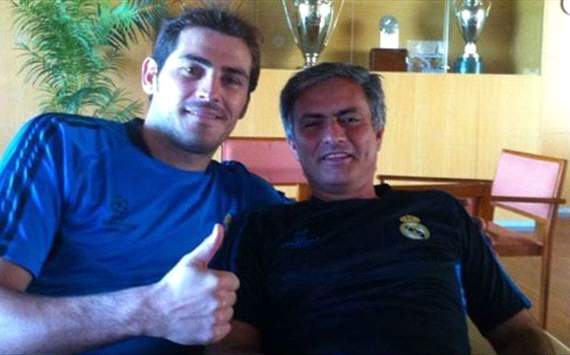 Friend or foe? | The relationship between coach and captain has soured
Some versions of the story behind their fall-out have been blown out of proportion, but others have been confirmed.
Casillas called his Barcelona counterparts in the wake of the controversial Supercopa defeat to the Catalans last August, leading Mourinho, who had banned communication with Madrid's bitter rival, to drop him for the Trofeo Santiago Bernabeu match against Galatasaray.
Later, Mourinho organized a barbecue to try and close the widening gap between the coach and his players, who look to Casillas as a leader.
Recently, there was a fiery argument between Sergio Ramos and Mourinho which got into the hands of the Spanish media, with Casillas implicated as the mole. The coach wanted to strip him of the armband but decided against it.
When the dressing room had a meeting following the draw with Villarreal, they decided to follow the party line of silence, rather than complaining about referees, which Mourinho had implored them to do.
Despite this, many fans feels closer to the sensibilities of the coach, and Casillas has suffered a backlash from fans after errors made in the draws against Malaga and Villarreal.
Meanwhile, there have been rumors that Los Blancos are on the look out for a goalkeeper. There has been talk of Bayern Munich stopper Manuel Neuer, as well as Thibaut Courtois, who is on loan at Atletico Madrid from Chelsea.
However, in reality, if a new goalkeeper arrives, he will be on the bench. Despite being well thought of by Mourinho, Antonio Adan, the current back-up, is looking for a way out of the team to ply his trade at a club where he is first choice.