Life should have looked rosy for Fernando Torres in the summer of 2010. With the World Cup in his hands and a Liverpool scarf draped proudly around his neck, the Spain striker seemingly had it all. He had reached the zenith at international level and was the symbol of a Reds side known affectionately in his homeland as 'Spanish Liverpool'.
Even before his goals made him an Anfield hero, Torres had endeared himself to the Kop as an Atletico player by virtue of an armband which sported their famous motto: You'll Never Walk Alone. So as Liverpool clinched a first trophy in six years on Sunday with victory over Cardiff in the League Cup, El Nino should have been there too, celebrating in joyous scenes on the Wembley turf.
But he wasn't. And when the Spain squad was announced for the Euro 2012 warmup against Venezuela at Malaga on Wednesday night, he wasn't involved in that, either.
Struggling at Chelsea and with just five goals to his name since his acrimonious move south for an astonishing 58 million pounds in the winter of 2011, Torres appeared to have the unconditional support of Spain coach Vicente del Bosque. The former Real Madrid boss had claimed not so long ago that his squad for Poland and Ukraine would be "the same group" he had taken to the World Cup, but the Salamanca-born trainer has since spoken of "wanting to be fair" to his other Euro 2012 hopefuls.
And that meant leaving out Torres.
So just 18 months on from that World Cup win and a year after turning his back on the love of Liverpool, Torres has been left to walk alone. But as the 27-year-old's career now seemingly hangs on a thread for both club and country, the question has to be asked: is there any way back to the top for Spain's famous number '9?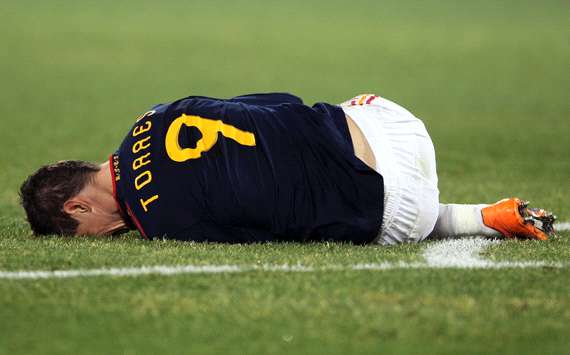 Down and out ... | Torres has been dropped by Spain


Del Bosque, delicate, diplomatic and much the father figure for his Spain squad, has left the door open for the under fire forward. "There is still time for him to find his touch," the coach claimed this week. But there are not many months left until the Euros - and there are even fewer signs that the player will magically return to the peak of his powers ahead of the summer showpiece.
The start of the season had actually been encouraging. Torres' link up play was praised and there were some goals, too. His performance in the 3-1 defeat against Manchester United had been promising, even though he was guilty of a glaring miss. The Spaniard also netted - and was sent off - in a 4-1 win over Swansea, while there were two more in the Champions League victory over Genk in October.
But it's now almost March and Torres has failed to add to his early-season tally of four. And with just five strikes to his name since joining the Blues, the goals have effectively come at a price of almost 12 million pounds each. Compare his recent record of no goals in his last 20 appearances to his excellent 81 in 142 games for Liverpool (including 33 in his spectacular debut season at Anfield) and it's depressing reading for both Chelsea and the player himself.
If Fernando Torres can find some form, you would take him to Euro 2012. He still has his pace, is great in the air and has very good technique. You don't lose that, but at the moment he has a mental problem and he needs to overcome it ...



- Former Liverpool striker Michael Robinson

Stamford Bridge, however, has been a far-from-ideal habitat for Torres. Currently struggling with a slow and sluggish midfield, the Londoners' game plan simply doesn't suit the Spanish striker. Then again, Spain's patient passing and possession play isn't really Fernando's forte, either, with the former Atletico idol much more at home in a dynamic counterattacking side, like Liverpool under Rafa Benitez. That's why it worked.
Former Liverpool striker Michael Robinson, now a popular television analyst in Spain, told
Goal.com
: "He went back to Liverpool and had a recurrence of the injury [he had suffered in the season before the World Cup]. And he felt things started to go wrong and I think he wanted a new start. But Chelsea, because of the way they play football, was it the best place to go in terms of a professional sporting decision? I think it may not have been."
"Liverpool used to win the ball back in their own area as opposed to the opposing area. And Gerrard or whoever only had to find space for Fernando to exploit his pace. And the ability to finish. So he had lots of space in which to play, and that suited him."
Torres at his best can still be a weapon for Spain. It was he, after all, who gave La Roja their Euro 2008 victory over Germany as he raced clear and clipped the only goal of the game over rival goalkeeper Jens Lehmann in Vienna.
But four years on, the player's participation in the next continental competition is in serious doubt. Low on confidence, left on the bench and reduced to a peripheral figure even when he does play, the signs do not look good at Chelsea right now.
For Spain, Valencia's Roberto Soldado finally has the chance to prove his worth, while David Villa is on course to return from injury in time for the Euros. Del Bosque is also keen on Athletic Bilbao's Fernando Llorente, given the Basque attacker's strong aerial threat, while Cesc Fabregas, David Silva and Torres' Chelsea teammate Juan Mata can all operate in advanced positions as well.
Fernando Torres makes defenders worried. He makes defenders have a bad night's sleep before the game. Torres in form conditions other teams. Like [the Brazilian] Ronaldo at Real Madrid, defenders play deeper when they are up against Torres



- Former Liverpool striker Michael Robinson

"In the Spanish team," Robinson explains, "Vicente del Bosque picks him as an alternative. And you saw that with the goal he scored in the final of Euro 2008, when he used his pace to break through. He hasn't lost that."
Also blessed by a myriad of midfield marvels, Del Bosque has decided to dispense with Torres for now, with the striker dropped by his country (due to form, not injury) for the first time since 2006. And with only two or three out-and-out strikers set to travel to Poland and Ukraine this summer, the 27-year-old may well find himself frozen out.
Unless he can rediscover the form which saw him terrorize defenses prior to the serious knee problem he suffered in the lead up to the World Cup, the future may be a bleak one for El Nino.
"Del Bosque has left him out for his own good," adds Robinson. "I think Vicente will have been hoping Fernando returned to form when [Didier] Drogba was away at the African Nations Cup, but he didn't take that chance."
So having lost the love of Liverpool, failed to find his feet so far at Stamford Bridge and now suffered the ignominy of being cast out by his country, Torres has been left to walk alone. And the road back looks long and arduous.
"He can return to form and if he finds some sort of form, I think he will go to the Euros, but I just don't know if he will be given the chance at Chelsea to show that," Robinson concluded.
Follow Ben Hayward on