Josep Guardiola should have quit after winning six trophies his first year as a first team coach. He was never going to top that accomplishment.
But slipping seamlessly into the realm of enigma and legend never appealed to Guardiola. The coach Guardiola most admires is Sir Alex Ferguson, and the Spaniard speaks with breathless reverence of Ferguson's longevity, his ability to maintain a dynasty down the decades.
So, instead of retiring after the greatest club season in the history of ever, Guardiola immediately began adjusting, trying to stay a half-second ahead of the opposition.
"The biggest risk you can take is not to take risks," Guardiola said.
The first change was previewed in the 2009 Champions League final against Ferguson's Manchester United. Samuel Eto'o switched from his hounding central striker role to the right flank, allowing Lionel Messi to play through the middle as a false nine.
Eto'o seared in from the right flank to score the first goal, and Messi defied gravity and his impish height to hang in the air long enough to score a header and ice the game.
That shift didn't take root permanently until midway through the next season, when Zlatan Ibrahimovic had fallen out with Guardiola. Aside from personal differences, the Swede wouldn't exert himself enough to win the ball back. "We're a horrible team without the ball so I want us to get it back as soon as possible," Guardiola once said.
Follow ZAC LEE RIGG on

or shoot him an email.
Using Messi to drop deep and lure defenders out of position has worked well for the last year and a half. But Guardiola continues impel the tactical evolution of his team.
In Barca's first La Liga match of the year, he unveiled a 3-4-3 system against Villarreal. Much of his inspiration surely came from the unavailability of defenders Carles Puyol, Gerard Pique, Dani Alves, Adriano and Maxwell; but some surely came from Johan Cruyff's similar system which Guardiola played in.
Guardiola added his own wrinkle. The three-man defense stayed spread wide, with the midfield four in a diamond shape. In essence what happened was one central defender moved forward 20 odd yards into the base of midfield and much of the rest of the team remained the same. This allowed even more asphyxiating possession with an extra body – one more passing angle – in midfield. Barcelona won 5-0.
In the most recent league match, Guardiola once again reached for the 3-4-3, this time beating Levante 5-0.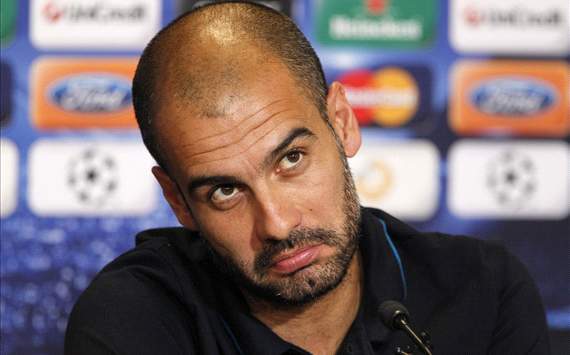 The impressive scorelines won't persuade the 40-year-old to make the shift permanently. (Barcelona has used the formation several other times during the season with less impressive results, including a nervy 3-2 win over Milan in the Champions League.)
An extra midfielder works in certain situations, but a team like Real Madrid would likely break the high pressure and exploit the lack of defensive cover. For the first 10 minutes of matches, Guardiola only watches the opposition, so the setup of Madrid will likely dictate Barca's approach.
It's telling that, with a squad featuring largely youth players, Barcelona reverted to a 4-3-3 midweek in the 4-0 romp over BATE Borisov in the Champions League. Even with tactical experiments, Guardiola remains true to Barcelona's core tactical values of high pressing, astronomical intensity and sleek triangular passing (which Xavi once dubbed the "half-touch").
"In Barcelona it is understood that you can win a thousand ways. All are valid. All work. There's little more to say," Guardiola wrote in a column for
El Pais
(translated by totalbarca.com) in March 2007, as then Barca coach Frank Rijkaard experimented with a three-man backline of his own. "But in Barcelona it is also understood that you can never win and repeat in a way that does not feel right to you—that does not feel right to the directors, coaches, players, friends of the press and the people who go every week to see them.
"I think the current Barça players feel this."
It was in part this desire to 'feel' the Catalan identity that led Barcelona to overspend on yet another midfielder this summer instead of addressing more glaring weaknesses (central defense and depth at right back). In came Cesc Fabregas, a product of La Masia, for roughly 35 million euros (including variables and add-ons).
This wasn't vanity. Fabregas adds several impressive tactical variations which are nearly impossible to plan against. He has played Messi's false nine, he has played alongside Messi in a vacillating striker role and he has taken up more traditional midfield positions. Even then, the 24-year-old flummoxes defenses with his devastatingly timed bursts forward. Frequently he overlaps the forward line to pop up in scoring positions; he has seven goals in the league this year, second most on the team.
Instead of providing midfield congestion, Cesc has freed what was already the best midfield in the world.
"We are very comfortable together on the pitch. I think we complement each other quite well," Xavi said earlier in the year. "If he goes forward I stay back and cover for him or vice versa. We have shown that many times this year. I think Cesc improves my soccer."
Fabregas and Thiago – who, alarmingly, looks completely comfortable alongside Xavi and Andres Iniesta in only his first season with the first team – provide a more direct forward propulsion.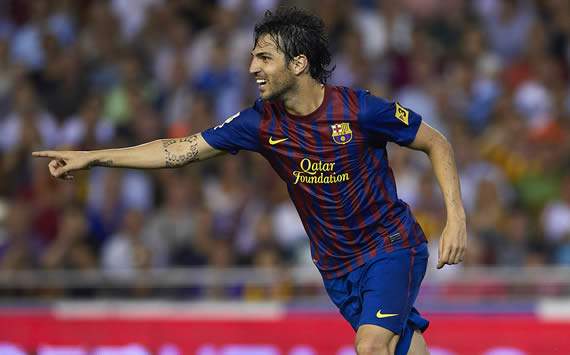 Perhaps neither new tactical permutation – the three-man defense or the new bombastic midfielders – will feature in El Clasico. But even if they don't, Jose Mourinho now has two more headaches as he attempts to avenge the 5-0 loss of last year's first league meeting.
Guardiola willingly admits that he won't last at Barcelona as long as Ferguson has masterminded Man United's dynasty. Pep is prematurely gray, suffers from a herniated disc and prefers to sign contracts one year at a time, only because the club won't offer him six-month deals.
Until he quits, though, Guardiola continues instigating tactical evolution at a brisk pace.