As if there had ever been any doubt. That was
Marca
's headline after Barcelona demolished Osasuna to prove that any talk of the Catalans' demise had been not only premature, but unequivocally misguided, too.
Eight goals Barca had shared with Real Sociedad and AC Milan in disappointing draws in the last seven days - two 2-2 ties that had left a sour taste in the mouth for the European champion, despite the side's scandalous superiority in terms of possession and play. Doubts had crept in.
But on Saturday night came another eight goals, and this time Barca wasn't in the mood for sharing with anybody. Poor Osasuna will have been expecting a reaction from the Catalans in this match and, in the end, its worst fears were confirmed.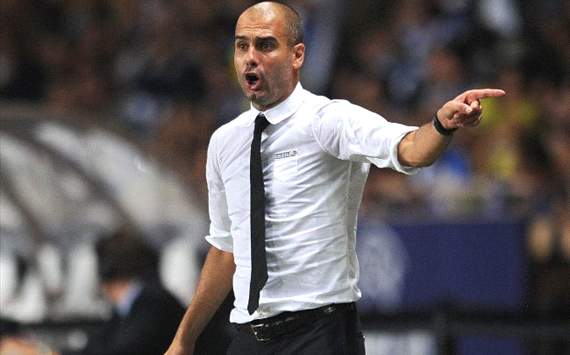 Getting it right |
Guardiola ended his Busquets-in-defense experiment as Puyol returned
Barca coach Pep Guardiola had been deprived of key defensive personnel in the previous two matches, with center-backs Carles Puyol and Gerard Pique sidelined through injury. Puyol's late cameo against Milan could not stop Thiago Silva from heading a last-gasp leveler, but the inspirational captain was back in the starting line-up for this match. The 33-year-old's timely return to fitness following a summer operation on his knee saw Guardiola finally ditch his 'Sergio Busquets experiment', at least for now, and with both players back in their favored positions, the whole spine of the side was strengthened. It is said in Spain that '
rectificar es de sabios
' - rectifying mistakes is for the wise. And Pep, who had never gone three games without a win as Barca coach since taking over in 2008, is wiser than most, despite his - in coaching terms, at least - relatively tender years.
Puyol brought solidity and security to the back-line, alongside Javier Mascherano and Eric Abidal, allowing Dani Alves to push high up the pitch on the right-hand side. And with all of his players in their natural positions - including midfielder Mascherano, who is looking increasingly like a center-back of the future for Barca - the results were there for all to see. Lionel Messi, David Villa and Cesc Fabregas, aided by the always-astonishing Xavi and the ever-improving Thiago, tore Osasuna apart. The Catalans had been 5-0 up by half-time and could easily have hit double figures, denied as they were by the woodwork on several occasions.

"Winning 8-0 gives us huge confidence. And also scoring two goals gives me great pleasure personally. We used this game to raise our self-esteem.
"
Puyol's fitness remains key and Guardiola will hope to welcome back Pique, Alexis Sanchez and Andres Iniesta from injury while avoiding further casualties, but it is perhaps a measure of how great this team has become that back-to-back draws were treated with such disappointment and derision.
With some irony, Guardiola had claimed in the press conference ahead of this match that it would be normal if his side went without another major trophy this season. But eight goals in 90 minutes of breathtaking soccer on a night of entertainment, exhibition and excellence prove that brilliant Barcelona remain the team to beat this season, and that the Catalans will be stronger than ever in their pursuit of even more silverware in 2011-12. As if there had ever been any doubt.
Follow BEN HAYWARD on