FEATURE
By Ben Hayward in Barcelona
It was more than just a celebration. Thousands of Barcelona fans flocked to the heart of the Catalan capital late last night to celebrate a third successive league title after watching their team clinch the point they needed with a 1-1 draw at Levante. Flags and banners were waved, songs sung and flares let off, lighting up the sky with striking shapes of bright red. It is a sight only seen when Barca win a trophy, but it's becoming a regular occurrence under Pep Guardiola.
And on Barca's big night,
Goal.com
took a walk down La Rambla to Canaletas - where the Catalans celebrate their titles - and spoke to some of the fans celebrating yet another trophy - a ninth under Guardiola.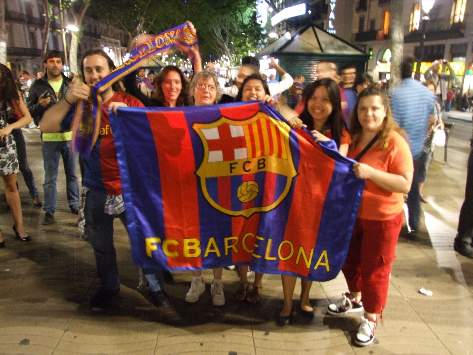 Three in a row | Barca fans celebrate on La Rambla after the 1-1 draw at Levante


For many, it was as much about beating Madrid coach Jose Mourinho as it was about winning the league. "Beating Mourinho makes this win all the more special," said Joan, a 24-year-old Barca fan. "Beating Madrid is always satisfying, but beating Mourinho makes this victory even sweeter." Another
blaugrana
aficionado, Gerard, also took the time to mock the Portuguese, alluding to his recent press conference complaints about referees and supposed outside help for Barca. "Why, Mourinho?" he said. "Why? Why? Why? Because we're Barca and because we're better than you - that's why."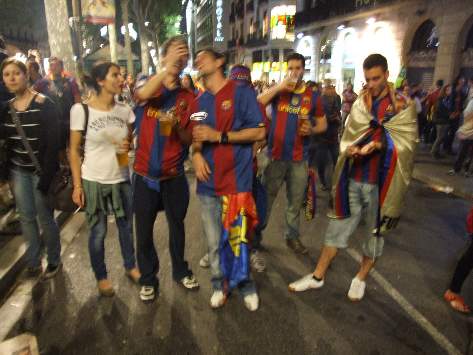 Toast of the town | Fans reflect on another title under Pep Guardiola
Other fans merely reveled in getting one over their old enemy: Madrid. "That's three in a row and we still have the Champions League to come," said Eva, a 32-year-old fan. "Madrid can keep spending, but we'll keep winning." Her friend Ana agreed: "They can keep their Copa del Rey because we have the league and we're going for the Champions League as well. But they had better take care of it because they won't be winning much else."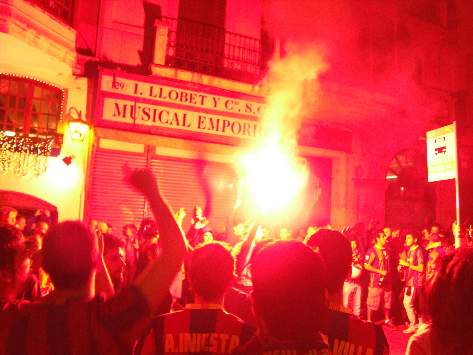 Plenty of flare |
Barca shine bright off the pitch as well
Amid the celebrations, there was some violence - albeit less than after last week's Champions League semifinal victory over Madrid. This time, as firecrakers were let off dangerously close to large groups of fans and rubbish bins were pushed over, 18 people were taken to hospital for treatment while police made 17 arrests.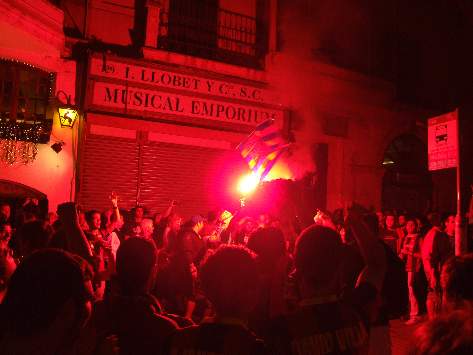 Painting the town red | Fans partied into the early hours
Many were oblivious to such problems as they enjoyed the party with an estimated 12,000 other fans. "This is the first time I have come to Canaletas to celebrate and it's amazing," said 20-year-old Laura. "I'll be back here on the 28th after we have beaten Manchester United - we're going to be champions of Europe again and I can't wait for that party." And Alex, a lifelong Barca fan from just outside the city, added: "I've lost my friends and I'm covered in beer, but I don't care; I'm surrounded by Barca people and it's a great party."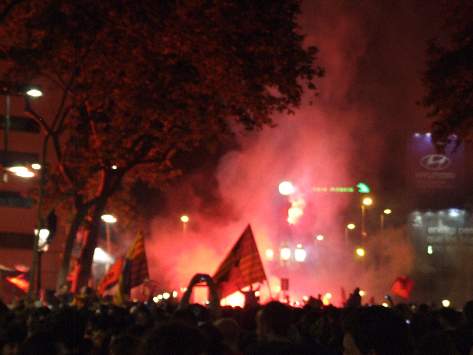 A Catalan dream | Three leagues in three years is the best since Cruyff's Dream Team

Guardiola's side has now won three league titles in a row, which leaves them just one short of the total set by Johan Cruyff's legendary Dream Team in the 1990s. Abraham, a Barca fan from Mexico, believes they will keep improving. "We are going to get better and better," he said. "I don't know if this team is better than the Dream Team, but as long as we're better than Madrid, then that's just fine." Guardiola, of course, was part of Cruyff's side and played in two European Cup finals, winning the first and losing the second. Victory over United on May 28 will see the coach claim his second Champions League title in just three seasons. "I'm sure we'll do it," Abraham said. "And we'll be back here to celebrate."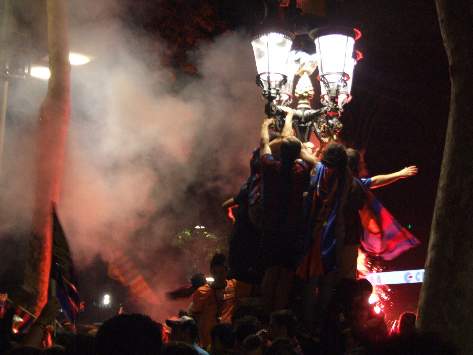 Climbing high | They're the best in Spain. Can they be the best in Europe too?
The celebrations last night were reminiscent of Guardiola's first season in charge, when he led the team to a treble of La Liga, Copa del Rey and Champions League titles. They missed out on a repeat this time after losing the cup final to Madrid in Valencia last month, but can still claim a league and European double if they beat United - and that would lead to an even bigger party.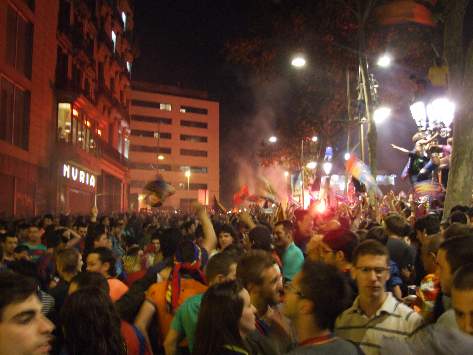 A mixed crowd |
Fans of all nationalities celebrated at Canaletas
And it wasn't just Catalans, either. Thousands of foreigners have adopted Barca as their team since moving to the Catalan capital and many were out in force last night. Cecilia, from Buenos Aires, hailed the contribution of her compatriot, Lionel Messi. "He was amazing again tonight and he can win the Champions League for Barca as well - Messi is a phenomenon," she said. Meanwhile, Karina from Germany says she looks forward to beating Madrid - over and over again. "We've done it again," she said. "But there was never any doubt, was there? Now for the Champions League and then next year we'll beat Madrid again and again and again."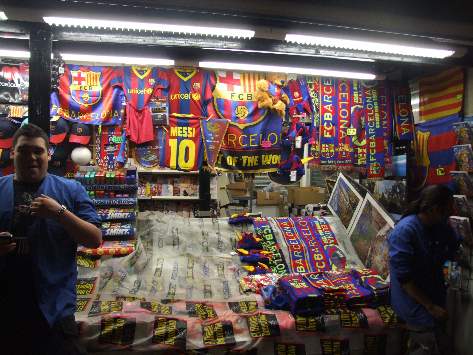 Paper view | Vendors at a press stand on La Rambla watch on as fans go wild
Follow Ben Hayward on

Follow Goal.com on

to get the latest soccer news directly. Check out Goal.com's

page; be part of the best soccer fan community in the world!