Goal.com's Gareth Lowe looks at the potential difficulties Barcelona could suffer if their poor run of form carries forward to the weekend.
"Teams like Sporting Gijon hand Barcelona the title."
Those were the harsh words of Real Madrid coach Jose Mourinho, after he judged Sporting coach Manolo Preciado to have fielded a weakened side at the Camp Nou last September. Little did he know at the time, that it would be Sporting who brought the Liga BBVA title back within Madrid's crosshairs.
Though both sides dismissed such talk, many believed the title race to be as good as over when Barcelona were able to gain a seven point lead at the top of the table at the end of Janury. As these things so often go, one result flipped that idea on its head completely.
Barcelona's away draw last week with a fearless, resolute Sporting side followed by Real Madrid's narrow victory over Barca's city rivals Espanyol has seen that gap closed to just five points. If seven points is home and dry, then five points is still surely a safe bet, right? Wrong.
When writing off Real Madrid, people had simply been assuming that Barcelona would not drop points, but lo and behold, they have and now they find themselves in a somewhat precarious situation. Having previously held a perfect away record in the league, and only dropping five points overall, the Blaugrana was stifled somewhat on that night in Gijon, and followed it up with an away loss to Arsenal in the Champions League. For a side held in impossibly high regard to the extent that Barca are, this could almost be considered disastrous form.
Now Barcelona must welcome Athletic Bilbao to the Camp Nou, a side that have shown time and time again that they can damage any big team, particularly Barca. Although the Catalans were able to break down Athletic and win 3-1 at their fortress of San Mames in their first league meeting of the season, the two sides also met in the Copa Del Rey, with an aggregate score tied at 1-1 over two legs, and Barcelona only just progressed on the away goal. If they can do what they did in the Lion's Den early in the season, good for them. If they can only achieve what they achieved in the Copa, disastrous.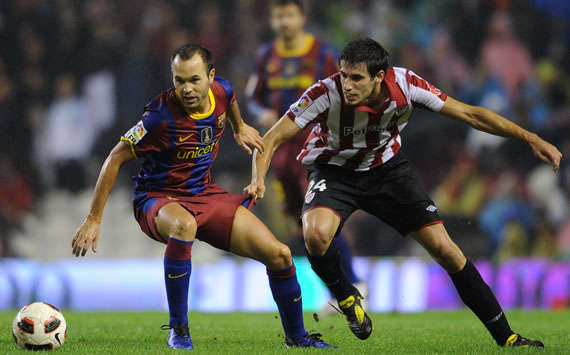 Can Athletic Bilbao blow the title race wide open?
On to Real Madrid, who welcome Levante to the Santiago Bernabeu. Having also played the away match in La Liga, as well as a Copa Del Rey tie, Madrid have much more reason to be confident than Barcelona, even without suspended captain, goalkeeper and talisman Iker Casillas.
Jose Mourinho's men battled to a 1-0 win in the league in Valencia, before progressing from the Copa tie on an aggregate score of 8-2 (which included an 8-0 victory at home, and a 2-0 loss with a weakened side.) Madrid hold a 100% record at the Bernabeu this season, and Mourinho has not tasted defeat in any of his teams' home ground in an incredible nine years.
It would be a brave man to bet against Madrid, and yet doing so against Barcelona seems far more credible. It is important to keep in mind that Barca are yet to travel to the Bernabeu this season. They may have won the last two meetings there, racking up an amazing tally of eight goals and conceding only two in the process, but that was before Mourinho came along with his astounding knack for winning home games.
Barcelona will remain favourites for the match against Athletic, but should they let the gap slip to two or even three points by the end of the weekend, and simply suffer another draw before the Bernabeu El Clasico visit, a win for Madrid (if they are able to hold a perfect record until then) would leave the two giants level on points, bringing the title race to the head-to-head decider, something Barcelona would almost certainly hold an advantage over after their staggering 5-0 win in Catalunya.
With all of this in mind, Barcelona must beat Athletic on Sunday, as much as anything, to keep morale up. There is definite correlation between confidence and results, and Guardiola is yet to prove himself in such an adverse scenario. Now would not be the best time to test his and his players' resolve.
It is far too early to be ringing alarm bells, or calling any sort of crisis at the Camp Nou, but Barcelona have to be aware of the consequences that will face them should they fail to pick up the three points this weekend. It would undoubtedly be disastrous, and a true test for the side currently hailed as one of the best ever. The title race in La Liga remains as interesting as ever, and the closing of the gap at the top of the table would only add to that.
To quote Rocky Balboa, "It ain't over til it's over", and both Barcelona and Madrid are more than aware of it.
Follow Goal.com on

to get the latest soccer news directly. Check out Goal.com's

page; be part of the best soccer fan community in the world!