La Copa del Rey has recovered its prestige, lost long ago, as it became an afterthought and somewhat of an annoyance after the vast expansion of the European competitions. On April 20th, Barca and Real Madrid will battle for the Cup, in the latest chapter of their eternal struggle. The date adds to the symbolism of the clash: it's Semana Santa in Spain, the eve of Holy Thursday. Furthermore, it comes just 4 days after they face off in La Liga, at the Bernabeu, with the league presumably still in play. They may as well declare a national holiday.
In the 1973-1974 season, Johan Cruyff's Barca side walked into the Bernabeu and walked out with a historic 0-5 victory. It's one of Barca's proudest moments, as Madrid had been a dominant force in the previous two decades. It was Cruyff's first big feat in a long career as player and manager that would change the nature of Barca, and indeed the rest of the Spanish game forever.
What nobody remembers about that feat is that only a few months later, Madrid and Barca met in the final of "La Copa Del Generalísimo", as it was known before the monarchy was restored. Back then teams weren't allowed to field foreign players in the Cup (typical of the nationalism of the era). With Cruyff watching in the stands Madrid thumped Barca 4-0 at the Vicente Calderon.
Curiously enough, Barca beat Madrid 5-0 earlier this season. The stage is set.
It's going to be a grand affair. Most Clasicos have a cataclysmic air to them, but this one will literally be do or die. Real Madrid in particular will be desperate to grasp at any sort of silverware. While the Copa del Rey has become a second-class trophy, beating Barca in the final will elevate it into the collective memory of Madridismo. It's the nature of the rivalry, intense and ubiquitous unlike any other.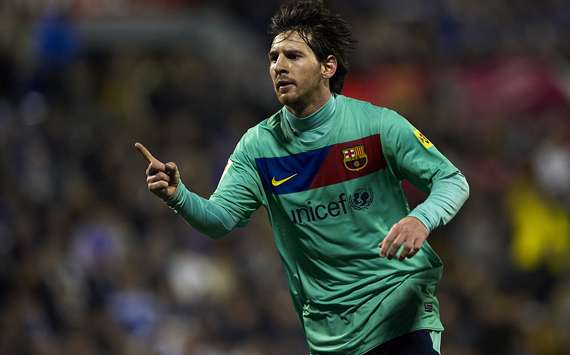 The semifinals were a cakewalk for Barcelona, something that long ago ceased to be news. Their play is so superior, so dominant that they make headlines when they don't win by at least 3 goals. Madrid, on the other hand, goes into every match with a dagger between its teeth. Every match is a bitter struggle wrought with personal clashes and controversies. In the middle of the ruckus is the manager, Jose Mourinho, who continues to generate controversy at every turn.
Earlier in the year, Madrid had an easier time of it. But without Higuain, and with Di Maria and Ronaldo having running on fumes after putting in herculean efforts week in and week out with little rest, the team has lost some of its formidable punching power. This time it was Mesut Ozil that put the match away, with a characteristically placid and elegant goal. It's almost strange to see his confident indifference amidst the mortars flying all around him.
Earlier this year (pre 5-0), Mourinho proclaimed that "knew how to beat Barcelona". The drubbing at the Camp Nou had a marked effect on him. He traded his assured arrogance for paranoia and petulance. He began to see enemies everywhere, whether it was Valdano, the referees, the schedule-makers, and even Pellegrini. The defeat was easily the worst, and loudest, of his career and it rattled a man that is not used to being rattled. It will be a fascinating few months as Mourinho prepares the team for back-to-back matches against Barcelona.
This is what Florentino Perez hired him for. This was his covenant, where he threw everything overboard and strapped his star to Mourinho's. Knowing Florentino, he will not like to be let down. Is it too early to speak of a "must win" game for Mou? At Madrid, you can never really know what to expect.
Villarreal vs. Levante
Saturday, January 5, 2:00 pm EST GOLtv
Villarreal continue in their state of grace. They are easily the most well managed club in Spain, which is saying something given Barcelona's success. Vila-Real is a city of 50,000 people, and most of the people in the surrounding area are Valencia fans. Yet Villarreal has managed to overtake their more storied rivals.
This is the "other" Valencian derby. Levante is a minnow, just like Villarreal. Yet what a difference management does, as while Villarreal is thriving, Levante lives in a perpetual state of crisis and debt.
Giuseppe Rossi has just extended his contract, cementing his status as a local hero. He has probably been the best player in the league outside of Madrid and Barcelona this season.
Prediction: Villarreal win
Barcelona vs. Atletico de Madrid
Saturday, January 5, 4:00 pm EST GOLtv
Barca – Atleti is always one of the more intriguing and enigmatic matches in the league. They have a strange history. They don't like each other very much due to the regional tensions between Barcelona and Madrid, as both clubs are extremely nationalist by nature. Yet they share a common enemy (Real Madrid, of course), and hating that enemy is an essential part of each club's identity.
Atleti has had surprising success against Barcelona in the past, with Kun Aguero typically raising his game against the Cules (one of the reasons, I suspect, why Real Madrid is so keen on buying him in the summer). That said, there have been some historic thumpings by the cules. Rumor has it that 0-6 thrashing at the Calderon was what finally pushed homegrown idol Fernando Torres over the edge, finally asking for a transfer.
Atleti are going through difficult times. Quique Sanchez Flores, always a reliable manager but always seemingly on the hot seat, is once again on the proverbial hot seat. Rumors speculate that Luis Aragones, that eternal enfant terrible of Atleti lore may be in for a dramatic return. Also, Diego Forlan has been way out of sorts all season long.
Barca continue in their state of grace. Alfredo Relaño, editor-in-chief of AS noted how cheery and implicated Messi, Villa, and Xavi were while sitting on the bench in a meaningless match against Almeria. One gets the sense that they are playing in a different galaxy and they are loving every minute of it.
Prediction: Barca win
Sevilla vs. Malaga CF
Sunday January 6, 11:00 am EST ESPN Deportes
This is an interesting matchup that amounts to an Andalusian derby. Sevilla are coming off a difficult loss to Real Madrid in the Copa del Rey, although supporters will be encouraged by their display at the Bernabeu. The winter signing of Rakitic from Schalke looks like a keeper, and the team flourished with Kanoute and Negredo giving Madrid all sorts of problems.
Malaga have yet to really find their form under Pellegrini. They are undergoing a pseudo pre-season now given the amount of signings they made in the winter transfer market. One gets the sense that if they give Pellegrini the confidence and patience that he lacked at Madrid, he will make them flourish next season. First they have to survive relegation.
Prediction: Draw
Real Madrid vs. Real Sociedad
Sunday January 6, 1:00 pm EST ESPN Deportes
This is always an explosive matchup, with a host of difficult political and nationalist undertones. Who can forget the infamous "bomb threat" match, where ETA (or someone posing as ETA), a basque terrorist group, called in a bomb threat 6 minutes before the end of a match at the Bernabeu. The match had to be postponed, and the 6 minutes were played a few days later with Madrid winning it in dramatic fashion thanks to a Zidane penalty.
The match at Anoeta earlier this season was a feisty affair, with La Real giving Madrid a run for their money. They have talked a big game before this one, and they are always motivated against Madrid.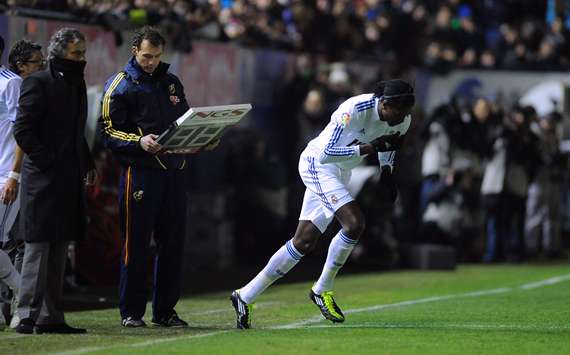 Mourinho claims that the Copa del Rey has taken a toll on his team (although he has been very reluctant to rotate players). It will be interesting to see if he does that now after they have qualified for the final. The Bernabeu will be anxious to see new signing Adebayor, who scored a good goal in his home debut.
Prediction: Madrid win
Valencia vs. Hercules
Sunday January 6th, 3:00 pm EST GOLtv
While Valencia sit comfortably in 4th place, which qualifies them for the Champions League, there is still a lingering sense of unease within the club. Unai Emery has done a fine job, but the Valencia, spoiled in the early 00's by unprecedented success, expects more.
Valencia fans will be eager to see new signing Jonas, who comes with an impressive resume: top scorer in Brazil in 2010. All the early reports indicate that he's gotten along swell with his new comrades, although these things tend to change once they switch to live bullets. He joins an already formidable striking corps comprised of Juan Mata, the brains behind the operation, Aduriz, Soldado, and Chori Dominguez.
Hercules continue mired in Drenthe-gate. Never before has a player risen and fallen so quickly, and so spectacularly, in the eyes of a fanbase. It seemed like just yesterday fans were wearing rasta wigs at matches, now he rarely makes the squad.
Prediction: Valencia win
Fernando Rodriguez-Vila is based in Miami and Madrid. He covers La Liga for Goal.com.
Follow Goal.com on

to get the latest soccer news directly. Check out Goal.com's

page; be part of the best soccer fan community in the world!