It should be a furious second leg.
Real Madrid at Atlético de Madrid
4:00 PM ES, Thursday January 20, GOLTV
"We have a #9. He was on the bench".
- Jorge Valdano, after Real Madrid tied 1-1 against last-placed Almería
Jorge Valdano has always been known for his grace and velvet tongue. He has often been referred to as the "unofficial philosopher" of Madridismo, having coined a host of famous phrases that have become commonplace in the lexicon of Spanish football. It was he, for example, that first referenced Gabriel Garcia Marquez when he described the atmosphere ahead of a big European clash as "El Miedo Escénico" (something like stage fright).
His critics charge that his florid verbosity is just a bunch of hot air, lacking in any real substance. Regardless, few will ever accuse him of saying something out of line.
That is why his comments after Marid lost… excuse me, "tied" at Almería were so surprising and ultimately revealing. Coming from the man that once claimed that there were two types of "discourses" in football, the private and the public, this public revelation showed that not all is well behind the scenes at the Bernabeu. Shocking news, I know.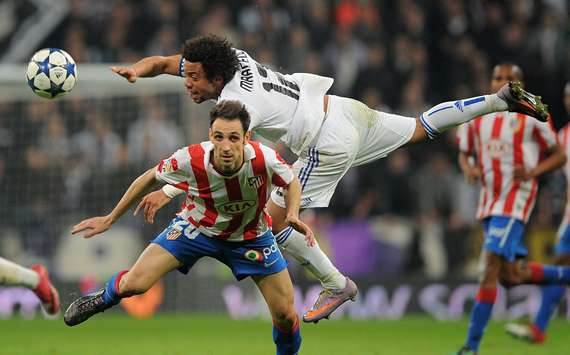 For weeks now the club has been distracted by a bitter debate over what to do about the supposed lack of scoring options. It's an open secret that Karim Benzema has never convinced Jose Mourinho, who desperately wants to sign a striker in the winter transfer market to replace the injured Gonzalo Higuaín. The openness of the secret is mostly due to the fact that Mourinho talks about it incessantly to the press.
Jose Sámano, Sports editor at El Pais, echoed most Spanish when he interpreted Benzema's benching at Almeria as a direct challenge to the club's brass: "Mournho's decision to bench Benzema must be interpreted as a message to the board in favor of his anxiously desired signing (of a striker). The experiment was a disaster. Even though he has legitimate reasons to doubt the Frenchman, Mou has managed to make Benzema feel like he is constantly under the radar, in every movement, every time he touches the ball, every run… too much pressure for a kid of such timid spirit".
One can't help but feel bad for Benzema, who is by all accounts a nice kid, albeit shy and reserved. You also don't need to be the world's most talented scout to realize that he has every single physical and technical quality to be a devastating forward. There seems to be a great player hidden somewhere beneath the cold, aloof exterior.
Given the options on the market, it's surprising to see Mourinho hurting his own cause this much. Save for the outside chance that Ruud Van Nistelrooy forces his way out of Hamburg, Mou is stuck with Benzema as his only option. The club isn't keen on bringing in a lesser striker that would foible their plans to sign Athletic Bilbao's Fernando Llorente in the summer.
That's why leaving Benzema out to dry seems counter-productive, as it will only make him even less self-confident. When Benzema hasn't felt like he has the weight of the world on his shoulders, he has played remarkably well, scoring hat tricks against Levante in the Copa del Rey and Auxerre in the Champions League (Madrid had already secured the top spot in the group). One of Valdano's most famous lines is that "El Fútbol es un estado de ánimo" (Football is an emotional state). It would behoove Mourinho to heed Valdano's words with regards to his only striker.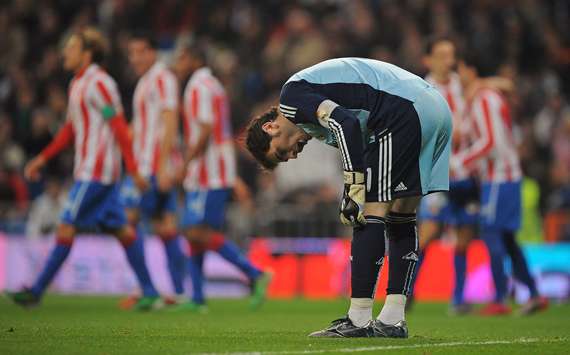 Barca, of course, happily exacerbates the tension at Madrid. They have just finished the most brilliant half-season in the history of La Liga, with 52 points and scoring an absurd 61 goals in 19 games, well on pace to shatter the single season record of 107 goals (a feat achieved by one of the most beloved Madrid sides of all time, La Quinta del Buitre in the 89-90 season). The funny part, or rather the sad part, is that while Madrid consumes itself in a bitter war over a striker, Barca is scoring for fun while playing without a pure striker. Messi, Villa, and Pedro aren't exactly the second coming of Ferenc Puskas, and their backup is the diminutive Bojan.
Alfredo Relaño, Editor-in-Chief at AS, made an uncomfortable parallel when he compared Mourinho's combative style to Vicente Del Bosque's quiet serenity. When faced with a similar crisis in 1999, Del Bosque decided to rely on two youth players Meca and Zarate, who ended up scoring crucial goals to keep the team's season alive. In the 2000-2001 season, when starting striker Fernando Morientes went down with an injury Del Bosque re-shuffled the lineup and placed Guti, typically a midfielder, as the most advanced player. Guti would end up scoring 18 goals on the way to a League title.
The debate about el nueve (#9, or striker) is the latest cause of tension at a club that seems to eternally live in a giant, suffocating pressure cooker. AS' Tomas Roncero is reporting that President Florentino Perez is sick and tired of the situation, although I'm not holding my breath waiting around for him to display any real leadership. For such a savvy business leader in the "real world", Florentino has shown a shocking inability to keep the house in order at Real Madrid.
The week has been swirling with a host of controversies around Mourinho. On Wednesday, AS surprised everyone by running a headline that Mourinho is fed up with the club and could leave in June. Meanwhile, an intern at the Spanish Footballing Federation (RFEF) caused a massive stir by publishing a sarcastic shot at Mourinho on their official website. On Monday at the Vicente Calderon, Atleti's fans chanted "Mourinho Muérete!" (Die Mourinho), which prompted an investigation from the league. Stormy weather that overshadows a Madrid Derby that no one is talking about. Every headline is literally about Mou.
Mourinho has every right to be worried about the fact that he will be without Higuaín for an indefinite period of time. Higuaín is a great goal scorer and a talismanic presence on the field. He is wrong, however, to turn it into such an ugly public conflict. This doesn't help Benzema, the club, and ultimately Mou himself. Before the season, Mourinho spoke as if he was going to have the final word on all club matters. It now seems obvious he was either misled, or he misread the situation. It's now almost impossible to imagine this situation at the club continuing in the long-term without people's heads rolling.
Follow Goal.com on

to get the latest soccer news directly. Check out Goal.com's

page; be part of the best soccer fan community in the world!