This was supposed to be Spain's year. Spain's only Ballon d'Or winner was Luis Suarez in 1960, exactly 50 years ago. Spain's struggles on the international level were always a hindrance for its stars when it came to individual recognition. This time it was different.
Coming off of a dominant performance in Euro 2008, and then winning the World Cup in South Africa, Spain is at the pinnacle of the soccer world. Furthermore, FC Barcelona has dominated its competition with a seductive style of play. At the center of these two sides is Xavi Hernandez, an unprecedented player who has broken the mold and set a new standard for midfielders. He is, in short, a revolutionary in this game.
That is why it pained so many Spaniards to see Leo Messi win the trophy that recognizes the world's best player for 2010. Yes, his goal-scoring record for Barcelona has been simply absurd, with 60 goals in 59 games. And yes, at 23 years old, he has already secured his place in the pantheon of soccer gods alongside the likes of Pele, Maradona, Cruyff, and Di Stefano. There aren't many people who don't consider Messi the world's best player at the moment, so he is by and large a perfectly acceptable choice.
That said, the Ballon d'Or has typically recognized excellence on the biggest stages. Fabio Cannavaro won his after an immaculate World Cup, while Ricardo Kaka won after his inspirational performance in the Champions League. Messi failed to win either trophy last season, settling for a more pedestrian league title. His struggles with the Argentine national team (zero goals in South Africa) also seem to suggest that Barca's clockwork midfield, led by Xavi, allows Messi to shine.
I don't really blame him. I have never seen a midfielder singlehandedly make his team better the way Xavi does. He is a shining oasis in the middle of the field, always available to receive a pass, no matter how many defenders are on him. You know that he is going to make the appropriate turn and breathe life into the team's move, always finding the proper space. Then, when he is near the 18-yard box, he has uncanny ability to remain calm, find the crack in the defense, and deliver the perfect through-ball. He is a player that absorbs a lot of pressure from the rest of his teammates, and allows them to play their game.
His development has been fascinating to watch. As a teenager in the late 90s, he was considered one of the best talents of his generation. He was player of the tournament in the 1999 U-20 World Cup in Nigeria, where he led Spain to victory. That victory has been seen as a precursor to Spain's eventual ascendance in the international arena. The following year, he came just short of the Gold at the Olympic Games in Sydney, losing to Cameroon in the final.
While he seemed predestined for greatness at the international level, his early years on Barca's senior team proved far more turbulent. The club entered one of its darkest periods under the presidency of Joan Gaspart, and Xavi found himself constantly in the shadow of his natural predecessor Pep Guardiola, the Godfather of La Masia's (Barca's famed youth center) school of #4s, the deep lying playmaker.
Xavi immediately became one of the most divisive players on the team in the eyes of the press and public opinion, as some people felt he didn't provide enough steel and they didn't see the point of the endless string of short passes that he would make game after game. The low point was the summer of 2004 when Barca signed Deco, fresh off of leading the relatively modest FC Porto to a surprise Champions League victory. It was speculated that Deco was being brought to "sit" Xavi.
Frank Rijkaard, whose influence on Barca's success is still very underappreciated, had other plans. He retracted Deco's position in the field, made him Xavi's partner in midfield, and the results were spectacular. In the 2004-2005 season, Xavi made a definitive leap into that of the elite, and he hasn't looked back since.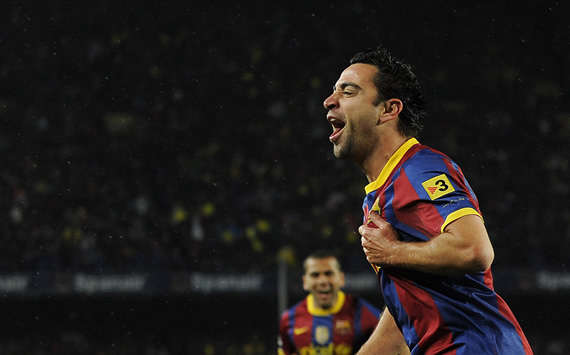 Guardiola would come back into Xavi's professional life when he was named manager amidst a brief period of club crisis following the vote of no confidence that club president Joan Laporta narrowly survived. It was the summer of 2008 and Barca was coming off of losing two league titles in a row to a resurgent Real Madrid. Guardiola's arrival – heavily disputed at the time for his lack of experience – would prove pivotal in Xavi's establishment as a legendary player.
Guardiola moved Xavi 20 yards up the pitch, far from his comfort zone just in front of the defense. He turned Xavi into a complete player, one that would build attacks from the back and then destroy defenses up top. Xavi still maintained his remarkable ability to keep possession under the most extreme circumstances, while adding new facets to his game. He learned how to penetrate the box in the final third, putting himself in position to score goals, as well as turning himself into a sort of pivot-man at the top of the box, which suffocates opponents in their own third. Often it is Messi that delivers the final masterstroke, but it is Xavi's presence that allows Barcelona to play the way they do.
Xavi's high point was undoubtedly being named Player of the Tournament in Euro 2008, where he delivered the decisive pass to Fernando Torres in the final against Germany.
It was vintage Xavi. He first drifted into the hole between Germany's midfield and defense, looking to receive a pass with his back to goal. As Marcos Senna passed the ball forward, Xavi quickly turned his head to see what was going on behind him, seeing Torres between Christoph Metzelder and Philip Lahm. Xavi received the ball and spun with one simple touch with his left foot, shifting it neatly to his right. Then he threaded the needle between the two German defenders, allowing Torres to run onto it, and the Liverpool striker did the rest.
Until Iniesta's wonder-strike in extra time of the 2010 World Cup final against Holland, it was Spain's most iconic goal ever.
In the end, the real winner was Barca. The three Ballon d'Or finalists were not only Barca players, but also direct products of their youth system. La Masia is Barca's pride and joy, what sets them apart from the rest of the field. They have an unbridled tradition of excellence that began during Johan Cruyff's tenure as manager in the early 90s. He established a particular ethos that still permeates today. It is a tradition based on skill, vision, and possession, occupying and finding the space. It is a radical tradition that is firmly in Barca's DNA. Its effect has been tremendous, for Barca as well as for the Spanish national team.
A Ballon d'Or victory for Xavi would have been a victory for that radicalism. While Messi is great, and will retire as an absolute soccer god, the revolutionary is Xavi. Messi makes the game great, but Xavi has transformed the way we understand it.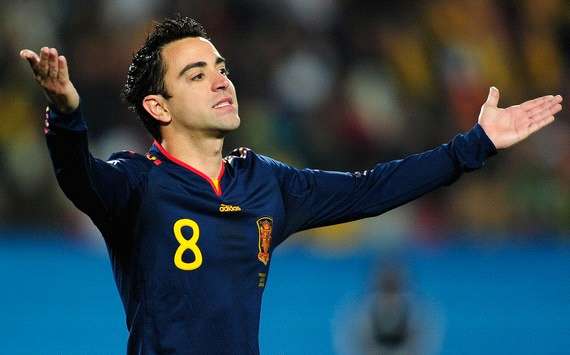 Copa del Rey: Atletico de Madrid at Real Madrid
4:00 pm EST, Thursday, Jan. 13
GolTV
This week the Copa del Rey gives fans of Spanish soccer a rare treat. Often seen as a disturbance to the more important League campaign, that all goes out the window when luck pits Atleti against Real Madrid, still the second most important rivalry in Spain.
The relationship between Atleti and Real Madrid is a unique one that will soon get its own column. The last time Atleti beat Madrid was in 1999, the year that they went down to the Segunda Division. They have only just managed to regain their historic position near the top of the league, but they have struggled mightily against their most hated rivals.
Atleti is coming off a horrible loss at Alicante, which has officially put the club in a mini-crisis of sorts. Diego Forlan is still sulking and there are rumors that he is mulling a move to Juventus. This game couldn't have come at a worse time for them. On the bright side, Sergio Aguero typically shines at the Bernabeu.
Madrid is coming off a frenetic victory against third placed Villarreal. In the first half of that game, many Madrid fans saw shades of the team that got overwhelmed at the Camp Nou. Villarreal flooded Madrid's midfield duo with a host of talented players that easily passed around them, and then destroyed them on the left flank through Giuseppe Rossi and Santi Cazorla. It is a testament to Madrid's awesome firepower that the half ended 2-2, thanks to two more goals by the voracious Cristiano Ronaldo. In the second half, Mourinho made a drastic tactical shift, taking out the woeful Lassana Diarr in favor of Sami Khedira, and made a makeshift formation with 3 defenders. The result was that Madrid overwhelmed Villarreal in the second half, with another goal by Ronaldo and a fourth courtesy of Kaka, the cherry on top. It will be interesting to see what formation Mourinho decides to go with, as the 4-2-4 has proved ineffective against talented sides.
Key Man:
Iker Casillas
. Really, I should always put Ronaldo for Madrid. His game against Villarreal was simply sensational: a hat-trick, plus an assist. He was all over the place and always willed his team forward. However, so as not to be repetitive, I'll highlight the pride and joy of Mostoles, Iker Casillas. Casillas has always been a thorn for Atleti. He drove Fernando Torres to the edge of madness, and now he is threatening to do the same with Aguero. The Argentine always plays well against Madrid, until he crosses paths with Casillas. At a game in the Calderon a couple of years ago, Aguero curled a perfect shot to the top corner only to see Casillas fly across the face of goal and get his fingernails on the shot, tipping it off the crossbar. It remains one of the best saves you will ever see.
Prediction:
Real Madrid win
Fernando Rodriguez-Vila is based in Miami and Madrid. He covers La Liga for Goal.com
.