Our team of experts offer their insights into how they expect the match at the Camp Nou may transpire.
With the titanic tussle between Barcelona and Real Madrid at the Camp Nou taking place on Monday evening,
Goal.com
gathered the opinion of its worldwide team of experts and analysts, asking them for their prediction on events in Catalunya.
The final part of this series focuses on the viewpoint from our team of editors in the Americas and also on our International edition, on who they feel will emerge triumphant in one of the most anticipated Clasico clashes in recent times.
Heres what they had to say...
Peter Staunton, Goal.com International

0-0
Mourinho came and parked the bus with Inter last season and he will be pragmatic enough to realize he has a better chance of taking the vital three points from Barcelona at Bernabeu.
I do not think it will be an exciting game. I foresee some deep defending from Real Madrid, who might have the odd chance of their own. But it will not be an open, exciting game as Jose won't allow it. Boring, forgettable war of attrition.
KS Leong, Goal.com International
0-3
I'm going to put my neck on the line and predict not only a Real Madrid victory, but a comprehensive victory. If Jose Mourinho can organize the Madrid defense as well as he did Inter's last season in the Champions League, Los Blancos have every chance of ending their four-game losing streak against Barcelona.
Besides, Madrid have a more lethal attacking unit than Inter did, and the likes of Di Maria, Cristiano Ronaldo, Oezil and Higuain have been simply devastating on the counter-attack. Barca's backline have been especially shaky this term and can easily be exploited, but there's no question that Mourinho will first have to stop Messi before he can think about attacking.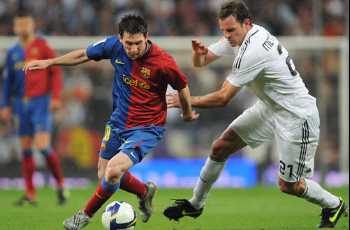 Paul Macdonald, Goal.com International

1-0
This is likely to be a tense tactical battle, with Mourinho hoping to squeeze the center of the pitch and deny the likes of Iniesta, Xavi and Lionel Messi space to create. Di Maria and Ronaldo will be dangerous on the counter, but similar to the match at the Camp Nou last season, Barca will remain patient and be clinical when the chance comes their way.
There will be little in the way of goalscoring opportunities, but expect the incredible Lionel Messi to maintain his form and net the clinching goal.
Andrea Canales, Goal.com North America

0-2
The Clasico dominance is due to cycle around again, and Madrid have found that absence makes the heart grow fonder - they just seem to want it more than ever and they have a team that can get the victory.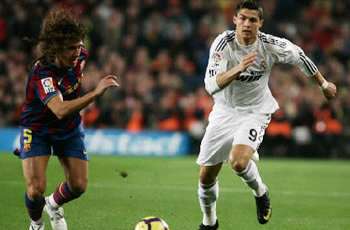 Cyrus C. Malek, Goal.com International
2-1
Madrid have improved in leaps and bounds under the 'Special One's direction, but I don't think they're yet realizing their fullest, and every once in a while they make mistakes that better teams (i.e. Barca) would exploit.
I expect a real dogfight, but I'll settle on the side of a 2-1 Barca win, Messi being the difference-maker. I also see Pedro having a very good match. I still expect Madrid to win La Liga and possibly even the Champions League, but this match could see their first loss.
Andre Baibich, Goal.com Brazil


2-2
This should be the most interesting Clasico in years, because it will be a clash of styles. This Real Madrid team is comfortable not having the ball and playing on the counter.
Barcelona will probably control the ball, but always leaving spaces for the speed of Cristiano Ronaldo and Di Maria. It will probably be an open match, full of opportunities for both sides.
Andy McLean, Goal.com International


3-3
Barcelona are very shaky at the back and they were very hesitant against Panathinaikos in the Champions League. There were a few occasions when, on a more lucky night, Pana could have taken the lead or got themselves back in the game, despite not looking threatening or creative going forward.
Mourinho will want to put early pressure on this weakness before the home team settles, and an early goal could set-off fireworks.
For more on Spain click ahead to Goal.com's Spain homepage and join Goal.com USA's Facebook fan page!