With the success of the German national team, interest has increased in the domestic league - the German Bundesliga. It is a competition seen as being more balanced and competitive than some others - seen as both a strength and a weakness. The top 20 of the recently released Deloitte Money League for the 2009-10 season is a reflection of the league's characteristics. Hamburg, Schalke and Stuttgart all feature in the top 20 alongside Bayern Munich, who, in fourth position, take their place among the real powerhouses of European football. However, there is one area where not even England, Spain and Italy's finest can touch der Rekordmeister - commercial revenues.
Commercial Revenue 2009-10

1. Bayern Munich €172.9m
2. Real Madrid €150.8m
3. Barcelona €122.2m
4. Man. United €99.4m
5. Schalke 04 €79.0m

Bayern once again topped the Money League in terms of commercial revenue and indeed, that alone would sustain a place in the top 10 of the overall league. As the table shows, they earned €172.9m, more than the entire revenue streams of clubs such as Manchester City, Tottenham Hotspur and Olympique Lyonnais. This represents over €20m more than Real Madrid in second spot, over half of Bayern's total revenue, and an increase of €13.6m (9%) on the previous year. How are Bayern able to achieve such remarkable success in terms of attracting finance into the club, despite possessing some inherent disadvantages in comparison to teams from the big three leagues?
Sponsorship and marketing make up just under half of the overall total commercial revenue, bringing in €82.6m. This is due to the array of sponsors Bayern have been able to attract - the club has Europe's most lucrative shirt sponsorship deal with Deutsche Telekom - who also fulfil the role of the main sponsor of the club. Under the terms of the deal, Bayern are guaranteed €22.5m a season (up from €18m), which rises to €30m depending on the team's overall performance. Given that Bayern won both the Bundesliga and the DFB Pokal last year, as well as reaching the Champions League final, it is no surprise they were able to reap the rewards of this arrangement.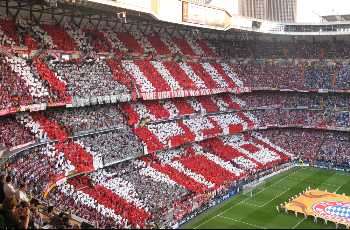 Bayern made it to the 2010 Champions League final in Madrid
German car maker Audi, who hold a minority stake in the club, supply €10m annually of revenue and another minority shareholder Adidas give €4.5m as the club's kit manufacturers. Total merchandising brought in €38.9m last season and other stadia revenues raised €38.2m. Bayern are in a unique position to attract mega-sponsors as the undisputed largest club of Europe's largest economy, Germany. They are also the only German club with a genuine worldwide profile, increasing their attractiveness to potential sponsors.
Commercial Revenue 2009-10, as a percentage of Total Revenue

1. Schalke 04 57%
2. Bayern Munich 53%
3. Hamburg 43%
4. Man. City 37%
5.= Real Madrid 34%
5.= Liverpool 34%

The astonishing success of Bayern's management, which involves both administrators and former greats of the game such as Uli Hoeness and Karl-Heinz Rummenigge, in raising funds through commercial revenue must however be seen in its wider context. German clubs - and Bayern are no exception - lag behind their foreign competitors in terms of matchday revenue. Just 21% of Bayern's total revenue is brought in during matchdays, despite the club moving to the state of the art Allianz Arena in 2005 and consistently selling out. Last season, the average attendance in the Bundesliga was 69,491, second to only Borussia Dortmund in Germany. This also represented 99.27% of full capacity, tied with last season's runners-up Schalke. Only Manchester United and Real Madrid do not rely on any one source of income (broadcasting, commercial and matchday) for over 40% of their total revenue and as the table suggests, Bundesliga sides are heavily dependent on commercial revenues.
Germany's Bundesliga is the best attended soccer league in the world in terms of average attendance and the third best sporting league, behind the Indian Premier League and the NFL, with an average attendance of 41,802 in 2009-10. On that basis, it would be natural to think that matchday revenues would reflect such high numbers coming through the turnstiles. And here we turn to the unique German model, which has been responsible for putting the league on a sustainable financial footing. It is fair to say that the 2006 World Cup, which prompted modernization and redevelopment of Germany's major soccer venues, played a part. However, the Bundesliga, as an organisation, insists on keeping ticket prices to a minimum. This culture is so embedded in Germany that Dortmund fans organised a boycott of the Revierderby in September, when Schalke doubled the ticket prices for away fans. A further contributory factor is that the Bundesliga has 18 sides, compared to 20 in England, France, Spain and Italy, and clubs therefore play fewer home matches during the course of a season.
It is tempting for the Bundesliga teams to capitalize on their greatest asset - the fanbase. Germany is the most populous country entirely in Europe with around 82 million inhabitants and also possesses the largest television market. Yet pay-television has not been the roaring success in Germany that it has in the United Kingdom or Italy, two other countries where Sky are dominant. Germany are only too aware of the pitfalls of too much reliance on television, as seen with the Kirch crisis in 2003, when KirchGroup filed for bankruptcy. Bundesliga CEO Christian Seifert reiterated the league's desire to keep a lid on ticket prices for to do anything else would prove counter-productive in practice and would only serve to bite one of the hands that feeds the league. And with financial fair-play rules just around the corner, no league is better placed than Germany and ominously for some of its continental rivals, no club is better placed than FC Bayern Munich.
Follow
Gary Niblock
on Twitter.
Follow Goal.com on

to get the latest soccer news directly. Check out Goal.com's

page; be part of the best soccer fan community in the world!