Rafael Benitez argued before Napoli's Champions League playoff round second-leg encounter with Athletic Bilbao that "going out would not be a tragedy" for his club. Napoli's elimination, however, is another calamity for Italian football, yet another blow for the game which has been dying a slow, painful death for the past five years.
The broader importance of the game at San Mames was underlined on the eve of the first leg at the San Paolo. As was so shamefully highlighted by numerous incidents of territorialism last season, Napoli does not get much love from the rest of Italy, so it was hugely significant that the
Gazzetta dello Sport
urged the country's football fans to get behind Benitez's side: "Napoli for everyone!"
MORE: Alex Morgan upset at 159-degree temps | Transfer photos
As the popular daily pointed out, the Italian game was in dire need of a boost. Juventus - the very best of a very bad bunch in Serie A - was dumped out of the group stage of last season's Champions League by Galatasaray before failing to set up a 'home' Europa League final after elimination by a nine-man Benfica team in the semifinals.
The national team failed dismally to restore any pride during this summer's World Cup in Brazil, with the Azzurri suffering a second successive first-round exit, while the subsequent election of Claudio Tavecchio as the new president of the Italian Football Federation (FIGC) not only added to the collective sense of embarrassment but also reinforced the opinion that calcio is not moving forwards, but backwards.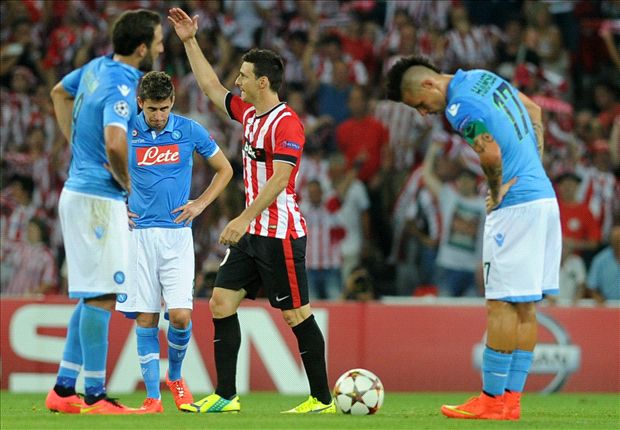 HANG YOUR HEADS | Roma and Juventus are now Italy's sole representatives in the Champions League
Add in the fact that this week Serie A waved goodbye to two of its best players in Mario Balotelli and Mehdi Benatia and you get the sense that things are dire and worsening.
That's certainly what the numbers suggest. A look at UEFA's club rankings reveals that there is not a single Serie A side in the top 10. That AC Milan is Italy's sole representative in the top 20 is farcical, given that the Rossoneri embody everything that is wrong with the Italian game.
This is a club with a proud history but one that now has to rely on free transfers and offloading what few valuable assets it has left in order to acquire new players. Given Milan can no longer hold onto its best players, it has hardly surprising that the club cannot hold onto its fan base either. According to the latest reports, the seven-time champion of Europe is set to post its worst-ever season ticket sales figures, with just 16,000 having been sold thus far.
This is a widespread problem. The
Corriere della Sera
revealed earlier this week that Serie A sides have sold 50,000 fewer season tickets than last season. It's often said that Italian grounds look half empty. That's because they literally are, with the 2013-14 Serie A campaign recording an overall 56 percent attendance rate. Poorly attended games between low-quality teams in crumbling stadiums - the problem is clearly a lack of investment on every level.
Yet there is an understandable reluctance to pump money into a domestic game that appears on its last legs. Hence, Napoli president Aurelio De Laurentiis' reluctance to gamble his side's financial security on qualification for the group stage of the Champions League.
The failure to strengthen Benitez's squad undeniably contributed to Wednesday's collapse at San Mames, though. The Spaniard requested top-class reinforcements in midfield and defense. He did not get them and the consequences were there for all to see against Athletic. Once again he got a lamp because his employer could not afford a sofa.
Napoli was effectively punished for exhibiting a prudence that was crucially conspicuous by its absence during Serie A's heyday. That is no tragedy, but it is sad nonetheless. This is another hammer blow for everyone involved in Italian football.
Follow Mark Doyle on