Like the Botox that stretches Silvio Berlusconi's face across the front of his skull, San Siro underwent a makeover this summer.
A new, partially-synthetic pitch was laid by Dutch company Desso "that consists mostly of naturally-grown grass, mixed with soil, sand and artificial grass underneath." Lamps will be suspended two feet above the surface at all times (aside from during games, one assumes) to provide perpetual light. This is kind of a big deal.
The first non-authentic turf entered Serie A only last season. Newly-promoted (and since relegated) Novara used grass spliced into a base of coconut husk and synthetic fibers by Italgreen to help keep the pitch playable through the city's extreme precipitation. Cesena also used a partially-fake turf, created by Limonta. Both surfaces received top grades from FIFA's two-star ranking system.
The problem in Milan's San Siro was the lack of sunlight. Ever since a third tier of stands was added on three sides in 1990 for the upcoming World Cup, nudging capacity over 80,000, sunlight can't penetrate through to the grass for long enough to dry it out.
It's been a severe problem for years, especially with both Inter and AC Milan playing there, but became an issue that demanded attention in March when Barcelona lodged an official complaint with UEFA. Barca drew 0-0 with Milan in the Champions League with the subpar field playing a role.
"The pitch was slippery and it was difficult to play," Pep Guardiola said. "It is always a pleasure to play at San Siro. It's just a shame that this pitch is not suited to a soccer match. Inter and Milan both deserve a better playing surface."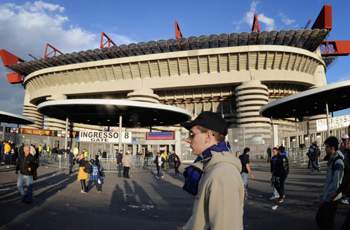 Arsene Wenger had complained publicly a month earlier after Arsenal visited, though his moaning was taken with a handful of salt since his team lost 4-0. Even Milan coach Massimiliano Allegri admitted it was a problem, pointing out that the field had to be relaid five or six times a season.
The high publicity of complaints came at a time when something could be done. These new reinforced models are the third generation of fake fields and pass FIFA's new 2014 standards. The first generation was invented in the 1960s for sports halls. Chemgrass (now AstroTurf) made big news when it padded the Houston Astrodome in 1966.
FieldTurf has since overtaken AstroTurf in the U.S. As Europe moves toward more synthetic fields (some teams in France and other first-division leagues play on fully-synthetic surfaces), the United States is moving in the other direction. As more soccer-specific stadia sprout up across the continent, real grass has largely grown to cover the ellipsis-toss lines left over awkwardly during MLS games. Only two MLS clubs (Seattle Sounders FC and the New England Revolution) play in stadia still in use by American football teams. Even up in the nippy north, Toronto's BMO Field opted for natural grass.
The main complaint about the green carpet is that the ball bounces unpredictably or that it impacts knees and joints harder than it should. Many a veteran player misses away jaunts to turf fields, succumbing to turf-toe or turf-itis.
When David Beckham first joined the league in 2007, he went on a mini-tirade against FieldTurf, unaware that it was an actual company.
"I don't know whether I am being too controversial, but I think the fact that there are four or five teams with FieldTurf. As professional athletes, you can't play a game like soccer on that sort of field," he said in a press conference. "Every game, every team should have grass, without a doubt. You can't ask any athlete to perform at a high level on the FieldTurf."
He apologized the next day, but the damage was done. According to Grant Wahl's book
The Beckham Experiment
, he lost out on a hefty discount as the Los Angeles branch of the Beckham Academy prepared to instal FieldTurf surfaces.
Of course, the technology has improved drastically since five years ago. San Siro's field should prove far more playable and forgiving than last season. That's nice, since neither team is all that much better. Milan essentially sold off a starting XI, including its two best players – Zlatan Ibrahimovic and Thiago Silva to Paris Saint-Germain. Inter's transfer window reinforced the squad with several younger options without wowing.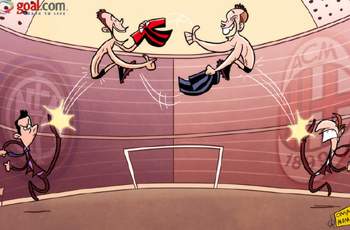 The most recent trade for each team, involving Antonio Cassano and several million euros kicked Inter's way in return for Giampaolo Pazzini, highlighted the lack of financial clout in Milan these days. Each team settled for the other's reject. (Allegri likely would have preferred to keep Cassano, fit again after a heart scare that cost him half a year, but a Cassano who wants to leave is perhaps the most toxic thing to enter a locker room this side of meth.)
Currently, a Juventus team which will lack a coach for the next 10 months is the favorite to retain the title.
That's partially because Inter seems to have an eye on the future. Its 36-year-old coach, Andrea Stramaccioni, has no first-team experience aside from a handful of games at the end of last season after Massimo Moratti had already burned through all the other options. Also, Inter announced new minority partners this summer, which will include a deal for a new 60,000-capacity stadium to be built by China Railway Construction by 2017.
Last year Milan averaged an attendance of 51,442 in the league; Inter brought in 47,913 per game. Both still scrape the 80,000 mark in big matches. But Juventus showed the financial and atmospheric benefits of owning a stadium outright, as opposed to leasing from the city, and many other clubs in Italy have plans to follow suit.
With Al Gore inflicting harsh, game-postponing winters on Italy recently, one wonders how many of them will favor reinforced grass fields.
Follow ZAC LEE RIGG on

or shoot him an email