The two are currently going head-to-head for a starting shirt, with the youth product currently being preferred. Our team of experts have had their say on the selection dilemma.
Juventus' sprightly preseason and dazzling opening day win over Parma have seen many raise an eyebrow and wonder aloud whether the Old Lady might be about to take the step back into Champions League contention in 2011-12. One of the key points that observers are pointing toward when putting forward the theory is the new-found competition for places at Vinovo.
No positional battle is as intense as in central midfield, where coach Antonio Conte now finds himself having to choose between Claudio Marchisio and Arturo Vidal for one spot alongside Andrea Pirlo in his favored 4-4-2 formation.
While the youth product has been a first team squad member since 2006, he has thus far failed to cement himself as a regular in the center - often being shifted to the left. On the other hand, the new 10 million euro signing from Bayer Leverkusen has so far seen Marchisio favored in midfield, and has been asked instead to warm the bench or start on the flank himself.
It is a new problem for a Juve coach of recent years to have a good selection headache. To help Conte out, Goal.com
pooled together a team of top Serie A experts to weigh up the abilities of the two midfielders.
Each expert was also asked to rate, out of five, the two in each of the following attributes:
Technical abilities (such as ability on either foot, in the air, attacking and defending, tackling)
Tactical abilities (ability to react to game situations, to read the play, to know when best to attack and defend etc.)
Physical abilities (including power, pace, effort, general lung capacity, body structure)
Je ne sais quoi (including the extra little something, such as heart, passion, leadership abilities etc.)
SERGIO CHESI | Chief Editor, Goal.com Italia

Marchisio or Vidal? I think it will depend on the moment. In a big team it's normal to have competition for a spot between two or more players. Conte will choose between the two on a week-by-week basis according to his feeling and what he sees during training. From a tactical point of view, I think it's important to understand what the best position is in which Vidal can be important for Juventus. Maybe Conte will find the right system to allow them to play together, or maybe he will understand that they can play only in one role - the same role. In this case, he will have to choose every matchday between Marchisio and Vidal, taking a hint from the form of the two players.

Claudio Marchisio

Arturo Vidal

4

Technical

4

3
Tactical
4
3

Physical

4

4

Je ne sais quoi

4

14

TOTAL
16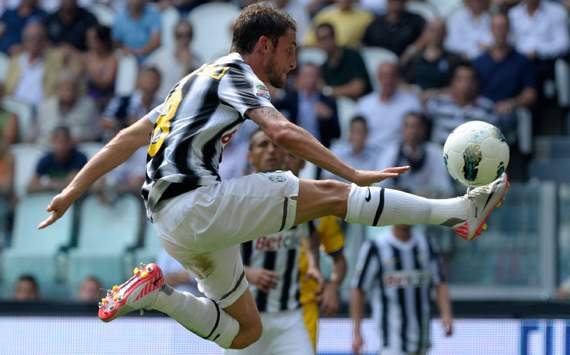 Youth product | Marchisio has won over plenty of fans with his commitment to the club
CARLO GARGANESE | Deputy Editor, Goal.com International

It is only right that Arturo Vidal is given time to settle at Juventus - hence why he started as a substitute against Parma on the opening matchday - but once familiar with Antonio Conte's 4-4-2 setup he must be the first midfielder on his coach's teamsheet, thus consigning Claudio Marchisio to the bench. Vidal and Marchisio are relatively similar in style, the difference in substance is that, unlike his Italian team-mate, who is consistently good in all areas but great in none, the Chilean has a number of huge weapons. He is one of the most ferocious pressers and tacklers in the world, with a never-say-die character and an aggressive winning mentality. Vidal is a complete modern midfielder, ticking all the boxes technically, tactically and physically, and he is scared of no opponent - exactly what Juventus needs as it tries and climb back to the top of Italian and European football. He is the perfect partner for Andrea Pirlo.

Claudio Marchisio



Arturo Vidal

4

Technical

4

3
Tactical
4
4

Physical

5

4

Je ne sais quoi

5

15

TOTAL
18

JONATHAN MITCHELL | Goal.com International

Vidal is like an all-rounder who is capable of being an orthodox defensive midfielder or a box-to-box midfielder (I could even see him filling in at center back in an emergency). He is powerful, dominant, hungry and looks to get on the ball constantly - everything that Marchisio isn't - and appears to have a decent range of passing. On the many occasions I've seen Marchisio, on the other hand, he's usually played wide on the left and been reasonably quiet, almost the type of player who plays within himself but who will work hard for the team while showing intermittent flashes of sublime technique. I think he's a reasonable squad player who can fill in solidly on the flank. However, I'd have huge reservations about playing him in the center. He doesn't have the presence or ability to dominate a game or make the difference - Vidal does, and that's who I'd start with.

Claudio Marchisio



Arturo Vidal

4

Technical

3

3

Tactical
4

3

Physical

5

3

Je ne sais quoi

3

13

TOTAL
15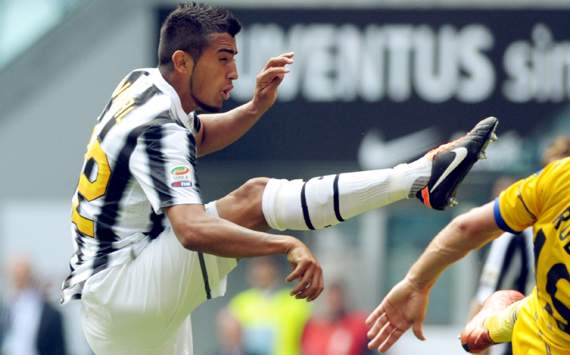 New boy | Vidal may have to bide his time for now due to Marchisio's early season form
SERGIO STANCO | Goal.com Italia

This could be the decisive season for Marchisio. Partly because, right now, Antonio Conte prefers him to Vidal, but also because Marchisio already knows the championship and his team-mates very well. In his first match against Parma he seemed to benefit from Pirlo's presence, which helped to make him more composed. If he does very well in the forthcoming matches too, I think he could be the first choice because of his quality in circulating the ball (when the opposition watch Pirlo closely, he could be allowed to do his work better than Vidal, who doesn't have the same quality). However, I can't exclude the possibility that they might play together, because they are both very good players and it's very difficult to leave out one of the two.

Claudio Marchisio



Arturo Vidal

4

Technical

3

3
Tactical
4
4

Physical

5

4

Je ne sais quoi

4

15

TOTAL
16

KRIS VOAKES | Italian Football Editor, Goal.com International

In half a decade in the first-team ranks, Claudio Marchisio has won the hearts of a large number of Juve fans through his determination for the cause and his ability to come up with the occasional bit of genius, as seen last weekend against Parma. But still there remain doubts as to whether he has what it takes to consistently contribute for a full 90 minutes in the center of midfield, which has seen him end up playing much of his soccer wide on the left. With the addition of Arturo Vidal, the Bianconeri have brought in somebody with guts, determination, presence, skill, an eye for goal and a match-winning drive. He also turned down Bayern Munich in his quest to aim for the bigger picture of making Juventus a force again. The early signs have been encouraging, with his Bayer Leverkusen form set to be improved upon further in the black and white shirt.


Claudio Marchisio



Arturo Vidal

4

Technical

4

3
Tactical
5
4

Physical

5

3

Je ne sais quoi

4

14

TOTAL
18

GRAND TOTAL

71

MARCHISIO
VIDAL
83