With a jutting move of his hips, Antonio Cassano swiftly cut out some space in the box and then calmly played a delicate pass through a hoard of Slovenian defenders to find Giuseppe Rossi, who shanked the shot. The set-up was typical Cassano, meshing drastic, alarming choices with a tender touch and a seeming infinite capacity for close control.
Cassano carved out enough chances to make Italy worth its 1-0 win over Slovenia, though he'd already made way when Giampaolo Pazzini scored the goal that qualified the Azzurri for Euro 2012.
A handful of days earlier, Cassano had bundled home the only goal in a 1-0 win over the Faroe Islands. The 29-year-old is, by now, the centerpiece and senior member in attack of Cesare Prandelli's new-look Italy.
Following the international break, Cassano will return to AC Milan, where he is something of an afterthought, to prepare for the delayed Serie A season. Up until the close of the transfer window, rumors linked him with a move away, Genoa and Fiorentina among his apparent suitors.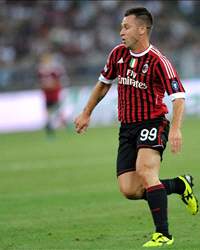 The storyline is never straightforward with the Bari Brat.
Cassano's precocious talent first came to the fore with his hometown club, Bari. As a teenager, he wound half the field through a tough batch of Internazionale defenders before lashing home effortlessly. Cassano claims the goal saved him from becoming a delinquent.
That display, plus, of course, his immeasurable talent, convinced AS Roma to make him the most expensive teenager in the world at the time, when it paid 18 million pounds for him. That's when he first bumped into Fabio Capello, who gave him the unflattering nickname of Cassanata.
Cassano has a tendency to strip. When celebrating, his shorts often find their way into the crowd. If a coach is riding him in practice, his favorite trick is to rip off his shirt and tell the coach to do it himself, if he knows so much. And of course he's gained notoriety for claiming to have bedded between 600 and 700 women by the time his first biography came out when he was 26 (he further claims to be the first person to have written more books – two – than he's read).
The sex started getting rampant at Real Madrid. After refusing to sign a new contract and forcing a cut-priced move to Spain, Cassano says he would pay a bellboy to bring him pastries and take away the girl of the evening. "Sex plus food, the perfect night."
At Madrid, Cassano bumped into Capello for the second time. After a rather convincing imitation of his boss for the amusement of the squad, the fantista never featured again, although he later admitted he had only ever given 50-percent effort.
Sometime after being loaned to midtable Sampdoria, Cassano realized he either needed to start applying himself to his job or return home and get a real job. He credits his now wife, water polo player Carolina Marcialis, who is nearly a decade his junior, for helping mellow and mature him. The couple's first son was born earlier this year.
Cassano, along with Pazzini, led Sampdoria into the Champions League qualifiers and a huge swarm of public backing begged then-Italy coach Marcello Lippi to bring him to South Africa for the World Cup. Lippi refused. Three disappointing games later, the only man Lippi was in a position to keep out of the national team was himself, and he followed through on his commitment to step down.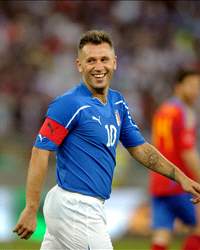 In the end, Cassano was one of the only Italians to emerge from the 2010 World Cup with any credit.
Of course, that would make the storyline too simple, so Cassano quickly fell out with Sampdoria chairman Riccardo Garrone. "Don't be impulsive. Be like me. Before exploding, always count at least to one," Cassano wrote in his autobiography.
Just when it seemed like he might be settling into maturity at the Genoese club, lifting it into prominence, a sweary tirade at Garrone meant he was no longer welcome at Sampdoria. The club tried to terminate his contract immediately, but when that didn't pass through the courts, a deal for pennies sent him to Milan.
Despite a lack of fitness (a recurring theme throughout Cassano's career, who has made sure no one doubts his claim that upon retirement he will eat junk food until he is obese), Cassano reinvigorated Milan's scudetto charge, along with the ruthless efficiency of fellow winter arrival Mark Van Bommel.
Up until that point Zlatan Ibrahimovic had carried the Milan attack, with Alexandre Pato struggling with injury and Robinho lacking a clinical touch. The Swede scored or assisted nearly half of the Rossoneri's goals, but hit a typical lag in February and March. (Fitness coach Daniele Tognaccini might have the answer to that: "He was not having breakfast. Since he started having breakfast, his performances have improved.")
Within his first two substitute appearances, Cassano had notched three assists. His tremendous guile ended up supplying six assists to his higher-caliber teammates, along with four goals.
"Playing with Cassano is too easy," Robinho said. "He is a clever guy and he always knows where to put the ball or how to move."
A hefty role, at least as the first forward backup, was expected heading into his first full season at Milan. Instead, he came back from vacation far overweight and with steady rumors linking him to second-tier Serie A clubs.
Now, his murky club future has started to cloud his international prominence.
Prandelli built his Azzurri around formerly neglected attackers like Cassano and Rossi. By the time Italy beat Spain 2-1 in August, Cassano had become so integral that Gianluigi Buffon gave him the captaincy, a kind gesture since Bari's Stadio Comunale San Nicola hosted the friendly.
"Not even Cassano knows the value he brings to this team on the pitch and in the dressing room," Buffon said. Spain captain Iker Casillas said after the game that the one Italian he'd like on the Spain roster is Cassano.
For the boy born the day before Italy's 1982 World Cup win, his hand clasped around an Italy flag in the crib, his childhood dream – beyond becoming filthy rich – is to win something with the Azzurri. Euro 2012 would provide the best opportunity for that to date, but only if he can manage sufficient playing time for Milan before then to keep his spot.
Follow ZAC LEE RIGG on

or shoot him an email.