Buffon doesn't deserve to be the Azzurri No.1 based on current form, argues Goal.com's Carlo Garganese…
When Gianluigi Buffon finally hangs up his gloves, he will possibly go down as the greatest goalkeeper of all time.
From the moment the ex-Parma youth product took to the pitch for the first time in a baptism of fire against Fabio Capello's all-conquering Milan on November 19, 1995, it was clear that a new phenomenon had been born. At just 17 years of age, Buffon earned the Gialloblu a goalless draw with world class saves from Ballon d'Or winners Roberto Baggio and George Weah, as well as an even better stop from fellow striker Marco Simone.
Still a teenager, Buffon's stardom was all but confirmed almost exactly two years later on his international debut. The Azzurri were contesting a crucial World Cup 1998 first leg play-off in Russia and the omens did not look good. Played in the freezing Moscow winter, the pitch was covered in snow and mist and the teams even used an orange ball the conditions were so appalling.
In the 32nd minute, goalkeeper Gianluca Pagliuca was forced off injured. As coach Cesare Maldini's No. 1 at the time Angelo Peruzzi was also unavailable, a skinny-looking 19-year-old stepped into the snow for his Italy bow. This writer confesses that he feared the worst. Everything pointed to a home victory; the weather, the Azzurri's awful record in Russia and most importantly a rookie in goal.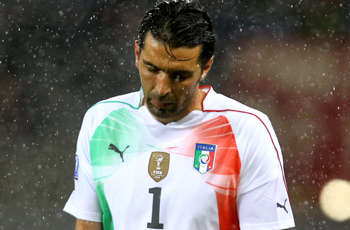 Yet Buffon proved to be the savior and sold himself to the watching world with a string of stunning saves in treacherous surroundings. For someone so young his personality and confidence shone through as Italy miraculously escaped with a 1-1 draw. Maldini's men won the return leg in Naples 1-0 and qualified for France '98.
Fifteen and 13 years on from these respective club-and-country initiations, Buffon has established himself as an unequivocal legend of the sport. A key component in Italy's 2006 World Cup success, the 33-year-old has won a horde of individual and team honors, and has been named Serie A Goalkeeper of the Year an astonishing eight times.
Only one of these awards, however, has been attained since that glorious night in Berlin five summers ago. This statistic in itself illustrates that Buffon is no longer the superhuman shot-stopper he used to be. Back and shoulder injuries have taken their toll on the custodian, who has made just 11 appearances this season and has missed a whopping 46 Serie A games in the past two-and-a-half years.
In terms of positioning, organization, communication, decision-making, and overall safety – especially from crosses – Buffon still has no equals. But his agility, shot-stopping, and reflexes have noticeably taken a knock. The 103-times capped star proved in September and October of 2009 when he performed heroically against Lazio, Roma, Bordeaux, Georgia and Bulgaria that at full fitness he is the best in world if given a sequence of games. The problem is that this is rarely the case anymore. Soon after this run last term, Buffon was struck down with more health issues that hampered him up to and including the 2010 World Cup where he was forced off at half-time in the opening draw with Paraguay – not playing again for seven months.
With Buffon on the sidelines, Bologna goalkeeper Emiliano Viviano emerged as Cesare Prandelli's first-choice back-up at the start of the Euro 2012 qualifying campaign. Displacing Palermo's Salvatore Sirigu, Viviano was faultless in the tests against the Faroe Islands, Northern Ireland and Serbia – keeping three clean sheets – although the latter clash was of course infamously abandoned after six minutes due to rioting by Serbian ultras.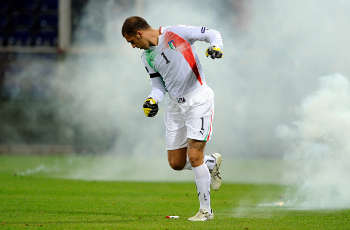 These performances were nothing more than verification of his outstanding club form for Bologna. Together with Diego Perez and Marco Di Vaio, Viviano has been the reason why a team deducted three points for financial irregularities and tipped for relegation are just five points off a Europa League spot.
A series of man-of-the-match displays have seen Viviano enter seven
Goal.com
Serie A Teams of the Week. Buffon, meanwhile, has been nominated for two Worst Serie A Teams of the Week.
Earlier this week, Bologna team-mate Di Vaio told
Goal.com
: "At the moment I believe Viviano is better than Buffon in terms of consistency.
"Buffon has an incredible history though, and I hope Viviano can repeat it. Buffon was for years the greatest, but this season he is paying for the long injury. Emiliano has the character to become the next Buffon for the next 10 years."
Di Vaio is spot on. The 25-year-old Viviano has every attribute in his locker to become one of the world's best. At 6ft 5in he boasts a Peter Schmeichel/Francesco Toldo-like presence that intimidates forwards. The ex-Cesena glovesman is commanding, a great organizer and communicator, reads the game, and unlike Buffon currently he is producing wonder-saves week in-week out.
Mentally, it is clear that he is very strong having made the step up to international football with minimal fuss. All that is required now is for Viviano to join a big club in the summer. Co-owned by Inter, the Nerazzurri will be considering whether it is wise to replace the increasingly error-prone Julio Cesar with Serie A's best goalkeeper of 2010-11.
Cesare Prandelli should also be contemplating whether to substitute Italy No.1 Buffon with the Bologna miracle-man.
Follow Goal.com on

to get the latest soccer news directly. Check out Goal.com's

page; be part of the best soccer fan community in the world!