1) Counter Quickly
Since the start of 2011, Juventus have conceded a whopping 13 goals in seven matches in Serie A and their defense clearly has several organizational issues. The likes of Napoli, Palermo, and Udinese have shown that Juventus are susceptible to quick counter attacks, something Inter excel at. If the likes of Samuel Eto'o and Giampaolo Pazzini can attack the heart of the opposition's new central defense of Bonucci-Barzagli before they are allowed to settle, then Leonardo's men could reap the rewards.
2) Put The Ball To Wesley Sneijder's Feet
The Dutchman has looked particularly inspired for both club and country since returning from injury, with three goals in three matches and creating a plethora of chances for his team-mates. At his best, the former Ajax and Real Madrid star is capable of deciding a game on his own as he has both superb technique and vision. Getting the ball to his feet as often as possible will allow the 26-year-old to put his stamp on the match.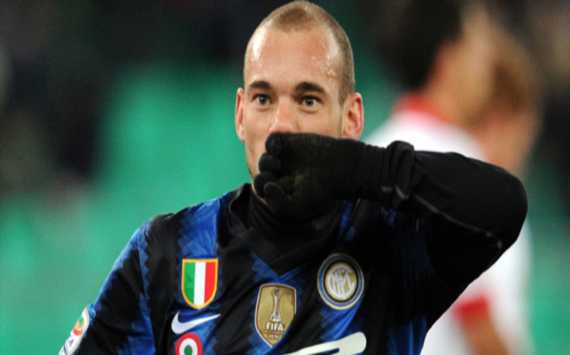 3) Shore Up The Defense
While Inter have proven their offensive strength under Leonardo, defensively they have been far from perfect despite nine wins from ten matches under the Brazilian tactician. A solid and secure backline against Juventus would go a long way to guaranteeing a victory, especially in Turin as they endure a passionate environment created by both the opposition players and the fans. Maicon, Cordoba, Ranocchia and Zanetti cannot afford too many lapses at the back.
4) Rise To Juve's Energy Level, But Not To Their Level Of Desperation
Typically, even when they are struggling, Juventus have been able to produce some of their best performances of the season in the Derby d'Italia. It is not only an historic and crucial match, but a matter of pride and the chance to prove they can match Inter following the 2006 Calciopoli verdict. Luigi Del Neri's men, will no doubt be fired up for the occasion and be ready to give 110 per cent.
However, Juve's position in the table means they cannot afford to drop many more points in their quest for Champions League qualification and if things aren't going their way tempers will start to flare. The Nerazzurri must avoid getting drawn into arguments and let Juventus bear the punishment rather than join them in it.
5) Don't Give Away Silly Fouls - Del Piero Can Make Inter Pay
The Turin giants have a luxury that not many others possess, a player that has made Inter pay throughout his career. Alessandro Del Piero, despite his rising years, is still a master of set-pieces and spot-kicks. Giving away needless or petty fouls around the penalty area, and of course in it, is not an option, as Del Piero is capable of producing a piece of dead ball magic on his day.
Follow Goal.com on

to get the latest soccer news directly. Check out Goal.com's

page; be part of the best soccer fan community in the world!