Following a challenge by Zlatan Ibrahimovic in training Friday, Oguchi Onyewu shot up and put his hands around the Swede's neck. The two exchanged punches and slaps as 10 teammates attempted to separate them, according to several news sources in Italy.
Eventually coach Massimiliano Allegri issued stern words to both and suspended the training session early.
"The fight was animated, but the incident is over. The two players cleared up their disagreement," Milan vice president Adriano Galliani was quoted as saying on the club's website. "I'm happy when I see players pumped up, I'm happier seeing fiery training sessions than boring ones."
Seeing the 6'4, 210 pound Onyewu and the 6'5, taekwondo black-belt Ibrahimovic exchange blows surely qualifies as "fiery."
Oguchi Onyewu, America's lone representative in Italy, hasn't enjoyed the best of years.
Since his move to powerhouse AC Milan, Onyewu has made just one competitive appearance, a substitute stint against FC Zurich in the Champions League last year. Following a knee injury in World Cup qualifying for the United States, Onyewu had knee surgery and has yet to make the bench for Milan since returning.
The looming central defender did feature for the U.S. in the World Cup, playing two matches before Bob Bradley realized his durability and movement wasn't up to scratch and plopped Gooch back on the bench.
The defender has hinted at some mental cracks during the grueling year-long recovery process. After a 4-2 loss to the Czech Republic in a friendly before the World Cup, Onyewu met questions about his fitness with a bullish challenge, "Did you see any rustiness?"
And after captaining the U.S. in a 0-0 draw with Colombia in October, he refused to even acknowledge the press.
Still, Onyewu may be gruff and intimidating, but he's not easily prone to violence. In June of 2009 he complained to a referee three times and threatened to walk off after receiving racial abuse from Anderlecht's Jelle van Damme. Instead of resorting to violence, the then Standard Liege defender sued van Damme for calling him a "dirty monkey."
Ibrahimovic isn't the saintliest teammate either. Earlier this season, video of him acrobatically kicking Milan youngster Rodney Strasser in the back washed up on the Internet. The Swedish striker seemed to think it some sort of practical joke, but the youngster clearly wasn't amused, nor was there much inherent humor.
It's possible Ibra just rubs Onyewu the wrong way. Also likely is Gazzetta dello Sport's conjecture that the challenge riled Onyewu given his rehabilitating knee, though Gazzetta did judge the tackle "not that bad."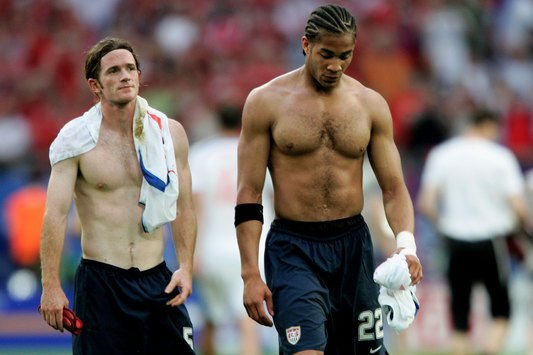 Despite extending his contract a year (at no extra wages) this summer to repay Milan for the year he sat out, the incident will surely add credence to the rumors that the American will be loaned out this winter.
Perhaps the most interesting club linked, Napoli made moves for Americans Clint Dempsey and Jozy Altidore this summer, apparently keen to tap into the growing U.S. market.
With Alessandro Nesta and Thiago Silva unmovable at the heart of Milan's defense, and Sokratis Papastathopoulos, Daniele Bonera, and Mario Yepes ahead of the American in the pecking order, perhaps a move would revive a stagnating career.
A U.S. physio suggested to Goal.com that Onyewu won't regain 100% fitness until November or December, so a January loan move could come at the opportune time to help the the 28-year-old earn the playing time he needs to reestablish himself as first choice for the U.S. national team.
Brescia at Internazionale
3:30 p.m. EST, Saturday, Nov. 6
Fox Soccer Channel, ESPN3.com
Five games. Five losses. Two goals scored. Next up for Brescia? Who else but reigning champion Inter. Of course.
At least Brescia gets the boost of Alessandro Diamanti returning from suspension. He might actually find some space with Inter missing Esteban Cambiasso, Sulley Muntari, Thiago Motta, Dejan Stankovic, and McDonald Mariga through injury.
Rafa Benitez has a few things to figure out, besides who the hell can play in the center of midfield next to Javier Zanetti. First and foremost is how to best put the comprehensive loss to Tottenham Hotspur behind the team and look less ragged in the upcoming match. Next on the agenda is shoving both Diego Milito and Samuel Eto'o into the same lineup without shunting the Cameroonian striker too far away from the goal.
Key man:
Javier Zanetti, Inter
. If his midfield partner, possibly Christian Chivu, doesn't transition into the role smoothly, much of the midfield work will fall to Zanetti. The 37-year-old captain will also need to chip in all his experience and leadership to help the team forget the nightmarish sight of Gareth Bale galloping past.
Prediction:
Inter win.
AS Roma at Lazio
9:00 a.m. EST, Sunday, Nov. 7
Fox Soccer Channel, ESPN3.com
Hide your children, hide your wife, and hide your husband too. Lazio has already taken the precaution of hiding its eagle, worried that the extra fan clamoring could scare it. Or any of many worse scenarios.
Yep, it's the Rome derby. This one is never pretty.
Lazio enters top of the table and proud owner of the best start to a season since Calciopoli. Lack of depth will likely undermine any scudetto challenge, but right now it's Roma dealing with depth issues. With crucial cogs Nicolas Burdisso and David Pizarro injured and captain Francesco Totti suspended, Claudio Ranieri is looking at a reshuffle. He might not actually mind Totti's absence as now he can line up in a more traditional 4-4-2 and expect a modicum of pace and effort from both strikers.
Lazio only has to cope with the suspension of Giuseppe Biava. Five wins on the trot and a 10-point lead over Roma should ease nerves ahead of the feisty encounter.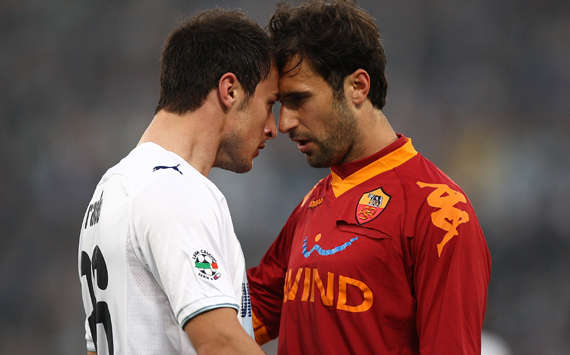 Key man:
Daniele De Rossi, Roma
. The vice-captain always has more work when Pizarro misses out. In addition to donning the captain's armband and marking the elusive Hernanes, De Rossi will need to instigate attacks and keep his cool under pressure. Never easy for the Roman.
Prediction:
Lazio win.
Genoa at Palermo
2:30 p.m. EST, Sunday, Nov. 7
Fox Soccer Channel, ESPN3.com
Last year, Palermo didn't lose a single home match. This year the side has already lost twice at home, drawn twice, and only won once. The Sicilian fortress has definitely crumbled. Though, knotted just a place lower in 11th, Genoa won't exactly boast about its form either.
Key man:
Fabrizio Miccoli, Palermo. The Palermo captain could make his first start of the campaign in Sunday's late match. The Men in Pink could really use his ruthlessness in front of goal right about now.
Prediction:
Draw.
Zac Lee Rigg writes things and stuff for Goal.com. You can follow him on Twitter @zacrigg, if you really want to I guess.
Keep up to date with Serie A and Italy news with Goal.com's Italy page and join Goal.com USA's Facebook fan page