Perhaps Louis van Gaal was simply being mischievous. Perhaps, as Manchester United is in the process of tying up a record-breaking deal for Angel Di Maria that will take its summer spending to an extraordinary 170 million euro, he thought he would fuel speculation about a deal that would take it closer to the €250m mark.
But it didn't feel that way. It felt as though the United manager was using a sizeable television audience to send a message to Ed Woodward and the Glazers. The 63-year-old was communicating his wish to recruit a midfielder for whom United, despite ample opportunity, has yet to bid.
PLAYER RATINGS: TOM CLEVERLEY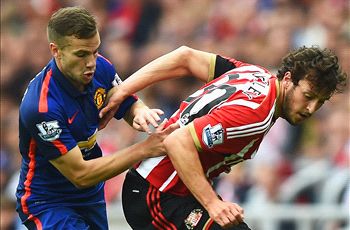 PLAYER RATING VS SUNDERLAND

"With rumors swirling of transfer activity at Old Trafford, his performance was hardly the inspiring showing he would have hoped for. Wasteful in possession and lacking any real guile, he was lucky not to be taken off.
GOAL'S FULL MATCH RATINGS
Because, asked about Di Maria as the Argentine prepares to seal his €80m move to Old Trafford, he replied: "I like [Lionel] Messi also. I like [Arturo] Vidal also." One is a fantasy football signing. The other is an altogether more realistic proposition.
The feeling at Old Trafford is that much of the chat about Vidal has been driven by the player and his entourage, either in Italy or Chile. Yet while United ruled itself out of the running to bring in Cesc Fabregas and Toni Kroos and was quick to insist no offers were made to Marco Reus or Thomas Muller, Vidal lingers in limbo. No definitive statement has been made. United talks him down, Van Gaal talks him up. Now, with a week to go before the transfer window closes, it is time to choose.
It seemed a none-too-subtle hint from the manager. Maybe that is the consequence of a game when Tom Cleverley and Adnan Januzaj have ended up paired in the center of midfield. United had little drive and dynamism in the middle of the park at Sunderland, qualities Vidal could provide and qualities the Red Devils have long lacked: arguably since Anderson, after an encouraging first two seasons at Old Trafford, deteriorated and Darren Fletcher was sidelined by a bowel condition.
There was another missive from the manager. "We cannot always sign who we like," Van Gaal added. He cannot sign Messi, for instance. But if he cannot sign Vidal, is it because Juventus will not sell the triple Scudetto winner or because United is reluctant to buy him?
Van Gaal may be testing United. It is testing him, too. This was not the start he envisaged. Its shortcomings are laid bare in front of the new manager, who is laboring with the squad which finished seventh last season. The first newcomer who was unquestionably one of his signings, Marcos Rojo, only formally joined on Wednesday and is not yet eligible. The other two arrivals, Ander Herrera and Luke Shaw, are both injured.
So he already has a center back, a central midfielder and a left wingback. Now we shall finally find out if he really wants a man who is all three. The versatile Daley Blind, a stalwart of his Netherlands World Cup side, is another who is waiting to discover his fate. Once again, United has not acted while Chelsea and Manchester City concluded its major business weeks ago. Given United's injury crisis, Ajax's Blind would have been a first choice in three positions at Sunderland on Sunday.
MAN UNITED LATEST

In the long term, he might just be a squad player. In the short term, United need both quantity and quality. Last week, a "scared" Paul Scholes said the team needed five signings. Rojo and Di Maria will be the first two. Perhaps, in Vidal and Blind, there is scope for two more. Unless United breaks the bank for, say, Mehdi Benatia, it is hard to see where it might find a specialist central defender.
But its requirements stretch beyond simply a series of signings. United needs to get players fit again, to integrate the new arrivals and to pick players in their proper positions so that Januzaj is picked as neither a wingback nor a central midfielder.
Before too long, Cleverley, Fletcher, Chris Smalling, Tyler Blackett and Ashley Young may not be starting. Nor, perhaps, will United's last marquee buy. Because when the team has paid a club record fee for Di Maria, it needs to determine where he is playing: is he seen simply as an upgrade on Juan Mata? Or does his arrival herald a switch to 4-2-3-1 or 4-3-3?
United and Van Gaal have to determine who accompanies Rojo in the new-look defense. Perhaps, when the Northern Irishman is fit, Jonny Evans and Phil Jones will make up the trio. Certainly, and crucially, Van Gaal must settle upon the players who suit the shape and who can jel together. It is vital he selects those who have attributes the team lacks: creativity, energy and, above all, pace.
There isn't enough speed in this side. Now, after the dithering and the delays, United has to act quickly. Decisions have to be made, and fast, if it is to avoid another season of suffering.