Someone will eventually switch off the accompaniment. Up until then, the transfer market's version of musical chairs will continue apace, although some have already grabbed their seats.
Three who have already settled for the season ahead are Chelsea's Diego Costa, the man who replaced him at Atletico, Mario Mandzukic, and in turn Robert Lewandowski, the latter replacing Mandzukic at the head of the Bayern attack.
Over the space of 24 hours, that triumvirate were collectively involved in serious competition for the first time this season, giving fans and pundits an opportunity to compare their respective strengths, styles and ultimately how they fit into their new surroundings.
Everyone will have their own take on who did best. But on goals scored, Costa and Mandzukic edged Round 1 thanks to hitting the back of the net.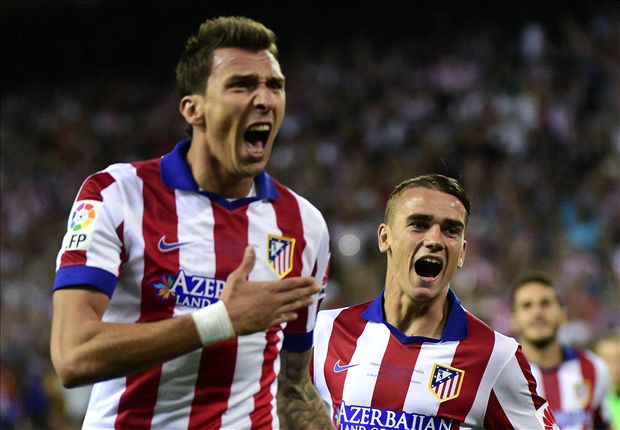 MARIO OFF THE MARK | The Croatia star celebrates after firing Atletico in front
In in the case of Mandzukic, it was the solitary goal which gave Atleti a 1-0 win on the night and a 2-1 aggregate victory over archrival Real Madrid, handing Diego Simeone's team the first domestic silverware of the season, the Spanish Super Cup.
Simeone, unsurprisingly, was full of praise for the Croat. Then again, in heaping plaudits upon Mandzukic, Simeone was complimenting himself on what a good signing he'd made to replace Diego Costa.
Most experts believed Atletico had worked a good deal in selling Costa to Chelsea for 40 million euros, while spending 22 million on hiring the services of the Croatian marksman.
Against Madrid, two minutes into his competitive derby at the Vicente Calderon, Mandzukic had won over the fans. The winning goal against Real Madrid has that effect on people. But it was the manner in which the 28-year-old scored that suggested he could come close matching Costa's haul of 36 goals last term.
Mandzukic pressurized Raphael Varane, his wayward attempted clearance flicked on by Antione Griezmann who outjumped Sergio Ramos, enabling Mandzukic to latch on to the knock down. He will hit better shots, but such was the accuracy of his low effort that it beat Iker Casillas's right hand to hit the bottom corner. A goal, virtually from nothing, but a goal just the same.
MORE: Balotelli in photos | Done deals | Hottest WAGs
However, just as pleasing for his coach and teammates, was Mandzukic's overall play up front, holding up possession, involving others breaking from midfield, and the 'nuisance factor' that kept Ramos and Verane occupied throughout.
Compare that to the man who took his place at the Allianz Arena, Robert Lewandowski.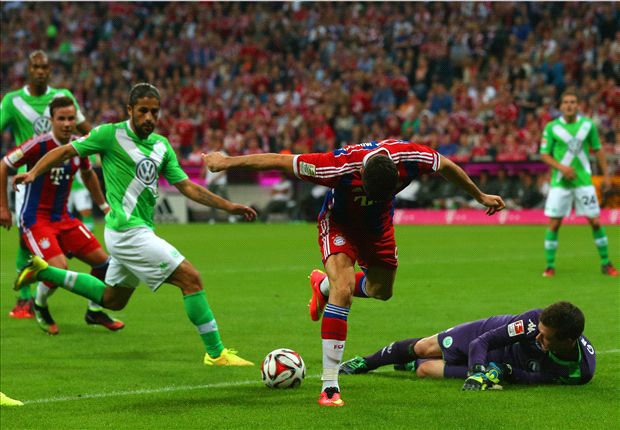 TOO HEAVY FOR LEWY | The Pole's touch takes him too close to Max Grun's outstretched arms
The Polish international, a free agent when he departed Dortmund, did contribute, playing a neat one-two to set up Arjen Robben for Munich's second in a 2-1 win over Wolfsburg.
But in the scoring stakes, Lewandowski - looking to achieve something like the strike rate Mandzukic achieved at Bayern (33 goals in 54 appearances) drew a blank. It wasn't for the lack of trying or opportunities. As the saying goes, he did everything but score.
In the first half, Lewandowski, the Bundesliga's leading scorer last term with 20 goals, missed one opportunity from close range, unable to get a shot off as the ball tangled beneath his feet. Later in the half, his acrobatic high-kicking volley produced an equally acrobatic stop from Wolfsburg keeper Max Grun. Close, but no Bundesliga debut goal for the German champions.
And what of Diego Costa? Having ended his time in La Liga injured, including a short Champions League final appearance, and an equally unproductive trip to the World Cup with Spain, many locals around Stamford Bridge pondered just how this same man could have scored all those goals for Atletico.
They did not have long to wait for the answer. Against Burnley in Chelsea's opening league outing, Costa scored. Against Leicester City on Saturday, Costa doubled his tally for the campaign. Indeed, the OPTA statistics at the time showed he'd had two shots this season, and scored on both occasions.
Criticized while out in Brazil, again it was his soon-to-be former coach Simeone who defended the prolific front man. If the Spanish midfield didn't pass through the channels that Costa ran, how was he supposed to score?
With either Hazard, Oscar, Willian, Matic, Schurrle, Ramires or Fabregas providing the supply chain at any given time for Chelsea, Costa isn't going to be lacking in opportunity.
So, while Mandzukic and Costa have contributed, Lewandowski awaits his first goal. I think it can be confidently predicted however, that will change...