LIVERPOOL — Brendan Rodgers' day started with a motivational text from Luis Suarez, but the real reminder of the striker's summer departure came on the pitch as Liverpool toiled to a hard-fought victory over Southampton in the teams' Premier League opener.
The Reds manager might have felt like texting the Uruguayan back to ask if there was any chance he could return to Merseyside at times in the second half as Southampton attacked in waves, but eventually the Liverpool players gave Rodgers the response he was looking for.
Suarez's partnership with Daniel Sturridge last season was labeled "SAS" but that pesky nickname looks like it will live on after the new "SAS" spurred Liverpool to victory on Sunday.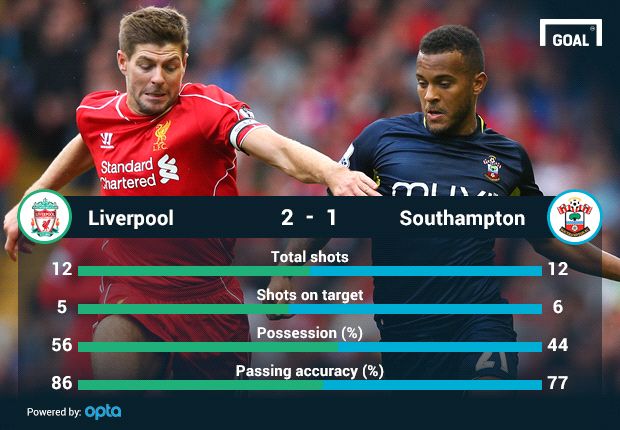 Raheem Sterling continued where he left off last season with a fine run and finish to put Liverpool ahead before Sturridge grabbed the late winner with a poacher's strike from close range.
It made the difference in a win borne from guts and determination more than the swashbuckling attacking soccer that inspired the club's title charge last season.
"Today was a brilliant win for us," said Rodgers in his postgame news conference. "It was a tough game and we had to grind it out, so I'm really happy with the determination and character. As the season rolls on, we will play better."
MORE: Coach Ted Lasso returns! | Porter challenges Guardiola | WAGs
Liverpool was unconvincing throughout, particularly in the second period as it was outplayed by a Southampton team that many have tipped for relegation following a summer in which it lost several key players. Yet on a weekend when Manchester United, Arsenal, Everton and Tottenham had all produced substandard performances, Liverpool made sure it got its campaign up and running with three points.
Perhaps it was even more important for Liverpool to win its opener after the crushing disappointment of the end of last season and the blow of losing its best player to Barcelona.
While Suarez scored 31 Premier League goals last season and led Liverpool's title challenge, Sturridge was far more than simply a supporting act. The England striker has now scored 36 goals in 50 appearances for Liverpool — an astonishing record — and his goals have earned the Reds 22 league points since the start of last season.
Rodgers has insisted that despite losing their star man, the Reds have a stronger, more complete squad than the group of players that finished a narrow second in the Premier League last season.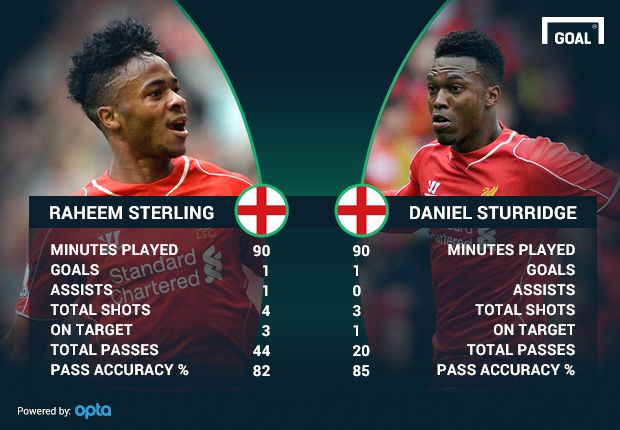 MATCH WINNERS | Sterling and Sturridge got the goals as Liverpool beat Southampton
He needs Sturridge, more than anyone, to prove it, particularly with the lack of striking alternatives in the Liverpool squad, an issue that Rodgers acknowledges he needs to address.
"I think for Daniel it was just a continuation," the Reds boss said. "We can create chances and score goals. Sometimes he will have quiet games but he always looks like he will score a goal."
If the 24-year-old suffers a significant injury, Liverpool looks light up front. But the Reds still have the likes of Sterling and Philippe Coutinho, who have the quality to open up oponents.
Sterling excelled in the final months of last season and again here always threatened with his speed, trickery and composure on the ball, particularly in central areas. He may be just 19, but Sterling has the ability and, crucially, the self-assuredness to star for Liverpool this season as it prepares for a title charge and a Champions League campaign.
It is far too early to make any firm judgements on how Liverpool will handle the loss of Suarez, particularly given the disruption to preseason preparations caused by the World Cup. Liverpool will certainly play better this season and it is worth remembering that it won plenty of games like this in a similar manner, even with Suarez in the club's ranks.
And if the Reds are going to provide a repeat of last season, the new "SAS" will hold the key.