Arsenal's record signing didn't have an entirely perfect debut season for the Gunners, but Mesut Ozil did help the club to another Champions League berth and a long-overdue FA Cup win. He won another trophy in the summer, helping Germany to a World Cup win in Brazil, and will try to continue the trend as he feeds passes to Arsenal's newest big-money signing, Alexis Sanchez.
Only 25, Ozil has had plenty of success, winning club silverware in Germany, Spain and England in addition to the 2014 World Cup. In 62 appearances for Die Mannschaft, the Gelsenkirchen native has scored 18 goals.
This summer, Ozil scored the 120th-minute winner for Germany in the 2-1 round of 16 victory over Algeria, and he picked up an assist in the 7-1 rout of Brazil. He played in all seven of Germany's World Cup matches.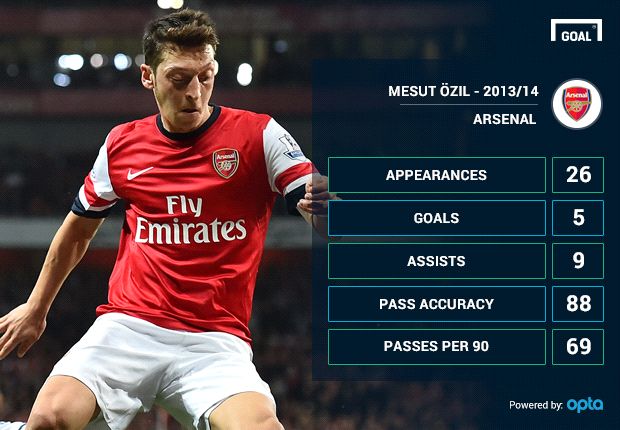 The German's game is based around his excellent techniqe (although his impressive raw speed is underrated), leading Arsenal in assists (nine) and shooting accuracy (75 percent) last season. He also posted impressive numbers for passing accuracy (88 percent), passes per 90 minutes (69) and passes into the final third (224), along with five goals in his 26 appearances.
Arsenal boss Arsene Wenger is likely to use Ozil as his attacking hub, teamed with Aaron Ramsey in attacking midfield while either Mikel Arteta or Matheiu Flamini provides cover behind. Two of Ozil's World Cup-winning compatriots, Lukas Podolski and Per Mertesacker, are also Arsenal teammates.