Everton goalkeeper Tim Howard may be getting up there in age, having played what was likely his final World Cup this summer. But there is no reason why the American can't be one of the best Premier League shot-stoppers for the next couple seasons.
Coming off perhaps the best game of his career, the 35-year-old U.S. star will be among the top five standout World Cup players to watch when the Premier League season opens on Saturday, Aug. 15.
Howard became a national celebrity after putting on a show in front of millions during the U.S. team's 2-1 loss to Belgium in the round of 16 in Brazil. He stopped a World Cup record-setting 16 shots to hold off an aggressive Belgian attack to single-handedly keep his team in the game.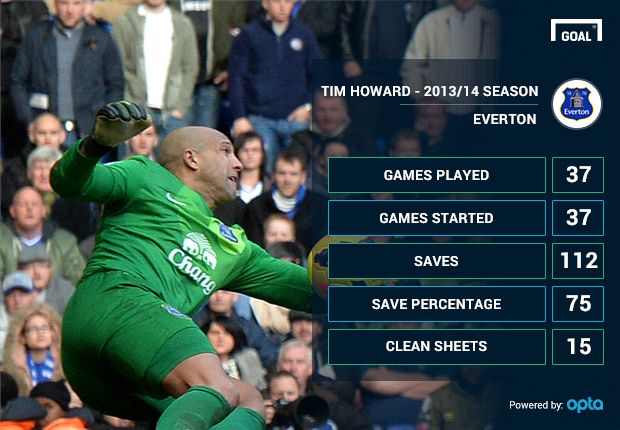 With 104 caps to his name and Aston Villa's Brad Guzan waiting in the wings, no one would now blame Howard for retiring internationally and skipping the transatlantic grind of World Cup qualifying. But this isn't the last we'll see from the tatted-up former MLS product.
Howard helped lead Everton to a fifth-place finish last season, barely missing out on the final Champions League spot by seven points. The Toffees will have to try their luck of making the Champions League again this season, while in the meantime competing in the Europa League.
Howard started for Everton in all 37 games he appeared in, saving 75 percent of the 112 shots he faced while earning 15 clean sheets.