For a man who does not like journalists to repeat their questions,
Louis van Gaal
is not afraid to ram home his own point.
Despite all of his natural confidence, which has done an awful lot to restore a bit of optimism at Manchester United already, he has been keen to point out that replacing David Moyes is no easy assignment.
"I had to follow Bobby Robson at Barcelona. He had won three titles. That was easier for me than now I think," he said during his official unveiling, and again when sitting down with the British press a fortnight later.
"When there is success there is also a very good selection, and the selection [at United] is broken, I think. It's more difficult to succeed in a difficult situation than in a fantastic situation."
Van Gaal has thrived at the No.1 club in the Netherlands, Germany and Spain. Now, he has said at least twice, he is coming to the No.1 club in England.
But this, patently, is not the No.1 squad in England. He has inherited a group of players better than what they showed last season, but not so good that a return to the top four in 2014-15 is a guarantee.
Van Gaal's CV and sheer force of character have enthralled fans and media alike over the past few weeks, much like when Jose Mourinho turned up at Chelsea a decade ago, and nobody could deny that things feel much more promising around Old Trafford. Expectations are already high.
The Netherlands' World Cup performance, rightly or wrongly, was used in some quarters as an indicator of what Van Gaal will bring to Old Trafford. From masterminding the thrashing of Spain to sending on Tim Krul as a 120th-minute substitute, they were exciting times.
While it may not be the done thing to get carried away by a collection of preseason friendlies, Van Gaal then won the International Champions Cup, beating a slew of top European clubs on the way, meaning United has done as much as could be expected.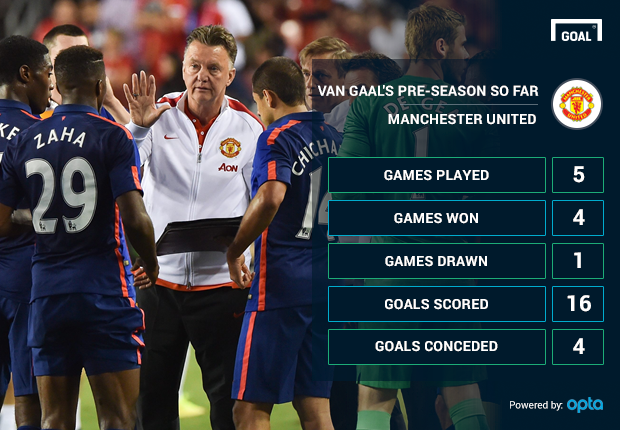 With the Premier League season just over a week away some are even tipping United for a tilt at the title despite finishing seventh in shambolic circumstances last season - this is thanks exclusively to Van Gaal's aura and force of personality.
Perhaps people are getting carried away. Compare United's "broken" squad with the intimidating quality of Chelsea and Manchester City and consider how they can launch a title bid, no European football or not. Van Gaal, unwittingly, has created this expectation in just a few weeks, and this makes it the biggest challenge of a glittering career.
He may have rocked up at Camp Nou in 1997 after making his name with Ajax but, in his own words, that was not so bad - he inherited a successful squad and kept on winning. Sure, he dropped Rivaldo two days after he was named European Footballer of the Year because he wouldn't play on the left, was branded "foul and pedantic" by Christophe Dugarry, and fell out with the local press, but he did not think much to the challenge.
Taking over at Bayern Munich, certainly the biggest club in Germany, was in some ways similar to the job he has on his hands in Manchester. The club finished second the season beforehand following the FC Hollywood days of Jurgen Klinsmann and although the team was damaged it was hardly "broken". After quite literally showing what he's made of to his players by dropping his trousers, Van Gaal was well set for success.
A spell with AZ heralded the Eredivisie title, his first stint as Netherlands boss was a failure, and a return to Barcelona was ill-fated, but none, even the pressure of leading such an established football nation, can compare to the scrutiny he will face at Old Trafford.
MOYES'S LEGACY | Louis van Gaal takes over at Manchester United after the club's worst ever Premier League campaign, with the team's seven home losses eroding the Old Trafford aura
Like 'the Special One' in 2004, Van Gaal is already held up as something of a messiah. Nobody is questioning his methods - whether he's block booking 20 rooms at a Los Angeles Holiday Inn or setting up a Carrington spy network - mainly because he's got a history of success, but partly due to Moyes's dour reign.
MORE: Biggest summer transfers | Soccer's beautiful fans | WAGs
The numerous confrontations with players have not been probed too heavily just yet either. As well as Rivaldo and Dugarry, Luca Toni (who revealed Van Gaal's very personal show of defiance to the world) claims he "treats players like interchangeable objects".
For now, his relationship with the British press is chummy, but it can quickly change when the serious business really starts. He has a habit of clashing with reporters - upon leaving Barcelona for the first time he simply said "Friends of the press. I'm going. Congratulations." Public opinion can quickly change.
No man is spared when things start to go wrong. Rather than reeled off as entertaining anecdotes, the darker shades of Van Gaal's colorful past will be looked upon in a different light.
Is he too single minded? Is he too hard on his players? Does his autocratic style clash with United's money men? Were there signs, after all, that this was always going to end in tears? Should we have known all along?
The pressure to bring in new players before the end of the transfer window is keenly felt along United's corridors of power - particularly by Ed Woodward. After eschewing top-level names like Toni Kroos and Cesc Fabregas, as well as the promising William Carvalho, Van Gaal is looking for players capable of doing exactly what he wants.
It is his way or the highway. Carrington, good enough for Sir Alex Ferguson, has been overhauled. Pitches have been torn up to replicate the surface at Old Trafford, trees have been planted to guard against the wind.
The players will be allowed to sleep on newly installed beds - but only between double training sessions.
Van Gaal has set the bar high. Over the coming months and years it is his own high standards which will define his time as Manchester United manager. It is the final, toughest challenge of his career.