Luis Suarez is no longer a Liverpool player but his name still dominates the agenda ahead of the new Premier League season.
Brendan Rodgers will be relieved he no longer has to contend with the Uruguayan's misdemeanors but how he goes about replacing his former talisman's influence is likely to define his side's season.
For the last three-and-a-half years in a red shirt, the damage inflicted on opponents has been more psychological than physical, despite his proclivity to bite defenders.
Suarez's departure to Barcelona leaves a huge hole in the Liverpool side that he drove to within a whisker of a first league title in 24 years last season.
The Reds will not just miss the 31 goals he scored in 33 appearances last season, but Suarez's natural flair, the ability to produce something out of nothing, his sheer desire to win. Not only was he one of the best strikers in Europe last season, but he was Liverpool's talisman, a player who made his teammates better and his opponents worse.
MORE: Biggest summer transfers | Soccer's beautiful fans | WAGs
Suarez was the player that everyone else loved to hate, but for all his unwelcome antics, he was the match winner. Without Suarez - who also produced 12 assists last term - Liverpool would never have come close to winning the title.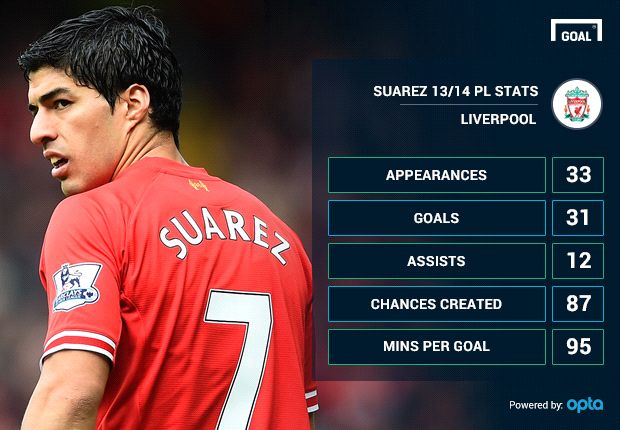 So how do you replace one of the very best players in the world, someone with that level of match-winning quality?
Put simply, you can't. Brendan Rodgers insists coping without Suarez "won't be an issue" for his side this season - but things cannot and will not be the same without the Uruguayan.
Just ask Tottenham. Like Suarez, Gareth Bale was seen as indispensable for a team that was built around giving him the ball in areas where he could cause defenders problems.
The Londoners spent 110 million pounds to fill the hole left by Bale but even the arrival of seven proven internationals could not prevent a regression last season as the team finished sixth in the league table.
Whether Liverpool is repeating the same mistake will only become apparent once we have seen just how Rodgers sets his side up without Suarez in it.
The statistics offer some encouragement. Since Suarez made his Premier League debut, the Reds have averaged 1.47 points per game and 1.58 goals per game in the 77 matches in which the former Ajax man featured. In the same period without Suarez, the 13 games when the 27-year-old was missing produced an average of two points and 1.85 goals per game.
LIVERPOOL LATEST

Of course, Liverpool was not a better team without Suarez, but the club has managed to win matches without him, especially since Daniel Sturridge's arrival in January 2013. The England striker scored 21 league goals last season and will now have to take on the responsibility of leading the team's attack.
The likes of Raheem Sterling and Philippe Coutinho will also be asked to step up and deliver on their considerable ability in the final third, especially with captain Steven Gerrard now 34 and still recovering from the blow of his now-famous slip against Chelsea and his costly mistakes in England's World Cup exit.
The priority for Rodgers over the summer has been to build a bigger squad and in that sense the Merseysiders have bought wisely.
After playing just 42 matches in all competitions last season, Liverpool's return to the Champions League means the strain will be far greater on a squad that relied on a core of 15 or so players last term.
Indeed, trips to Europe and playing twice a week will present a real challenge for a team that was able to focus almost solely on the Premier League challenge last season.
But while Liverpool has bolstered the squad, the summer signings have so far been slightly underwhelming.
For a start, a team with title aspirations should not be signing three players from Southampton. Instead of Suarez, opponents will be lining up this year against Rickie Lambert. It hardly strikes the same fear for defenders used to being twisted and tied into knots on trips to Anfield.
Adam Lallana was overpriced at £25 million and will miss the start of the season through injury, Lambert could prove a useful signing but has struggled in the club's preseason preparations while Dejan Lovren will be expected to adapt immediately and justify his £20 million transfer fee.
Emre Can and Lazar Markovic are exciting players but will need time to acclimatize to the Premier League, and Divock Origi has been immediately loaned back to Lille for the season.
Rodgers says the Reds are planning "one or two" more additions and they could do with a stellar signing to add to the attack. Alexis Sanchez would have been the perfect man to soften the blow of Suarez's sale, but the Chilean opted to sign for Arsenal instead.
Ahead of the Premier League opener against Southampton on Aug. 17, Liverpool has enjoyed a competitive preseason schedule featuring matches against top sides like Roma, Manchester City and AC Milan before defeat to bitter rival Manchester United in the International Champions Cup final.
The signs in preseason have been that the team will continue to play in Rodgers' high-tempo attacking style, with rapid movement and slick passing in the final third.
But with far more games and no ace in the pack, another title challenge looks beyond Liverpool, especially given the improvement over the summer of Chelsea, Arsenal and United. The Reds might find out just how much they have relied on Luis Suarez.