Mario Balotelli
has endured a difficult year. A member of
Italy
's World Cup squad, the firebrand striker scored, somewhat inevitably, against
England
but was a peripheral figure in subsequent defeats to
Costa Rica
and
Uruguay
as the Azzurri crashed out at the group stages.
His poor showings at the tournament, according to AC Milan president Silvio Berlusconi,
cost him a 28 million pound move to Arsenal
.
Arsene Wenger, keen to land a marquee signing before his acquisition of Alexis Sanchez from Barcelona,
held extensive talks with the Italian's agent over a move for the former Manchester City star
.
Had a transfer gone through, with bonuses and clauses factored in, the deal could have cost the Gunners £35m
.
Berlusconi, though, was left aghast after the tournament in Brazil, exclaiming "who will buy him now?"
"Other than Italy, I'm the one who lost at the World Cup," he said. "I was selling Balotelli to an English team for several millions, but, after this World Cup, who will buy him now?"
Goal
understands
Milan is still very keen to offload the striker, but now values him at just £15.8m
. Surely that would provide a bargain for somebody?
Of course, Balotelli's previous indiscretions will always go before him. During his time at City, headline writers were working overtime to keep up with the Italian. From strolling into a library and reportedly offering to pay off every outstanding fine to setting off fireworks in his own house, Balotelli has never really grown up.
In his career, quite remarkably for a striker, Balotelli's disciplinary record is something to behold, with his 71 career bookings falling just short of his 88 career goals. He has been sent off six times.
A famous story told by Jose Mourinho, his former boss at Inter, tells of how he spent 14 minutes of his available 15 at halftime trying to convince a booked Balotelli to simply focus on scoring and not get involved in any physical battles. In the 46th minute, the story goes, Balotelli was shown a second yellow.
He can certainly get under the skin of his coaches – his training ground spat with Roberto Mancini a prime example, while Mourinho once claimed that he "came close to a zero rating" after a particularly poor performance.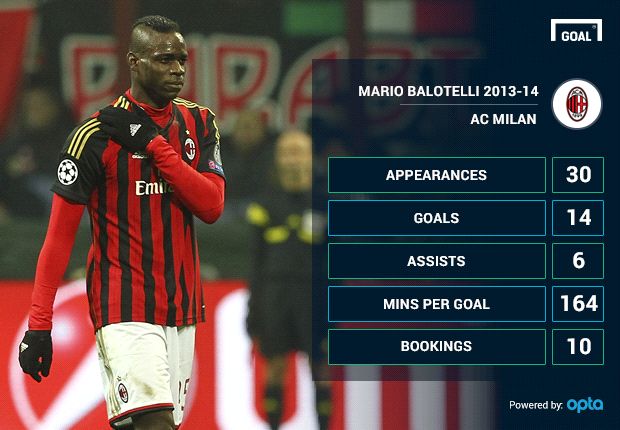 But so much has been expected of the striker, from his formative years at Inter up until this summer's World Cup, it is easy to forget that he is just 23 years old.
Would he be such a poor investment? In 2013-14 he hit 18 goals in all competitions for AC Milan, while providing a further eight assists. Compared to Olivier Giroud, Arsenal's go-to goalscorer, the stats reflect well; Giroud hit 22 goals with 12 assists. Neither were considered to have had great seasons, but the goals were there.
Balotelli would be keen to return to England, namely Arsenal, having won the Premier League and the FA Cup at the Etihad Stadium during his initial stay. A world-class player on his day, one would expect a number of clubs would weigh up the pros and cons and be prepared to stump up the relatively small fee.
And he is still capable of the exquisite. See City's vital 2011-12 clash with QPR. With the clock ticking down and the pressure on, Balotelli collected the ball on the edge of the box. The score at 2-2, his next move was crucial and, through a throng of bodies, he found Sergio Aguero. Two touches later Manchester City was the champion. It was the only assist of his time at Eastlands.
He has scored all kinds of goals; a 30-yard stunner against Brazil for his country, an expert header against England this summer, with a shoulder against Norwich, and the cool, calm finish which set City on its way to a landmark 6-1 win at Old Trafford. 'Why always me?'.
So if not Arsenal, maybe Liverpool could be tempted to take the plunge and indulge the maverick. Brendan Rodgers is used to working with fiery, controversial strikers and he is in need of one now, with Luis Suarez having departed for Barcelona.
Balotelli may not match Suarez's goal ratio – few in the world do – but he is an equally threatening striker. Not many defenders would volunteer to face Balotelli at his best, his pace and power giving him the required attributes to lead the scoring charts in England if he could stay fit and focused.
You get the feeling the striker just wants to be loved. If he could get the Kop on his side it could bring the very best out of him.
With £70m burning a hole in Rodgers' pocket, he could certainly do worse. An outstanding prospect and a world-class talent when he wants to be, Balotelli may yet prove his doubters wrong. At £16m, he could be a bargain.
One thing seems certain; a move away from Milan is beckoning. Berlusconi has long made his mind up and Balotelli is on his way out, with the club keen to put a move in place before the International Champions Cup on July 24.
His suitors should be queuing around the block.