Just four points separate the top three teams in the league table ahead of Sunday's huge clash between Liverpool and City as the title race looks set to go to the wire
The enormous clash between
Liverpool
and
Manchester City
on Sunday may have been billed as a title decider, but the race to become Premier League champion this season appears almost certain to run until the final day of the season.
Four points separate the top three and I think Liverpool, City and Chelsea will all go into the last weekend with a chance of winning the league.
While all the hype is surrounding the big matches when Liverpool hosts City and Chelsea, the destination of the Premier League trophy could just as easily be determined in games when you would ordinarily expect a routine victory. There is no margin for error.
Both Liverpool and City can claim to have the title in their own hands, with the Reds top of the table heading into this weekend and with the momentum behind them having won 10 league games in a row.
The two home games against City and Chelsea will, most probably, decide whether Brendan Rodgers' men can put Liverpool back on their perch with an historic first title triumph since 1990.
Liverpool is flying and I cannot see the club losing either match at Anfield. I think the home crowd will roar them to victory against City, which has been rattled in away games this season.
If the Reds can beat City and avoid defeat to Chelsea, Rodgers' men should not have any problems in beating Norwich, Crystal Palace and Newcastle given their formidable attacking power.
City has long been considered the favorite for the title and it would probably be comfortably out in front had Sergio Aguero not been injured for most of the second half of the campaign.
Aguero's return could prove a vital factor in the final weeks of the season but he will be lacking sharpness on Sunday, while I don't think City's defense is strong enough to keep Luis Suarez and Daniel Sturridge at bay.
A draw at Anfield would leave City in pole position to win the league, but its hopes could equally be decided by another trip to Merseyside.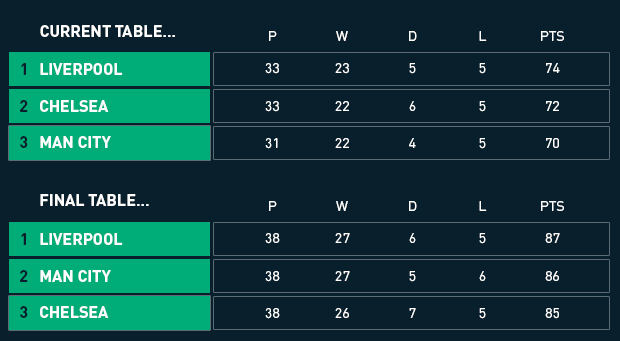 Manuel Pellegrini's side should stroll to victory in the rest of its remaining matches - and, of course, it has games in hand - except for its visit to Everton on May 3.
City has a poor recent record at Goodison Park - it lost 2-0 there last season - and the Toffees are themselves fighting for a top-four finish. Even Manchester City's title fate looks set to be decided on the other end of the East Lancs Road.
Chelsea is almost seen as the outsider but the Londoners have the easiest run-in, with four of their remaining five fixtures against sides currently in the bottom six in the table and facing potential relegation.
Blues fans will be aware that they have struggled in away games when they are expected to win this season, the recent defeat at Crystal Palace one such example.
But Jose Mourinho knows how to grind out results while he is the king of preparing for big matches, so I think Chelsea will manage to take a point from Anfield.
While Liverpool and City are focused solely on the Premier League, Chelsea has at least two more Champions League matches to come as it faces Atletico Madrid in the semifinals of Europe's elite competition.
That could play a part in a title race that could be decided by the finest of margins.
But whatever happens, we are in for a thrilling end to the season.