A selection of fans have displayed their frustration at their under-fire manager by arranging for a plane to fly over Old Trafford during the lunchtime clash with Aston Villa.
A banner reading 'Wrong One - Moyes Out' has been flown over Old Trafford at the start of
Manchester United
's Premier League meeting with
Aston Villa
.
'WRONG ONE - MOYES OU
T'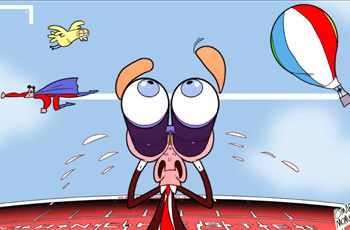 By Peter Staunton at Old Trafford

Do these people think they are funny? Nobody wants this banner here and these clowns have gone ahead with their stupid prank regardless. Unnecessary stuff, really, and all the worse that it's United fans perpetrating it.

There was warm applause to greet David Moyes as he took his seat from all around the ground. Nobody in their right mind thinks Moyes is to blame entirely for United's current malaise. Hopefully, these are the type of fairweather, know-nothing fan United will shed if the club goes without success for a couple of seasons.
The plane flew over United's stadium just after kickoff as fans settled into their seats for the lunchtime meeting with Paul Lambert's side.
The banner represents growing supporter unrest at manager David Moyes, with the Scot overseeing a tumultuous first season with the Premier League side having replaced Sir Alex Ferguson in the summer.
Minutes later, a second plane, chartered by a betting firm, also flew over Old Trafford carrying a banner which read: 'FERGIE BACK IN - 6/1'.
United has already lost 10 league games this season and Tuesday's home defeat to Manchester City, the club's third in a row at Old Trafford against its near neighbor, seemingly compounded the anger of a selection of fans who made arrangements for Saturday's banner to take to the skies.
When asked about the planned banner protest prior to kickoff, Moyes told
BT Sport
: "You remain focused on the game and that's what we've done. It's going to happen.
"I think the money would have been better served putting in to Darren Fletcher's charity, I think that would have been better than paying for a plane to fly over here today."