LONDON —
Arsenal's limited experience of the new Wembley has been anything but pleasurable. Yet the nature of a rousing second-half performance that swept aside Everton aside suggests its next visit may well end in a more pleasing outcome.
A week after a defeat at Stoke rendered Arsenal's Premier League title bid in a state of disrepair, would the fragile, inhibited, nervous Gunners capitulate at the hands of an enthusiastic Everton side? No.
The Emirates crowd has earned a reputation as something of a soulless bowl, inhabited by fickle fans just as likely to celebrate the most successful manager in the club's history as demand for his head.
But on a sun-kissed afternoon in North London these fans, starved of the silverware they once took almost for granted, carried their team back to Wembley with optimism and confidence restored in a side that revels in doing things the hard way.
A beautifully constructed opening goal, orchestrated by Santi Cazorla and clinically despatched by Mesut Ozil was met, given the scorer, with relief as much as it was with joy — the German himself had little time to indulge in celebration, so quickly did his teammates arrive to congratulate him for ending a goal drought that stretched back to early December.
It ought to have been a nerve-settling moment, a platform on which Arsenal could exert control and dominance. Despite the experience the likes of Per Mertesacker, Mikel Arteta and Mathieu Flamini can boast, there remains, however, a naivety about this Arsenal side.
Game management is not Arsenal's forte — far from it. Everton carried a threat on the break throughout, yet there seemed no attempt from Wenger's side to adapt its game suitably. As such, it was no surprise when the visitors drew level as Romelu Lukaku bundled home following smart approach play from Ross Barkley and Kevin Mirallas.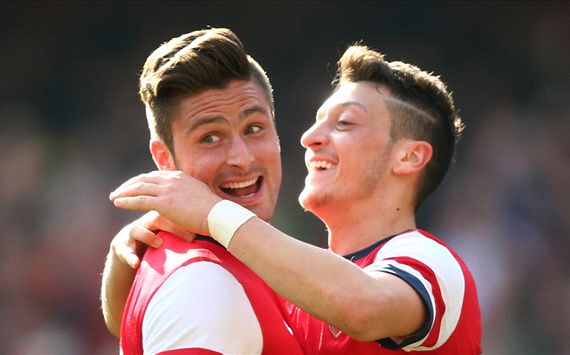 Wembley, here we come | Giroud and Ozil bagged three goals between them at the Emirates.
Wracked with self-doubt and up against opposition that drew significant plaudits for the quality of its performance here earlier in the season, Arsenal was on the ropes and only avoided a knockout blow when Barkley opted for power, rather than placement, and blazed a golden chance marginally over the crossbar.
Arsenal's response to that let-off was as emphatic as it was unexpected and triggered by two players at the opposite ends of their careers. Alex Oxlade-Chamberlain, young, full of promise and destined for a long and distinguished career, tore past Gareth Barry and made nothing into something and coaxed a foul from an opponent who should have known better.
Regardless of Arsenal's fate this season, Chamberlain will likely find himself with plenty of opportunities to end the club's silverware drought. The same cannot be said for Mikel Arteta, who has spent nine years on these shores with nothing by way of silver as reward for his unflinching commitment and professionalism.
The Spaniard tucked away the spot kick but was forced into a further battle of wits with Joel in the Everton goal following encroachment from Olivier Giroud. Would Arsenal invent another way to toss away a match-winning opportunity? No chance. Arteta planted the ball high into the opposite corner. The Emirates exploded. No muted celebrations for Arteta against his former club.
Olivier Giroud embellished the score with two late strikes, having come off the bench to add a touch of nous and authority to Arsenal's forward line after Yaya Sanogo had run out of steam.
Arsenal's press lounge has undergone something of a refurbishment in recent weeks, the walls now adorned with newspaper splashes dedicated to the club's finest achievements. Will they need to make space for the class of 2014, which finally ended a nine-year wait for a trophy? On this evidence, certainly.