David Moyes has justifiably been criticized in his first season as Manchester United manager. His team has lost about a quarter of its matches which is far too high a figure even in a season of transition. United has not yet settled on a style of play which defines the Moyes ethos and, even in smaller-scale games, has been shown up to be unimaginative and limited.
The tactical shape of the team is something Moyes alone is responsible for and it is he who must field the questions when United is called out on being one-dimensional. If his ideas are not coming across, then the buck stops with the manager.
"Me and the team didn't show together," he told UEFA after the defeat to Olympiakos. "We'll put it right, we're determined to put it right and we'll have opportunities to do it in the coming weeks. Old Trafford's seen some great nights in the past and we'll hopefully see another one. We'll do everything we possibly can to reverse the 2-0 defeat."
Stepping up from Everton to Manchester United, Moyes was always going to encounter some issues with a higher caliber of player. He played with Robin van Persie's fitness against Newcastle by refusing to substitute him against his better judgement. He has indulged Wayne Rooney far too much at the expense of more lithe, creative players like Shinji Kagawa and Juan Mata. He has at once overburdened Adnan Januzaj but then cut him loose at the wrong time by leaving him out at Olympiakos.
There is another side to it though. All the problems cannot be laid at Moyes' door. He must have a look around the dressing room now and ask honestly the question: "Who is letting me down?"
On the basis of the display against Olympiakos, the answer could be, conceivably, quite a few. Robin van Persie seems on the verge of exasperation. But at least he looked like he was trying.
If Moyes has any hope of salvaging United's season then he cannot wait until the summer to begin his clearout. There were players on the pitch in Greece who look beyond saving and, as such, should not play for United again.
Rio Ferdinand, one of United's most senior players, has aimed thinly veiled barbs at Moyes for his decision not to name the team far in advance of kickoff. He would be well advised to concentrate on his football than the preferences of his manager. Not once under Moyes has Ferdinand looked the part and yet he is content to divert more criticism in the direction of Moyes. He'd be first to be banished.
Chris Smalling does not measure up, simply put. He is too ponderous and is incapable of making the right decisions consistently throughout a match. He'd be out.
Tom Cleverley and Ashley Young are all too content to let matches pass them by without thinking to grab hold of it and try to affect it in United's favor. Far too passive. They'd go.
Remember that the midfield of Antonio Valencia, Michael Carrick, Cleverley and Young, which started against Olympiakos, was good enough to beat both Chelsea and Manchester City away in the Premier League last season as well as Arsenal at home. These players simply are not performing for the manager.
They are coasting and they will continue to do so until Moyes shows his teeth and makes the unpopular calls. These sub-par performances of the players, week by week, increase the probability of Moyes losing his job. Do you think they really care about that? Not a chance. It's not him they are playing for, it's Manchester United. Another manager will be along shortly.
Moyes is in a race against time now. Between now and the end of the season, he dare not allow his players dredge up another performance as poor as that against Olympiakos. Overturning the 2-0 deficit at Old Trafford would purchase good will from the fans and owners alike as well. By summer, though, Moyes will be overseeing a high turnover of players with the likes of Luke Shaw and Toni Kroos reportedly on his shopping list.
The problem is that Sir Alex Ferguson was the only man who could possibly drag this team together and make it win the league by 11 points. David Moyes may have a lot on his plate but by identifying and ditching the players he can simply no longer trust he could give himself a better chance of survival. Anderson said in January that a lot of players "wanted out" of United following the departure of Ferguson. Well those type of mutineers are not the types to be relied upon now the going is tough. Moyes should show them the door and not before long.
Get ready for four more years of Sepp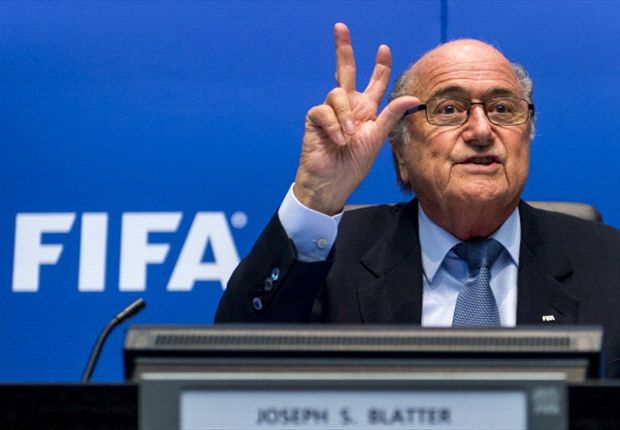 Sepp Blatter has always conveyed a remarkable ability to distance himself from scandal. Despite the mud-raking, the allegations of corruption and the backstabbing that have characterized his reign, he remains unaffected politically. And so he announced this week his intentions to run for a fifth term as FIFA president in 2015.
"If the congress elects me, I stand ready to remain FIFA president for another four years," he told the Swiss daily
Walliser Bote
. "I gladly continue with my mission." There is no indication that the congress will not elect him.
Blatter has kept enough national associations sweet in his time as president so as to seem, at this stage, unimpeachable. The ISL bribery case took place while he was general secretary. His 1998 election was overshadowed by a cash-for-votes accusation by Farra Ado, the vice-president of the Confederation of African Football, who claims he was offered 100,000 euros to vote for Blatter. He faced a corruption probe in 2002 which eventually led to the ousting of general secretary Michel Zen-Ruffinen. The award of the 2018 and 2022 World Cups by the FIFA Executive Committee was tainted by allegations of bribery. The list goes on.
FIFA's ethics committee has cleared Blatter of all allegations of "criminal or ethical misconduct" while also admitting the president had been "clumsy" and some of his actions in need of "internal clarification." The man who turns 78 on March 10 continues to glide serenely above the effluent at Football HQ.
After initially announcing his intention to stand down in 2015 - he ran unopposed in 2011 following one of the dirtiest political wars on record against Mohammed bin Hammam - Blatter has changed his mind.
One of the recommendations by FIFA's own appointed reform official, Mark Pieth, was the setting of age limits for delegates. He met such stiff resistance from within the governing body that he stood down, calling FIFA a 'circus'.
From Sochi, earlier this month, Blatter stated that he didn't believe in age limits - a tacit admission that he would run in 2015.
"We concluded that imposing an age limit is an act of discrimination," he told an IOC session at the Winter Olympic Games. "It is not normal to impose age limits."
Where Blatter's newly-stated yet totally inevitable intention leaves the leadership challenge from Jerome Champagne is anybody's guess. The Frenchman, loyal to Blatter, said that it would be unlikely to stand for the presidency if Blatter were to seek re-election. Michel Platini, the UEFA president, will probably announce his candidacy after the 2014 World Cup. He will have a job on his hands convincing delegates to vote against the Swiss.
Brace yourself for four more years of the Sepp Blatter show - bringing his reign of folly to 21 years in total.
Follow Peter Staunton on