Greg Stobart




Goal UK Correspondent




WALCOTT CONTROVERSY SHOWS HOW FOOTBALL HAS LOST ITS SENSE OF HUMOR
It's a north London derby, passions are running high as
Arsenal
leads its bitter rival 2-0 deep in the second half, and
Theo Walcott
decides to prove that not all players are robots, devoid of emotion and a sense of humor.
As the man who has led Tottenham a merry dance all afternoon is carried from the field of battle on a stretcher in front of the 5,000 Spurs fans, the striker responds to their abuse by making a gesture to remind them of the score.
An act of impetuosity, at worst. A bit of fun amid the ferocity and fury of another thunderous north London derby. And yet many fans and pundits are suggesting that Walcott should face sanctions from the Football Association for "inciting" the idiots who hurled coins, cigarette lighters, plastic cups and even a bread roll in his direction.
WALCOTT TROLLS SPURS FANS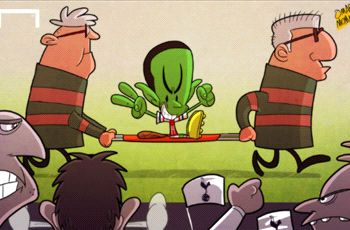 Sunday's Cartoon of the Day
What utter rubbish.
If Walcott is hauled before the FA and given a fine, I hope it amounts to no more than the cash sum of the dozen or so coins that stewards recovered from the Emirates Stadium pitch.
In an era where the game is becoming increasingly sanitized and one where the disconnect between players and supporters continues to grow, how refreshing it was to see Walcott showing some passion.
And he did it in the right manner. As Arsene Wenger said, the forward was smiling as he goaded the Tottenham "fans" and Tim Sherwood's application of the most overused word by people in soccer - "banter" - fits with the narrative in this instance.
The fact that some fools couldn't take it reflects on them, not Walcott. The more that people try to suggest that Walcott was in some way responsible for triggering some unsavory scenes, the more mitigation we offer people who should take full responsibility for their actions.
Not only does it seem a dreadful waste of money to throw pound coins – attending soccer matches is an expensive enough hobby already - but it could have caused severe damage had one such missile struck Walcott, or one of the brave stewards who ran the gauntlet carrying the stretcher.
In any event, it certainly justified Arsenal's decision to deny Tottenham the usual 15 percent allocation of 9,000 tickets for the north London derby. The later kickoff may have meant some of the protagonists had overindulged in alcohol but you can bet that they would have been whooping with joy had the boot been on the other foot.
Soccer has become too serious, falling over itself to seek controversy and then revel in it at every corner. Too many muted celebrations, too much hatred, too little interaction between players and supporters, too much sensationalism. When did it all become this way?
Referee Mark Clattenburg will decide whether and what to report to the FA about the Walcott incident. After the week that he has had, he should look on it more favorably than most. Clattenburg was accused by Southampton of unacceptable behavior during the south-coast club's defeat at Everton shortly before the turn of the year.
Southampton claim that Clatternburg told Lallana: "You are very different now, since you've played for England. You never used to be like this."
The complaint was quite rightly thrown out - probably with a fair degree of laughter - by the referees' governing body, the Professional Game Match Officials Limited.
I'm not a huge fan of Clattenburg as a referee but the fact that Southampton still refuses to let go and doesn't want him to officiate the club's matches is ridiculous.
The fallout from the episodes involving Walcott and Clattenburg demonstrate how English soccer has become anything but the release from the reality of everyday life that it should be.
WEST HAM OWNERS WILL PAY FOR LOYALTY TO ALLARDYCE
West Ham's owners will tell you that their biggest mistake since buying the club in 2010 was the decision to stick with Avram Grant in the winter of 2010-11 when they considered sacking the Israeli manager. David Gold and David Sullivan, possibly the most patient owners in the division, eventually decided to back their man but saw their loyalty and trust rewarded with relegation.
I sense history repeating itself.
Sam Allardyce has a fair point about the Hammers' crippling injury list but he needs to stop bleating and start winning. Even with its injury problems, this West Ham squad is far better than it has shown this season.
It is 19th in the table, playing miserable, dysfunctional soccer and waiting for the return of Andy Carroll - who has not kicked a ball all season - as if he is some sort of magic cure to all of its ills.
Regardless of priorities for the season, the humiliating 5-0 defeat of the young team that Allardyce put out against Nottingham Forest showed just how low the club has fallen. Unfortunately it cannot play Tottenham every week, and with Fulham, Sunderland, Crystal Palace and now Cardiff City (potentially) all improving under new managers, West Ham is in real trouble.
The Olympic Stadium is at the heart of their future and it would be a disaster, not just financially, if the team drops to the Championship. Even then, how is the club ever going to sell out a 54,000-seat venue - complete with an atmosphere-sapping running track - if Allardyce is still in charge when it moves to Stratford for the 2016-17 season?
To fill Upton Park, the club has been forced to launch a number of "kids for a quid" schemes to boost attendance, thereby exposing children to Allardyce's prehistoric brand of soccer, which is completely out of sync with the traditions of the club.
Allardyce's defense has always been that his methods work. Clearly, this season, they aren't working - and that should be enough for Gold and Sullivan to make the right decision this time.
SCRAP REPLAYS TO RESTORE MAGIC OF THE FA CUP
It was a shame to once again see so many empty seats at FA Cup matches this weekend. Just 12,700 turned up at West Brom, while there were 20,000 empty seats at Sunderland and Aston Villa.
It is, of course, a knock-on effect that reflects both the importance of the Premier League and the expense of tickets. Why pay top price when many fans know that managers will rest players in the early rounds of the competition?
Even one of the Macclesfield Town heroes who held Sheffield Wednesday to a draw on Saturday spoke of the financial benefits that a replay would offer his cash-stricken club, rather than excitement at getting the chance to play at one of English soccer's most famous venues.
It really is time that the FA came up with some new ideas to protect the integrity of the competition and improve its popularity.
I think it is only a matter of time before they scrap replays, ensuring that contests will be decided on the day and removing the concern of fixture congestion for managers.