Liverpool
striker
Luis Suarez
looks happier than ever on Meryseyside as he shows his softer side in an interview with a young fan.
Finn, resident presenter of Liverpool FC TV's Kop Kids, sits down with the 26-year-old striker, who tops the Premier League's scoring charts with 19 goals.
Suarez was given a far friendlier welcome than when a Tottenham mascot recently snubbed his handshake at White Hart Lane, and talked about topics ranging from his love of from
mate
– a South American tea – to nutmegs.
The forward, who spoke in almost perfect English, also praised Reds boss Brendan Rodgers, explained the goalscoring celebrations that have been an incredibly frequent sight this season and even gave a rendition of his own chant.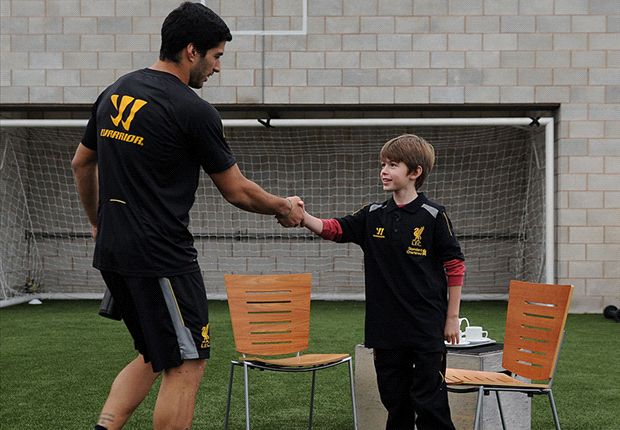 No handshake-gate |
Shaking hands isn't so hard after all (Liverpool FC)
Suarez's son, Benjamin, was born in Liverpool earlier this year and when probed as to whether that made Suarez Junior a Scouser, he replied: "Yes, I think so. And my daughter also, she goes to nursery, and she speaks like a Scouser. I don't understand her when she speaks with me in English!"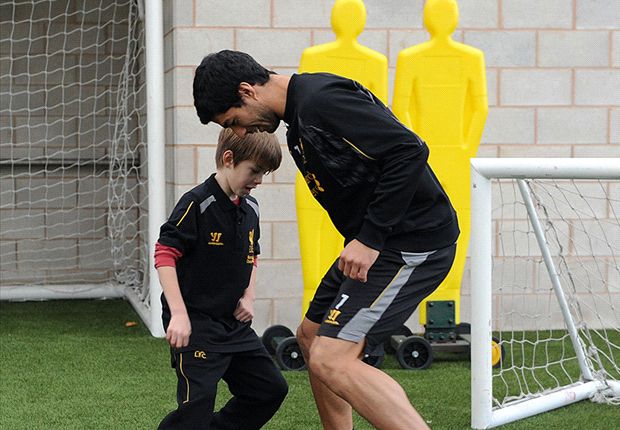 Lifelong ambition |
The young fan takes his chance to nut-meg Suarez (Liverpool FC)
"I think Brendan Rodgers is a very good coach - he loves to speak with players for their confidence," the Uruguayan added. "I hope one day to win the league and win a big trophy with Liverpool. It is my dream."
Kop Kids is shown for free Liverpool FC TV in the United Kingdom. A second episode is set to feature a sit-down with Brazilian star Coutinho, Raheem Sterling and Jordan Ibe meeting a magician, and Luis Enrique discussing the game's hot topics.