Everyone has their own image of
Sir Alex Ferguson
– The
Sun
's front page picture of a hairdryer being hung up for good sums up the general view perfectly – but there is another side to the man that only a few of us have been fortunate to see at close quarters.
For every player and reporter who has had the hairdryer treatment, accompanied by a tirade of abuse, there are others who have seen the 'caring' – I kid you not - side of Fergie.
Football divides opinions along tribal lines more sharply than any other walk of life, and fans usually see the issues in black or white.
Ferguson's public persona sees him as either a God-like figure to supporters of United, or a monster to fans of just about everyone else. But he is a much more complex character than that, and not many people have had close enough dealings with him to see the other side of his character.
There are the players and managers, the football people he has worked with over the years, who overwhelmingly still refer to him as Boss. There are also a handful of journalists that have won his trust, and I consider myself fortunate to have been one of them.
I don't claim to be his bosom buddy, and I will not attempt to psychoanalyze him - there will be plenty of others to do that.
But I did spend two fascinating years as his 'ghost', helping him write a weekly column for regional papers around Britain in the early 90s, just before United's incredible transformation.
The job was simple enough – ring him on a Sunday (in the days when a Saturday 3 p.m. kickoff was the norm), put his thoughts into prose and fax it over to the club secretary's office for approval before sending it off to press.
Hardly once did he change the copy, and that was only to correct any facts I might have misinterpreted. We had, I like to think, a good working relationship, helped by the fact that we had backgrounds in common – we were both working class, had done apprenticeships (he a tool-maker, me a carpenter) and had been active trade-unionists.
But the biggest bond between us was our passion for football, and you couldn't spend time talking to Ferguson without realizing his deep-rooted love and comprehensive knowledge of the game. It wasn't just about United, either. He would talk in glowing terms about the great teams and players that shaped his views on the game. He watched Real Madrid's famous European Cup final win over Eintracht Frankfurt at Hampden Park, and talked about the impact that Alfredo Di Stefano and Co. had on the way he wanted to see the game played.
Dave Mackay was one of his early heroes before the Great Scot joined Tottenham's famous double-winning side of the 60s. The young Ferguson marvelled at Mackay's blend of brawn, brilliance and bravery, overcoming crippling injuries to reach the top. He compared him to Roy Keane. When Ferguson was a young player he faced the great Mackay, and said he was the toughest opponent he ever faced.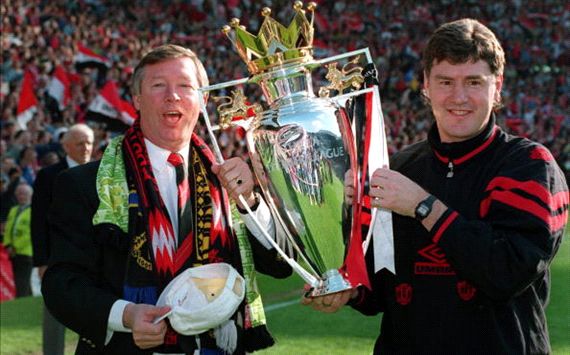 The older Ferguson wrote the foreword to Mackay's autobiography, had a picture on his office wall of Mackay holding Billy Bremner by the scruff of the neck, and kept in touch with the family. Talking to Dave and his wife Isobel yesterday, it was clear Ferguson had told them a year ago – and many other close friends – that he would retire this summer.
The fact that no-one revealed it is a mark of the mutual trust and respect held, and they were the key factors for anyone wanting to get to know Ferguson. You had to win his trust – and for me that took several months – and then earn his respect.
And this was at a time when he was not the all-powerful, hugely respected figure he was to become. In early 1990, he was four years into his reign at Old Trafford, had not won anything and had been close to the sack at times. It was United's FA Cup win that year that started to turn the tide, but the real glory days were still to come.
It must be difficult for anyone under the age of 40 to fully appreciate the way Ferguson completely transformed United's fortunes from also-rans to one of the most powerful and successful clubs in the world during his 26 years in charge.
The first thing he did when he took over from Ron Atkinson, having turned down the chance to manage Tottenham, was to overhaul the whole set-up. He didn't like the cliques of players and their agents, so he started a clear out. Agents and journalists were kept away from the training ground, players such as Norman Whiteside and Paul McGrath were sold, and younger ones brought in.
He told me the youth system was a mess, with the best local boys choosing Oldham and Manchester City rather than United. He immediately set up a comprehensive scouting network, with trusted scouts in all parts of Britain, and the results were to be seen a decade later with the golden generation of Scholes, Giggs, Beckham, Butt and the Nevilles. He went scouting himself, and told me how he had to wear a balaclava helmet and dark glasses on his visits to watch the young Lee Sharpe playing for Torquay. If anyone knew Ferguson was watching the teenager, Sharpe's value would have soared. He eventually got his man for a song and Sharpe became United's first superstar of the Premier League era.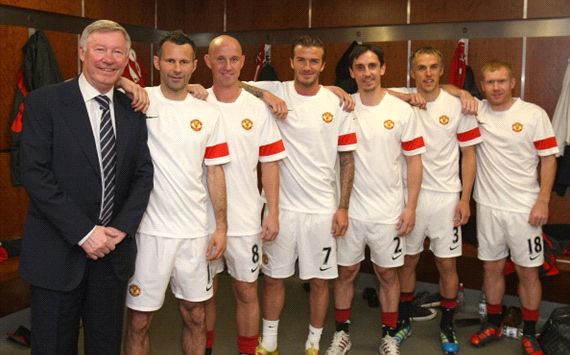 He didn't have much time for the established press pack that followed United, and delighted in snubbing them to focus attention on younger reporters like me. I remember in Sweden, at Euro 92, he pitched up unexpectedly at a press conference for Denmark, where his new goalkeeper Peter Schmeichel was playing. We were chatting when Alan Green, the Radio 5 commentator, came over to try to apologise for whatever incident had ignited their long feud. Fergie was having none of it and simply said: "Excuse me, I'm chatting to my pal" before turning back to me with a wink!
His humanity came through when he talked about young people – not just players or managers starting out, although every young manager says the first phone call they got would be from Fergie, wishing them good luck and offering help and advice. He would talk as proudly about his son who was doing charity work with Romanian orphans as he would about Darren, who was playing for United at the time. He has always encouraged players to be family men, as Brian Clough used to do, and famously kept tabs on the single players when they were out partying.
He values hard work, he was always first at the training ground, honesty and loyalty. I don't see him much now, working as I do in London, but when I do it is still: "Good to see you, son." I expect to see him at the LMA awards night soon, when I am sure he will be the star turn – after all, he has more or less run the organisation for the past 20 years or so.
He has changed a lot in that time, as have we all, and especially the game we love. But one thing has remained constant – Alex Ferguson is an extraordinary man and we will never see his like again.