After the Welshman admitted last week he models his game on the Real Madrid star, his Tottenham manager believes he can emulate the former Ballon d'Or winner.
Tottenham
manager
Andre Villas-Boas
believes
Gareth Bale
can replicate the successes of
Cristiano Ronaldo
.
The 23-year-old is enjoying his most prolific season to date after scoring 17 goals in 34 games for club and country so far this term.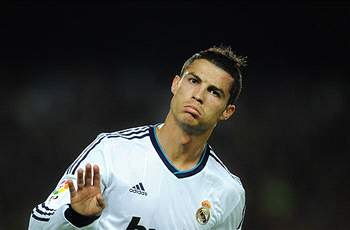 "Ronaldo is now 28, and has achieved so much in his career; he is an example to Gareth as to what he can achieve
And after Bale stated he models his game on the former Manchester United star, his manager claims he can see evidence of that in the Welshman's game.
"You can see similarities in each of the players," Villas-Boas told reporters. "Both of them are extremely technical players, and extremely powerful and pacy.
"It's funny to see how both players compare. They grew up as strikers, but became wingers. Gareth was a left back and moved to winger and now going to a more advanced role. Ronaldo is also able to play that role up front.
"Ronaldo is now 28, and has achieved so much in his career; he is an example to Gareth as to what he can achieve."
Bale has become an integral part of the Spurs side, much like Ronaldo at Real Madrid, who has netted 30 goals in 33 games for club and country this season.
And while Ronaldo has been converted from a winger to a forward to help with his impressive goal tally, Villas-Boas thinks Bale can do the same job for Spurs.
"We played Gareth up front for the second half against Norwich. We did it again against West Brom and it worked fine," he added. "We played him in preseason up front on his own too. Playing him up with somebody else can help his game too in terms of the space that the other can create and the link-up play.
"Gareth is such a phenomenal player that he is able to do that kind of role.
"He has been scoring a crazy amount of goals coming in from the right wing or through the middle, rather than from the left or assisting from the left. So it means a player can explore his full potential through the middle.
"The most important thing is to get the players feeling well about what they do for the team. And I think Gareth feels well in that position.
"If he's able to fulfill his full potential it's something we have to consider for the future."