In more than one way, Chris Hughton is defying the odds at Norwich City in the English Premier League.
The 54-year-old manager has led the expected relegation-bound Canaries to a respectable 13th place in the league's table so far, securing victories over some of England's biggest clubs including Arsenal and Manchester United. Norwich is rumored to have the EPL's lowest payroll at under 32 million pounds and those hard-fought wins over the 125 million pound Gunners and 160 million pound Red Devils display how remarkable the club's season has been to date.
But what might stand out even more about Hughton's progress is that he is currently the Premier League's only black manager, and one of only four black head coaches - along with Charlton's Chris Powell, Notts County's Keith Curle and Barnet's Edgar Davids - in England's top-four divisions (that's out of 92 possible positions). Considering that over 30 percent of players in England's top four divisions are minorities, the fact that just over four percent of their coaches are not white is a growing concern for the country.
"I, for one, certainly would like to see more diversity because of the amount of black players that are playing here," Hughton told Goal.com. "I suppose the issue here is that there aren't more blacks or ethnic groups involved in the game here. I would like to see more black coaches and managers in our game."
COULD THE NFL'S 'ROONEY RULE'
HELP?
Norwich isn't Hughton's first coaching job in the Premier League.
He also led Newcastle back into Premier League in the 2010-11 season after the Magpies' shocking relegation under the reigns of Alan Shearer in 2009. He was shockingly fired despite having the newly promoted side in the top half of the Premier League, and some questioned whether or not it was a racially motivated decision. Hughton dismisses that he has ever experienced any additional pressures or unfair treatment as a black coach but he acknowledges that race is always an issue and not every hopeful minority coach has shared his positive experience in coaching.
Hughton on whether the Rooney Rule would work in England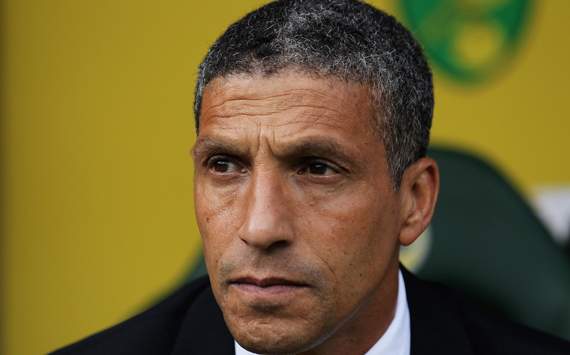 " I think there is a difference [in demographics] here...I don't think it's [the Rooney Rule] appropriate here"
- Chris Hughton

"I do know of black ex-players who have found it very difficult to [land a coaching job] and felt that their color was the [reason] to not getting a job," Hughton stated.
While Hughton maintains that he has experienced otherwise, the history of black coaches in soccer suggests that there is a lack of patience towards non-white coaches in the game. Former Manchester United star Paul Ince was dismissed after only 177 days following a slow start to the season at Blackburn. In comparison, two years later the same club would stick by universally panned manager Steve Kean for two seasons despite being relegated under his watch.
Successful non-white coaches don't fare much better in other soccer leagues. Paris Saint-Germain fired Antoine Kombouare to hire Carlo Ancelotti despite the club being on top of Ligue 1 heading into the winter break. In a twisted sense of karma that year, PSG would fail to win the title despite having the highest payroll by over 30 million euros. Frank Rijkaard won two La Liga titles and a Champions League with Barcelona but still can't get a coaching job with one of Europe's elite teams.
Even in North America, Denis Hamlett was fired as head coach of the Chicago Fire for not winning the MLS Cup in his two years on the job. Hamlett led the team to back-to-back Eastern Conference finals and had a record of 31-23-24 in his two seasons. The Fire have only made the playoffs once in the three seasons since Hamlett's firing, failing to advance from the first round in that one appearance. Hamlett has yet to be hired again as a head coach in MLS. Despite publicly boasting itself as America's most diverse league in its playing ranks, MLS has only two minority head coaches: Chivas USA's José Luis Sánchez Solá and the Colorado Rapids' Óscar Pareja.
In a push to resolve the lack of diversity in coaching, many in the United Kingdom have pushed for a rule similar to NFL's Rooney Rule. The Rooney Rule mandates that any time there is a coaching opening, teams must interview at least one minority candidate. While there is still a disparity between the head coaching and playing ranks in the NFL and no minority coach was hired this offseason, the league can still point to a major increase in diversity in its coaching. Before the rule was enforced, only six percent of coaches in the NFL were minorities. In 2012, 25 percent of the league's coaches were minorities. But Hughton doesn't believe the Rooney Rule is a viable solution in a country like England due to its demographics.
"I understand the Rooney Rule and I understand why it is critical in America. I certainly think there are differences between the American system and in American football, there is such a large percentage of players who are of ethnic backgrounds. I think there is a difference here...I don't think its appropriate here," Hughton said. "What I do feel is appropriate, and there are some really good strides going that way, is that we have to make sure that we're all-inclusive."
Follow Alex Labidou on

Despite the paucity of minority coaches in the English game, Hughton is encouraged by the country's governing body for the sport, the Football Association, looking into solutions to change that fact.
The FA has awarded grants to aspiring young minority coaches to participate in coaching clinics in its recently finished multimillion dollar National Training Center. Some of those clinics have even been visited by top English coaching luminaries, including current England boss Roy Hodgson. The ambition of this program is to eventually integrate those coaches into jobs across the country's many divisions.
"Where I am encouraged is when you look at the top level, you're seeing [improvements] in the grassroots efforts," Hughton explained. "I think the fact that we are trying to get as many young black and ethnic coaches involved in the game through campaigns to encourage that are important."
He added, "Working through the FA, the clubs, the fact that is in the spotlight shows that there is an encouragement to see more black and ethnic coaches throughout our divisions and ultimately into the Premier League."
Hughton's faith in the FA's plans is so strong that he believes it could eventually lead to a non-white coach being hired by one of England's top clubs like Manchester United, Tottenham, Arsenal or Liverpool.
"Yes, I could [see a minority coach at a big club]. The reason why I could is because I do genuinely feel like we will make good strides towards that," Hughton explained.
"Would that have been the case up until now? No, that hasn't been the case. It can't be the case when at this moment, I am the only black coach in the Premier League. In the top-four divisions, we only have three [other] black managers. So of course, you're not going to have one at the very top level. But I do think that that can happen in the future."
When asked if he could see a scenario where a minority coach could lead a big team in the near future, Hughton admits it could be a while before that becomes a reality.
"I think, probably, we're not looking as close as five years simply because of the statistics that I've mentioned," Hughton stated. "So no, I don't see it in that short period of time but I do see it happening in the future."
LEADING NORWICH


Norwich's shocking 1-0 FA Cup fourth-round loss to non-league side Luton last Saturday proves that Hughton still has a lot of work ahead.
The Canaries are currently mired in a seven-game winless streak which has cast a shadow over their strong run in November and December when they were unbeaten for 10 matches straight. Hughton explains that the most important aspect of his job is managing expectations. Norwich lacks the resources of most of its competitors in the Premier League and Hughton has to make sure that each and every one of his players maintains their motivation throughout a season that he describes as a "rollercoaster."
"I think all you can do is prepare properly for every game but you also have to be realistic," Hughton said. "Be realistic about what you are as a team. We know that we aren't Tottenham Hotspur, we are a team that is in its second season in the Barclays Premier League. To have a level of consistency where you are going to win most of your games is very difficult."
He continued to explain: "A big part of managing is managing defeats and assessing where you are. It's making sure that you prepare a group of players and that you create an environment that is a competitive one but that is also a realistic one. What we expect from each other is when things haven't gone well, it's not because we aren't solid, it's because we've been beaten by a better team."
Norwich's mantra might be to remain positive but Hughton acknowledges some results are difficult to take. When Liverpool routed the club 5-0 two weeks ago, the normally mild-mannered coach admitted that he was angry at the result.
"We all know that it does affect them temporarily, none more so than the manager," he said. "The Saturday night and Sunday afternoon after a game being around the manager isn't a nice place to be. That's normal emotions.
"It's quite difficult to be honest and it doesn't get any easier the longer you stay in the game. These days, especially because of the amount of work that goes into each game, the amount of preparation that has to be done, I think you take it harder, I really do."
Although Norwich has been in poor form recently, the team has still outperformed preseason expectations entering February. Though the side finished 12th last season under Paul Lambert, most media projections had it finishing in the drop zone this season due to the team not adding any major signings.
Where Hughton has made a difference is in making shrewd low-cost signings like Sebastien Bassong from Tottenham and Michael Turner from Sunderland, stabilizing the team's back line. Those signings along with the team's consistent scrappy and hustling play has earned Hughton praise from some of the league's most respected managers, including Arsene Wenger, Brendan Rodgers and Andre Villas-Boas.
With current relegation-battlers QPR and Newcastle spending money to bring in reinforcements, Hughton's task hasn't been made easier. He acknowledges that the team needs help at striker and is looking at a list of potential targets that includes Sporting Kansas City's Kei Kamara, Celtic's Gary Hooper and Swansea's Danny Graham. While he hopes to finalize a deal for one, he isn't willing to overspend on a target and won't sign a player who isn't a good fit. So things could get more difficult in the coming months. But if there's one thing Hughton is willing to guarantee, it's that he'll remain diligent in making sure that Norwich will be a very difficult team to beat until the very end of the season.
While he never acknowledges it publicly, his success could open up doors for others like him.
"You are a leader to group of men and coaches, you are the one that has to set the example," Hughton said.