If nothing else, the English can be classified as hard-headed. Stubborn, headstrong, uncompromising are other ways to put it.
Whether it's marching in formation wearing bright red attire during the Revolutionary War or the continued insistence that Marmite is edible, the Brits rarely back down from what they know.
In that sense, John Terry could be the most English man alive.
The drawn out case of Terry's racial abuse that began in November of last year has finally concluded, and Terry, again, has displayed his true colors. Refusing to be a part of the solution, and instead, a part of the problem, the Chelsea defender decided that the best course of action was to retire from international duty with England. He is 31 years old.
His reasoning, according to a statement released making said declaration was this:
"I am today announcing my retirement from international football."
"I am making this statement today in advance of the hearing of the FA disciplinary charge because I feel the FA, in pursuing charges against me where I have already been cleared in a court of law, have made my position with the national team untenable."
Follow SHANE EVANS on

Talk about a flair for the dramatic. Terry had every opportunity to mend bridges but rather chose to further burn and not only disappoint his England teammates who, for better or worse, know his value to the team, but the millions of supporters worldwide. He could have attempted to improve his situation by doing work in the community against racism. He could have rebuilt his image.
But no, that is not John Terry's style. He's an all or nothing Englishman. There is no grey that can eventually go one way or another. If he can't be England's captain, what's the point of being on the team? This is basically what this comes down to. Terry's ego couldn't handle the fact that he was punished the way that he was.
I would like to say that England is better off without the perennial headache as part of the team, but that wouldn't exactly be true. On the field, Terry is an exceptional defender whose skill is only surpassed by his bravery. Qualifying for the 2014 World Cup will be that much more difficult without him.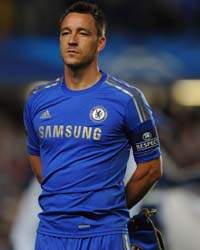 Those who are happy about the decision? Joleon Lescott. Phil Jagielka. Gary Cahill. Steven Caulker. No clear favorite among the quartet and with Rio Ferdinand in decline, the entire middle of England's backline is basically up for grabs. It didn't have to be this way, but this where we are right now.
It's funny that this news comes out following one of my latest columns that harped on the decline of the team itself. With Terry out of the mix, the immediate effect on the squad will be felt on the field and will likely be a negative one. The idea of a Lescott and Jagielka pairing doesn't really inspire. In the long run though, it'll allow the likes of Caulker, Phil Jones, Chris Smalling and maybe even Micah Richards flourish. But hey, let's not speculate on that stuff.
For now, we have the reality of another blotch on the Three Lions' recent history. Another black eye was what I was initially going to use but you can realistically only have two of those and England would be at a baker's dozen by now. Though taking punches and continuing to fight is as English as Cadbury's and Buckingham Palace so maybe it does work.
Amid all this controversy we sometimes lose sight of the domestic season at hand. Terry's Chelsea travels to Arsenal this weekend in a pretty big match for both clubs. Unfortunately for the moody defender, he won't be a part of it as the FA has suspended him for four matches, a punishment that looks pretty soft when you compare it to the eight matches that Luis Suarez received after his little row with Patrice Evra.
The Blues would like their captain there but will have to settle on a partnership of Cahill and the recently re-signed David Luiz. Not the worst setup to have, even with a talented attacking group of Gunners ahead.
On top of that little London meeting, AVB and his Tottenham Hotspur bunch will travel to Old Trafford to take on Manchester United. Two pretty solid fixtures to preview if you ask me. Let us get to that then.
The Bacon (as in Bringing It Home)Arsenal vs. Chelsea
(Emirates Stadium, September 29th, 7:45 a.m. ET, ESPN2, ESPN3.com)
The lunchtime kickoff this weekend should be a helluva matchup. First-place Chelsea will slide across town to take on fifth-place Arsenal in a match of two very attack-minded clubs.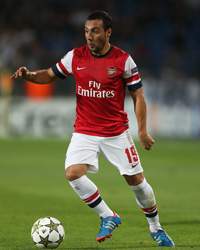 Going into it, Arsenal will be expecting a victory. It knows how good a team it can be if it plays with confidence. It knows that against a club like Chelsea who hasn't looked great despite its lofty position a result could come. Santi Cazorla, Mikel Arteta and the rest of the midfield just need to assert themselves from start to finish. Chelsea will try and dictate the flow of the match, as any team would with the options it has. But at home, Arsenal needs to be the bigger side.
I think Chelsea will be distracted by the Terry news though and could come out shaky. Plus, Luiz and Cahill have never really gelled as a tandem and both look better with Terry by their side rather than each other. If Arsenal's forwards are in sync, it could be a long afternoon.
TFE Prediction:
I think this is the match that Arsenal comes up big and puts an emphatic end to Chelsea's perfect season. 2-1 win off of a Giroud winner.
Manchester United vs. Tottenham Hotspur
(Old Trafford, September 29th, 12:30 p.m. ET, FOX Soccer)
It took a few weeks but Tottenham has finally begun to buy into AVB's system and has been playing some very solid football of late. It will have to play that way against Manchester United because well, it's Manchester United. Never an easy fixture when you match up with Sir Alex Ferguson and the Red Devils.
Look for the big battles to be down the flanks as the likes of Gareth Bale, Aaron Lennon will try to match the impact of Antonio Valencia and Nani on the other side. In other words, a busy day for the fullbacks.
You gotta like how Manchester United is doing things now though and the massive influence that Robin van Persie has had since joining the team. He'll continue with that strong presence in this match as his ability to not only create chances for himself but others as well could be too much for Spurs to handle.
TFE Prediction:
It'll be a fun match to watch with lots of speed down the flanks but in the end, United top Spurs 2-1.
And Finally...The Black Pudding of the WeekFIFA 13, every living room ever:
If it's not the most popular video game series in the world right now, it's pretty close. Stats are saying that the sales of the game are up 42 percent in North America from last year. Could you imagine if you were given a 42 percent raise next year? Yeah, would be pretty nice. The game is pretty great as you would expect and definitely worth the money if you're on the fence. Will get you that much closer to the players that you love. Though not as close as you are by reading this column every week. Kinda.
Shane Evans is a columnist Goal.com USA. His feature, "The Full English" appears every Friday morning. Contact Shane at shane.evans@goal.com with questions, comments and concerns, follow him on Twitter at https://twitter.com/shanEvans

For more news on England, visit Goal.com's England section!