One down, five to go.
The UEFA Champions League group stage kicked off this week and as usual we got to take in our four brave English Premier League teams who compete yearly in the competition.
This campaign, it was league champion Manchester City, runner-up Manchester United, third-place squad Arsenal, and winners of the whole thing last year, Chelsea. No Tottenham, sadly, as it was booted after a fourth-place finish thanks to the Blues triumph. Also, no Liverpool, winners in 2005, as the Anfield side has officially become a mid-table club.
So after the first match day, we don't know a whole lot. None of the four involved thoroughly impressed nor did they thoroughly disappoint. It was just a so-so showing from the EPL contingent. But hey, that's to be expected in the early going.
Going chronologically through the matches, it was the biggest match that came first as Manchester City, the glorious victor of the EPL, would travel to the hallowed ground of the Santiago Bernabeu to face the glorious victor of La Liga, Real Madrid. A mouth-watering contest to say the least.
For the better part of 75 minutes, City did what it had to do against the mighty Blancos. There were shots for the home side but for the most part Ronaldo and company were held at bay. When Eden Dzeko scored to give City the lead in the 68th minute, many began to think a result was possible for the Eastlanders.
Follow SHANE EVANS on

Four goals later and Madrid took the 3-2 match and the first points of the stage.
The four goals that the teams traded before CR7's winner in stoppage time weren't exactly the top quality strikes that we have come to expect from these two sides and were more products of luck and unfortunate deflections. Ronaldo's goal was just poor keeping by Joe Hart. So Madrid should consider itself slightly fortunate to come away from the match the way it did, despite having most of the ball and way more of the shots.
That's football though. City shouldn't fret too much as this was the toughest fixture for it in the group stage and will have plenty of chances to bounce back going forward. Having said that, its group isn't a friendly one. It's like if the O'Doyles were a group, they'd be Group D.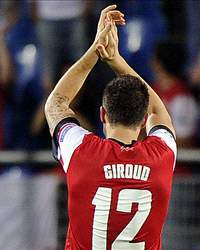 Also on the day was Arsenal's visit to Olivier Giroud's former club Montpellier, a first time entrant in the world's premier club competition. As a club of its standing should, Arsenal was able to control most of the match against the French side and came away 2-1 winners after going down 1-0 thanks to a first half penalty.
What I've been noticing about Arsenal this season has been the team's confidence. With the addition of guys like Santi Cazorla and Lukas Podolski, two world-renowned talents with oodles of international experience, the club has seemed to ditch its jittery ways in favor of a more stable approach. That is big. Arsenal sides haven't played that way since the Vieira years really. Have they had the talent in years past? Absolutely. Mental toughness? Not so much. Wins on the road against tough champion-level competition are proof of this.
If you're a Gooner, which oh-so-many of you are, you have to like what you see. The win against Liverpool a few weeks ago at Anfield was another example of this. A start to finish victory by the better side in a difficult spot. Essentially what this (may) mean is that buying teenagers isn't always a great idea. Sprinkling in players with a wee bit of experience (Cazorla and Podolski are both 27) can do wonders.
Moving right along, the other Manchester club was in action as it opened play in its terry cloth group against Galatasaray. For those who aren't down with the cool slang of today, terry cloth doubles as soft, as in Manchester United is part of a soft group. Contrary to its light blue cousins, United should have little problem progressing to the next round. Although, we all said the same thing last year…
Against the Turks at Old Trafford, United was typically dominant and tidy. Not what we saw in the group stage last season when Sir Alex's men were slightly hesitant against weaker opposition. The 1-0 result was almost assured in the early stages as the home side went up within ten minutes and bossed the show from there. It should only get easier from here, hypothetically.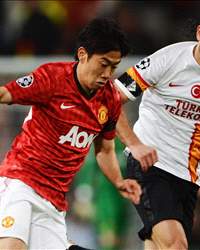 The winners of the tournament last year, the Blues of Chelsea, entertained Juventus in another high-profile matchup between European heavyweights. It looked as if Chelsea and its squad of talented youngsters would run right through the Italian champion after a pair of delightful Oscar goals put the English side ahead 2-0.
It wasn't to be however as the Blues buckled under the pressure of the cultured visitors and after leading 2-1 for most of the match were pegged back late on. You never like giving up a 2-0 lead and the Blues won't be happy but a point is a point and it will go forward against the two less-talented squads in the group with confidence. Mainly because it has no choice. Ya know, if they want to retain the trophy and all that…
In all, not a terrible start by the collective group of EPL clubs. Obviously, much more will be expected as the matches move along. Realistically, three of the four should qualify for the next stage with Manchester City being the only if.
As it turns out, the focus has already swung quickly back to the EPL as we are privy to a host of entertaining fixtures in this the fifth week of the season. As it tends to do, the league has put all the big ones on Sunday for our viewing pleasure. To start things off is the always meaty northern affair between Liverpool and Manchester United. That is followed a couple hours later by Manchester City and Arsenal. Tally ho!
The Bacon (as in Bringing It Home)Liverpool vs. Manchester United
(Anfield, September 23rd, 8:30 a.m. ET, FOX Soccer)
So this game is big for a few reasons. Obviously the biggest reason is this is the first time the Reds will play at home since the Hillsborough news was released. Expect the most amazing and dramatic moment of silence you'll ever lay witness to. Seriously, it's going to be touching and rightly so.
This emotion will help to fuel a Liverpool squad that has struggled mightily this season and currently finds itself in 17th place in the table with zero wins from four matches. Not what you'd expect from a club of the Merseysiders' stature. Under new boss Brendan Rodgers it has experienced some serious growing pains and that is unlikely to end against United.
A loss to the Red Devils on Sunday would put Rodgers in a very precarious position. I'm not big on stats here at TFE but for anyone who could tell me the last time Liverpool went winless in the year's first five matches gets gold star. Surely it's been a while.
This match will be a big test for both sides as the home squad knows it can't afford another loss, or even a draw. It's almost must-win territory. United will want to keep pace with Chelsea and the like. It'll pressure Liverpool but breaking it down may be difficult. RVP will need to step up against two very tough center backs. May even see some Wazza, too, if things get tight.
TFE Prediction:
In the end, I think the Reds know whats at stake and are able hold United for long periods and then eventually grab a winner in a 1-0 match.
Manchester City vs. Arsenal
(Etihad Stadium, September 23rd, 11:00 a.m. ET, FOX Soccer)
This match is going to be one to watch. I just waxed lyrical about Arsenal's heightened confidence and ability to win big matches on the road. This is the ultimate test right here. The champions won't bow down and let the Gunners take a result on their home turf, but expect a more even contest than what we may have seen in years prior.
I like how Arsenal matches up against City, too, especially in the midfield. If Abou Diaby can limit Yaya Toure, City's main man (and he is the club's most important player) then the visitors will have a chance. Diaby has played much better this season in Alex Song's spot and his biggest test is Sunday. A lot hinges on that matchup.
TFE Prediction:
Going to be an entertaining one with Arsenal holding on for a well-deserved point in a 2-2 match.
And Finally...The Black Pudding of the WeekClint Dempsey, Tottenham:
Our main man Clint made his full debut for Spurs in their 0-0 Europa League draw with Lazio on Thursday. Good for him. That team is full of attack-minded players who get forward and look slick doing it. The American played well in his first start despite no goals for the London club. He had one called back for offside that was a bummer but the club itself is a great fit for him. Love that he wears No. 2 as well. Certainly sticks out. Respect tha hustle, Deuce. Respect tha hustle.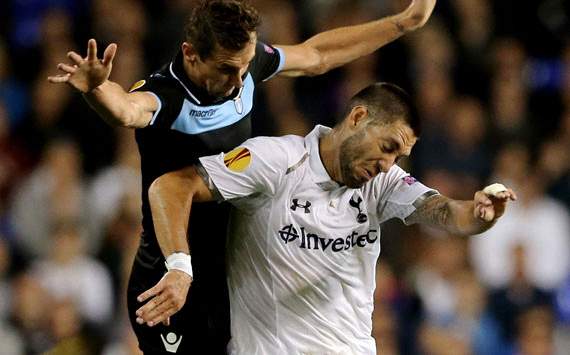 Shane Evans is a columnist Goal.com USA. His feature, "The Full English" appears every Friday morning. Contact Shane at shane.evans@goal.com with questions, comments and concerns, follow him on Twitter at https://twitter.com/shanEvans

For more news on England, visit Goal.com's England section!