It has a been a long summer. A really long summer.
With the transfer window finally closing, we can all officially move on with our (sweaty) lives and more importantly, the English Premier League season. Fall is now upon us.
No more rumors of players switching clubs. No more managers whining about small budgets or the lack of signings. It's football time, people, and that's it.
Looking back on the wacky few months that have just passed, there is one team in this league of ours that has improved itself the most. It has added in areas of need, replaced exiting players and put itself in a great position to win in the long run. It also happens to be the side that sits atop the table with a perfect record after the campaign's opening fixtures.
Need another hint? It wears blue and is owned by a terrifying Russian. Yes, I'm talking about Chelsea.
At the end of last season, I was nearly convinced that Roberto Di Matteo wouldn't return as manager of the club. In fact, I was more confident that I'd get a call from Mr. Abramovich himself asking me to take over the hot seat at Stamford Bridge. I stand corrected.
Follow SHANE EVANS on

The Italian gaffer led the club to FA Cup and Champions League glory, and was soon thereafter named the permanent boss of the often fickle club. After a summer on the job, Di Matteo has not put a foot wrong. Here's why.
After last season, the club knew it needed freshening up in the attacking third. Gone was the former talisman Didier Drogba, as well as forwards Nicholas Anelka, Salomon Kalou and likely Florent Malouda. Frank Lampard, the team's lynchpin, was another year older. Moves were needed.
From that need, came action. Calculated action.
In came the jewel of the window, Lille's Eden Hazard, immediately giving the Blues another dimension up front. He was joined by Brazilian prodigy Oscar, EPL up-and-comer Victor Moses, and Marko Marin, on whom the verdict is still out. In summary, a quartet of very exciting, forward-thinking players who fit the bill of an EPL attacker.
Through three games, Chelsea has looked, if nothing else, fresh and inventive. Normally taking some time to gel, Di Matteo's squad has looked really together despite all the interchanging parts. Leading the way has been the Belgian Hazard.
Simply put, he's been dazzling. What shows the most has been his confidence on the ball. Nothing seems to faze the 21-year-old who has played well beyond his years so far in his career. He has the stones to make the big pass and to dribble at defenders with the ball. You don't often see that with new young additions to this league. The best part for Chelsea is that his attitude is contagious.
Case in point: Fernando Torres. I didn't think anyone could look more miserable than I did following my senior prom until I watched Torres last season. The guy just wasn't enjoying his football. Fast-forward to today and he's got a pair of goals in three matches and is taking shots that the old El Nino would take and subsequently score with. I won't say it's all on Hazard, but the kid has shown the other kid a thing or two. I suppose it helps that the piercing glare of Didier Drogba isn't constantly fixated on him. Regardless...look out, EPL.
Not only that, but the guys in the back have really seemed to galvanize during the offseason. David Luiz isn't the trailblazing center back that no one wanted him to be anymore. Gary Cahill is showing he belongs. John Terry and Branislav Ivanovic are doing what they do best. It's good to be a Chelsea fan right now and that is a completely fair assessment.
Hypothetically, the club should win its next two matches against QPR and Stoke. From there, the real tests come in. Arsenal, Tottenham, Manchester United and Liverpool all within a month. Di Matteo has pushed all the right buttons with his squad to this point. If he can keep it up remains to be seen. One thing is for sure, we all will be watching with a very keen pair of eyes... whether it's on TV or from the owner's box.
Outside of Chelsea's pretty special summer, there have been a number of movers and shakers in the transfer market, with most of the action coming in London.
Leading the way in the B group is free-spending Queens Park Rangers. The club has brought in, to name a few, Andrew Johnson, Ji Sung Park, Junior Hoilett, Jose Bosingwa, Esteban Granero and Julio Cesar. Don't look now, but more may be on the way. In other words, QPR is going after it. Big time.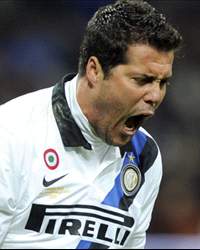 Unlike the delicately crafted menagerie that its London rival Chelsea has put together, QPR has adopted the smash and grab approach. It did it last year and it's done the same thing this season. The problem now is the wages have gone up even further and in the long run, it's really going to hurt the club.
I also kind of like what Fulham has done. The Mladen Petric signing seems like an inspired one and if it can reunite former Spurs boss Martin Jol with Dimitar Berbatov, it would be a real coup. At his best, Berbatov can dominate. To get to his best, all he needs to do is play. He'll play at Craven Cottage, unlike Old Trafford. For a reported £5m...could be the bargain of the window, especially with Moussa Dembele moving on to Spurs.
The big news though, at least in my eyes, is Andy Carroll finally escaping Liverpool. He's going to a team that wants him (West Ham) to play for a manager who will play him (Sam Allardyce). Remember how he did at Newcastle when things were clicking? If the talented forward can get some games under his belt, starts rather, then he could see his stock rise by the end of the season, which would suit Liverpool just fine.
Only problem I see is if he fires the Hammers into a position that's above the inevitably disappointing Reds. Unlikely sure, but how funny would that be if it happened? Anyway, let us preview this weekend's action now that it's truly all we have to worry about.
The Bacon (as in Bringing It Home)Liverpool vs. Arsenal
(Anfield, September 2, 8:30 a.m. ET, FOX Soccer)
Another big test for the Reds as thry opens the season with three straight tough matches. Arsenal comes to town still waiting to for its first goal of the season. Should be a peach of a match. Is it too early to throw out a must win?
We could see Nuri Sahin play for Liverpool in this one and he could eventually scorn the other side who really wanted to sign him. A gifted midfielder, Sahin should fit nicely into the base of the Reds set up. With lots of moving parts in that area at the minute, it could take him some time to gel with the likes of Lucas and Joe Allen. His best will come though and he really could have been a player of use for Arsene Wenger and Arsenal.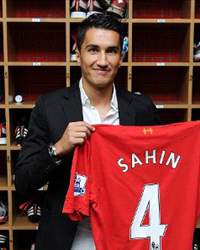 With neither side doing much scoring so far this year, it'll be the team who has the killer instinct in front of goal that will come out on top in this one. There will be chances, just gonna need some goals.
TFE Prediction:
I think Arsenal finally gets it right and puts a couple past Liverpool in a 2-1 match.
Southampton vs. Manchester United
(St. Mary's Stadium, September 2, 11:00 a.m. ET, FOX Soccer)
Not the best start to the year for Nigel Adkins men. Back up in the EPL after a long hiatus, the Saints barely lost to Man City in week one and then were outplayed by Wigan in week two. Week three? Man Utd is coming to town. Not ideal by any stretch.
Against the Red Devils, Southampton is going to need to play the way it did week one: without fear. After it was pegged back against City, the club lost confidence and didn't play that well against Wigan. Won't be able to play that way in this match.
United will come in to this one wanting a solid defensive performance. Against Fulham it was a bit lax and will want to tighten things up. The goals will come eventually. Sir Alex's main worries will be Soton hitting his side on the break. Can't allow that against a newly-promoted side if you want to win your title back.
TFE Prediction:
Shouldn't be too much trouble for United in a 3-1 match.
And Finally...The Black Pudding of the WeekThe Champions League Draw:
Talk about two sides of the coin. The Manchester clubs couldn't have been put into two more different groups. United, which has lately had some soft placements is in a group with Braga, Galatasaray and Cluj. How about that for pushover? City on the other hand is easily in the toughest group of the lot with Real Madrid, Ajax and Dortmund. How about that for nearly impossible? Regardless of the levels of difficulty facing the clubs, it's always nice to get this stage of the tournament going. And the final is at Wembley again this year, so let the anglophile fantasies commence!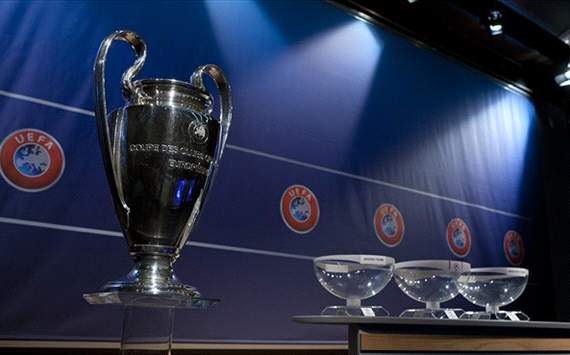 Shane Evans is a Senior Editor of Goal.com USA. His feature, "The Full English" appears every Friday morning. Contact Shane at shane.evans@goal.com with questions, comments and concerns, follow him on Twitter at https://twitter.com/shanEvans

For more news on England, visit Goal.com's England section!